With the world shrinking digitally, consumers adapt to global fashion trends faster than before. The wholesale clothing business is a lucrative entrepreneurial option amidst such raging global fashion trends. If you are a fashion lover with an entrepreneurial mindset and want to start a wholesale clothing business, make no more delay. In this article, we guide you on how do you buy wholesale clothing and the benefits of buying clothes bulk.
Wholesale clothing business tips
According to market reports, the wholesale clothing business is emerging as one of the top businesses in the world.
From sportswear to business wear, value clothing to statement luxury pieces, choose your niche of apparel business before buying clothes wholesale.
Women's apparel tends to be a more profitable business compared to men's or children's.
Customers may prefer clothing of high-brand values as well as affordable clothing with durable quality based on their individual interests.
Also Read: 25 Most Expensive Handbags Purse Brands To Flaunt Your Style
Advantages of buying clothes bulk
Starting a wholesale clothing business with a strategy of buying clothes in bulk has many benefits that you realize. Here we discussed them in detail:
Customer trust
Your customers want fashion and quality. They rely on your clothing business and trust that you will provide them with the best apparel in the market. By buying clothes wholesale, your customers enjoy a wide range of options.
The huge range of fashionable clothing you present them makes them keep coming back to your store. Thus, you have already won the customer's trust, the first stepping stone to your clothing business's success.
Shipping benefits
Many clothing wholesalers want customers like you to succeed. They want a long-term relationship which is a win-win for both parties. When you buy clothing from wholesalers, they offer you a little extra.
From attractive wholesale pricing to fresh stock delivery, and reduced or free shipping costs to pay in installments, you can request your clothing wholesaler for adjustments. Such support will help you scale your business and run it smoothly, even in unforeseen situations.
Originality
Many wholesale clothing businesses tie up with designers and makers. Similarly, in many cases, they will have in-house design and cloth manufacturing units.
Thus, when you tie up with wholesale clothing suppliers, you can grab first-hand original designs and quality apparel. This way, your business enjoys a distinct reputation as a go-to destination for trendy, fashionable clothing.
Photos and videos
To market your wholesale clothing business, photos and videos of the clothing are indispensable. On the other hand, hiring a photographer and models to get these marketing pics ready can be a costly affair.
Reliable and good quality wholesale clothing suppliers take care of such videos and pictures as a part of the sale. Thus, your marketing cost will reduce drastically when you buy clothes wholesale from trusted suppliers.
Higher margins
As a business owner, you seek profits. And there's nothing wrong with it. Buying clothes in bulk will help you procure the lot at a reduced price. This means your initial investment will be lesser, and you can make more margins by selling the clothes at retail prices.
Scale seamlessly
When your customers start trusting your business for quality, the latest trends, and price range, it takes no time to boom. This is where you scale up to take your business to the next level.
Buying clothes in bulk helps you scale with reduced initial investment and overhead. Your rapport with wholesale suppliers and relations will come in handy to scale your clothing business without any hiccups.
Never out of stock
Customers can be in the mood to wait for the stock. Out-of-stock can disappoint customers and make them drift to your competitor.
By buying clothes wholesale, you never run out of stock. Your supplier can ship to you on priority. In other words, more customer relations and a better business reputation.
Diverse batch sizes
Many wholesale suppliers offer varied ranges of batch sizes. You can buy batches of clothing based on your preference, business size, and budget. It is also easier to refill the required clothing styles as and when they are sold out, when you commit to buying clothes in bulk wholesale.
Comfortable operations
For consumers who prefer to buy clothing wholesale, suppliers offer comfortable terms and conditions. For instance, shipping options, preferred delivery time and location, returns, refunds, replacements, storage, and handling, etc. can be simple when you assure a long-term commitment with your supplier.
Also Read: 40 types of sarees names in India
How do you buy wholesale?
With the benefits of buying clothes wholesale now clear, here comes a question: how do you buy wholesale clothing?
Thankfully, there are various to locate wholesale clothing suppliers:
Check on the internet for listings and reviews. Explore their websites, locations, and testimonials, if any.
Gather details from local directories and business listings. This is a good approach to connect with local suppliers and save on shipping costs.
Attend clothing exhibitions, events, and marketing conferences. Such events will bring wholesale suppliers under one umbrella and provide you with many contacts of suppliers in one go.
Stay in touch with fashion trends and the global market. This will give you insights into where you can buy affordable clothing along with the outdated and in-demand trends.
Social media is another good place to find wholesale clothing suppliers. Facebook groups, Twitter conversations, Quora Answers, Pinterest boards, Instagram, etc. are great sources to connect with reputed clothing wholesalers.
WhatsApp and Telegram groups are zero-cost channels to know about wholesale clothing suppliers.
Word-of-mouth referrals are an evergreen way to discover wholesale suppliers. It is a proven approach to finding tried and tested sources of clothing suppliers and saves you time and investment.
Also Read: Best Kitchen Appliances for Indian Cooking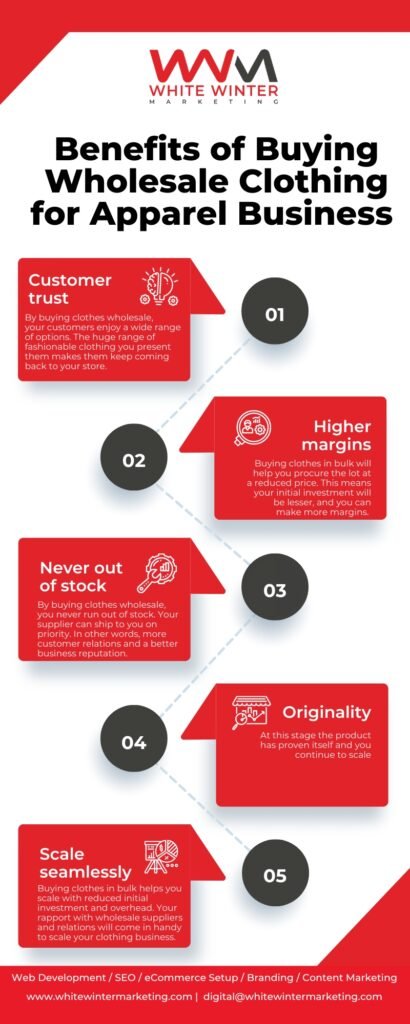 Best practices for wholesale clothing business
Now that you are clear about how to buy wholesale and buying clothes bulk, let's look at how to run a successful clothing business. Here are tips for wholesale clothing business owners to run a successful clothing business:
Keep an eye on the websites of your wholesale suppliers to know about price fluctuations, the latest stocks, and stock updates.
Establish connections with reputed wholesalers to enjoy a sustained reputation with quality clothing to your customers.
Watch for the batch size, trends, and customer feedback. Note all of them before you make your next order from your wholesaler.
Ask your supplier for the Minimum Order Quantity (MOQ) they agree with. Drop shipping is another aspect you must check with your supplier beforehand.
Before you begin your clothing business, ensure to meet all legal requirements as per the local government rules.
Besides, you must identify your target customer group and their preferences. List out the following observations and make your inferences:
Do you want to start with international brands or local ones?
What is the channel through which you want to sell clothing to customers: online? Store? Both?
What is your initial investment?
How much margin do you want to set?
Do you have an experience or guidance in this line of business?
What is the competition in your chosen niche?
Like any other business, you must be aware of clothing business dos and don'ts, so your investment and effort reap the best returns.
Also Read: List of best indoor slippers
Best wholesale clothing websites
Here are some popular wholesale clothing websites in India and abroad for buying clothes wholesale:
Wholesale Market Surat (WMS)
Also Read: How to wear a saree step by step beautiful?
Conclusion
With the growing demand amidst the evolving fashion trends, the wholesale clothing business is a lucrative option. All it takes is good research to niche down and work with a trusted wholesale clothing supplier who can guide you through your entrepreneurial journey.
Need help with setting up your ecommerce site or website for clothing business? Email us at digital@whitewintermarketing.com  for website development, ecommerce and SEO services. Know more about us at www.whitewintermarketing.com