RV Camping is an excellent option for travel lovers who wish to stay close to nature. In the USA, RV camping is one of the most loved family activities. The RV camping trend is on the rise in other countries too. Based on their geography and personal interests, while some prefer summer RV camping, others love camping in winter.
Whatever your camping preference is, if you are looking for camping tips, we have you covered. This article shares RV camping ideas, winter camping tips, and summer camp tips you will love. Read on.
RV Camping Tips
The mention of camping brings incomparable excitement to the whole family. From packing clothes to deciding the outdoor activities and the menu, every task on camping to-do is exciting.
Adding to this excitement, when you have an idea of camping tips, your camping turns more memorable. Below we share useful camping tips for beginners that sound simple yet make a remarkable difference while camping.
Do your research
At first look, camping sites may sound similar. However, every camping site may have its own rules and facilities. Collect details about the camping site before you settle on your destination.
General facilities you may want to check to include the availability of ash and bath, electric backup, drinking water facility, parking fee, cooking arrangements, etc.  While most campsites do not restrict your furry mates, it may help to check if there are any rules for bringing your pets.
Suggested Reading: Travel Gadgets to Own
Maintain the ambiance
People love camping for one good reason – the serenity it offers amidst nature. While camping, respect others' privacy and allow them to enjoy the calmness while you do yours.
Watch the volume of your music, TV, and generator. Note the same while talking with children or handling pets. Pass the instructions to your children not to disturb others' camping experience.
Leave only your footprints
Make provision to neatly collect the disposed of waste into an eco-friendly garbage cover and dispose of them at the right disposal places. Do not burn the waste and pollute the environment or cause trouble to others in the camping site.
The same rule applies to dealing with pet waste. If you are traveling with your pet, load up on pet poop covers to maintain the hygiene of the camping site.
Help other campers
Camping sites can be full of surprises. From annoying mosquitoes to sudden bear visits, one can never be adequately prepared. Offer a helping hand to the other campers as appropriate and make new connections.
Follow campsite rules
Adhere to campsite rules in terms of check-in and check-out. If you wish to extend your camping or require more time to check out, convey the same to the organizers and help them to make informed decisions. Apply the same to rules related to fire, safety, obscenity, hunting, and other activities designed to maintain the safety and ambiance of the camping site.
RV Camping Ideas
For travel lovers tired of city noise and speed, RV camping is an excellent option. To make the best of the camping time, here are some RV camping ideas:
Make it a family affair: Invite your extended family and friends to join in your RV camping. Plan for group activities, story sessions for kids, and games that make the camping time more memorable.
Spend time with your furry mates: RV camping is an excellent solution to make your pet spend time with nature. If you have been celebrating your pet's birthday at home, move the birthday destination to an RV camping site next time.
Spend time with your love: There is no better time to get closer to each other and understand your love better than amidst nature. RV camping is an excellent choice to spend time together away from the city and have a fun time enjoying activities together.
Summer holiday activity: If crossing city limits as a part of summer vacation travel with kids is not possible due to your busy work schedule, take your children out to a camping site in your city and spend time together. Children will feel refreshed by getting closer to nature and will develop a connection with nature.
Celebrate special moments: Surprise your dear one with a memorable camping experience. Whether for New Year, Valentine's Day, Birthdays, or Wedding Anniversary, camping with your partner is a great way to make the moments memorable.
Have some solo time: Camping provides a much-needed creative break if you crave some me-time. For a safer camping experience, always choose campsites with groups of people and refrain from being too adventurous.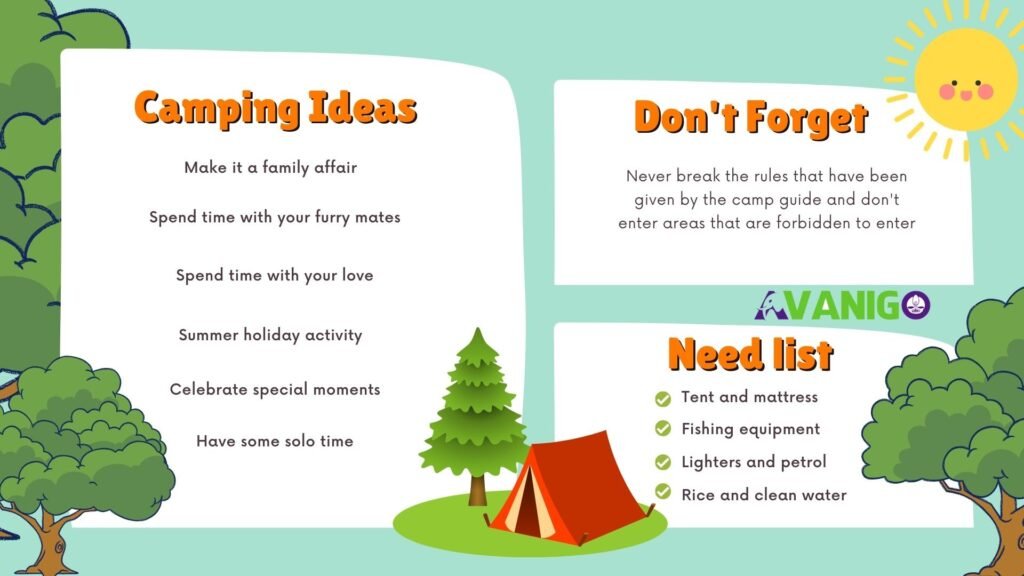 Summer camp tips
There seems no better activity in summer than RV camping to gain some sunshine and warmth. Read these summer camp tips to enjoy your camping even without letting the heat and humidity affect your camping experience.
Set up camping tent only after evening
Camping tent fabric is an excellent absorber of sun heat. To have the utmost summer camping experience, always lay out your RV camping tent after the sun sets.
During the day, spend time in the tree shadows or set up your RV on the breezy side of the camping site. This is one of the important tips to stay cool during summer camp.
Stay hydrated
Outdoor activities in summer can lead to dehydration. Carry ample water in your summer camp RV and remember to keep sipping every while.
Take special care if you are camping with children and elders and remind them to stay hydrated throughout the day. Apply the same care for your furry friend too.
Wear wet bandanas
A wet bandana or napkin around your forehead or neck will help you to stay cool during summer camping. It comes in handy to wipe your face amid the dry air while also keeping you cool throughout the day. Just sprinkle water at regular intervals to keep the cloth wet.
Include swimming in your activity list
For summer camp in an RV, choose a site that has a swimming facility. A natural lake or swimming facility made by the campsite management will ensure that you relax in the water and perfectly beat the heat.
Select UV-friendly camping tent fabric
Most camping tents are either nylon or polyester. Both these materials are nasty for their heat absorption. In case you leave the tent open during the day, be ready to step into a warm sauna in the evening!
To avoid such heat absorption during the day and reflection at night, select UV-treated camp tents that reflect sun rays and help you stay cool during summer camp. Choosing light or white-colored tents is another smart way to beat the heat during camping in summer.
Winter Camping Tips
The camping experience in winter is altogether different. With snow-filled trees and white glow all around, it's a time to play and have fun with family amidst nature like no other. However, with certain camping tips for winter, it is possible to make the experience warmer. Read them below.
Dress in layers
The temperatures can be extreme at night and tolerable during the day. Hence, dress in layers to switch to a comfortable level of clothing as per the temperature. Include gloves, high boots, scarves, and woolen wear without missing.
Carry extra lights
There is no harm in carrying extra lights and batteries, especially during a winter camp. You never know when an extra pair comes in handy and helps you during the camping. Having ample torches and batteries will help you handle the surprises of early sunsets and longer nights.
Eat warm foods
Focus on your nutrition while on a winter camp. Prefer oats, bananas, sweet potatoes, eggs, whole wheat bread, and black coffee that add warmth internally. They also provide the energy required to beat the cold and keep you going the full day actively.
Inspect your camping site
While laying out the tent for the night, check for the possibility of snowing and weak branches. Take the support of solid trees and bushes to prepare a camping spot that is free from heavy wind or snow.
Prepare a warm bed
Invest in a winter camp tent that has all provisions for winter camp. Sleeping bags may get cold if the climate is too cool. Hence carry extra blankets, sleeping bags and winter protection wear to have a nice, warm sleep at night.
Go prepared
Cary shovels and headlights to handle snow-related issues. Similarly, a first aid kit is mandatory on your winter camp items list.
Make a tent while the sun shines
Set up everything ready while still, the daylight is present. This way you can stay ready to enjoy a safe night without worrying about setting up or searching for things in the dark.
Keep your accessories inside the tent
Be it your shoes or shovel, keep all items inside the tent. This way they will stay warm and you can find them handy as well. You do not want to be surprised by the snowstorms at night and wake up searching for your accessories.
Safety matters
Camping is a fun activity that can turn safer with little precautions and groundwork. Inform your friends about your camping plans and site so they are aware of your whereabouts.
Try to stay with groups if you are new to camping and prevent remote camping sites till you become an expert camper. Carry a handy notepad with all emergency contact numbers and always have a full-charged power bank with you.
Have a nice RV Camping
The RV camping ideas mentioned above ensure a happy and safe camping experience. Always give as much preference to safety as fun and camping will be a beautiful experience. Happy camping!