Are you thinking about renovating your garden? Are you wondering how to do that? You might be thinking about a look that is natural and appealing to the eyes. Think no more because we have some best rock garden ideas to help you change the look of your old-fashioned garden. Creating a rock garden in your backyard is a simple and cost-effective method to give your outdoor space texture and dimension. Although they require minimal maintenance, rock gardens have a variety of perks, from unbeatable aesthetic ambience to attracting birds and butterflies.
What is a Rock Garden?
A rock garden, often called a rockery, is a natural feature that is planned to include attractive rocks, stones, and boulders. Gravel or mulch are frequently used in rock gardens, along with plants that can survive in rocky, well-drained soil.
To add visual appeal and emphasize the textures and colours of the stones, the rocks are arranged in a creative, organic-looking layout.
Though rock gardens have been in trend since recently, they have always been a part of home gardening for lavish villas and bungalows. Some of the main reasons why rock gardens are becoming popular are:
They are healthy for the environment and sustainable. Pesticides and fertilizers are not necessary in rock gardens.
They contribute to water conservation since the rocks and gravel moisten the soil.
Animals like birds, butterflies, and wildlife produce natural surroundings.
They are inexpensive and require minimal care. Rock gardens only need a little weeding, mowing, or pruning.
Different Types of Rock Garden Ideas
Before choosing specific ideas, consider the overall design of your rock garden. Size, shape, and location will determine what options work best. A rock garden can be a small corner or span an entire yard. Circular, rectangular, or free-form shapes each have a different effect. And choose a spot with good drainage and sunlight exposure for the plants.
24 Ideas to Celebrate New Year at Home
Tips for Buying a House for the First Time
Things to know before buying a house
As you move below, you will explore 22 rock garden ideas, offering inspiration and practical advice to help create your stunning rock garden.
Alpine Rock Garden
A mountain landscape's natural beauty can be perfectly recreated in an alpine rock garden. Use a range of alpine plants, like sedums and saxifrages, to add colour and texture. Alpine plants thrive in rocky, well-drained soil and full sun. Arrange plants that require equivalent quantities of water and light. Bury some of the larger rocks in the soil to make them look more natural.
Zen Rock Garden
Zen rock gardens, or karesansui, are a staple of Japanese garden design. They use rocks and sand to create minimalist landscapes encouraging contemplation and tranquillity. Rake the sand into patterns to represent ripples in water. Zen rock gardens do not have plants, so choose a spot with little sunlight. The simplicity and symbolism make them ideal for small spaces.
Rock Garden Water Feature
Adding a water feature to your rock garden can create a dynamic, multi-sensory experience. It can be extremely soothing to hear water trickling. A small fountain or waterfall is ideal for most rock gardens. Reservoir must be buried deep in the ground and surround it with rocks to make it look natural.
Rock Garden with Succulents
Succulents are an excellent choice for garden ideas with rocks due to their hardiness and variety of shapes and colours. They can produce impressive visual effects. Plant succulents in rocky, well-drained soil, with their roots buried in the ground. Leave space between plants for them to spread out. Succulents come in shades of green, blue, red, and yellow to create colour contrast.
Rock Garden with Native Plants
Using native plants for your garden ideas with rocks ensures they thrive in your local climate and support local biodiversity. Do some research to find plants native to your region that will grow well in rocky, well-drained soil and total sun exposure. Native plants may require little maintenance once established.
Rock Garden on a Slope
A sloping garden can be challenging, but also an opportunity to create a stunning rock garden design. The slope can be used to create a sense of depth and perspective. Using rocks flat on one side to arrange into steps on the slope would be best. Plant small shrubs, perennials and alpine plants along the slope, arranging them so their heights descend along the slope. A slope also allows for a waterfall or stream to be incorporated.
Rock Garden with a View
If you're lucky enough to have a garden with a view, a rock garden can be a great way to frame and enhance it. Firstly, have a spot at the optimal viewing point. Arrange rocks in a crescent shape to draw the eye to the view. Leave the centre open, and plant around the edges of the rock formation. Get those plants that have minimal foliage and won't obstruct the view. A gravel or stone path leading to the viewing spot adds to the effect.
Essential Things to Buy for a Home
Ideas to Celebrate Your Dog Birthday at Home
Rock Garden Path
A path through your rock garden can add a sense of journey and discovery. It can also make maintenance easier. Lay down gravel, stone pavers or flagstones to create your path. Have the path wind through and around rock formations and plantings. Leave ample space on either side of the path for plants to spread. A path allows visitors to fully experience the garden by walking through it. It also provides access for pruning, weeding and enjoying the details.
Rock Garden with a Fire Pit
A fire pit can be a great addition to rock garden designs, providing a focal point and gathering place. Pick a location at least 10 feet away from any overhanging plants or branches. One-third of the rocks should be buried in the ground before you dig a shallow hole and surround it with them. Leave an opening for access to the fire. A fire pit extends the enjoyment and use of your rock garden into the evening. Locate seating around the perimeter of the pit.
Rock Garden with a Bench
A bench can provide a place to sit and enjoy your rock garden. If you want to go with simplest of rock garden designs, prefer a bench style that complements your garden's style. Place it along a path or near a focal point in your garden. Having a place to sit makes it more likely visitors will spend time appreciating the details of your rock garden. A bench tucked into a secluded corner can also create a sense of intimacy.
Rock Garden with a Bird Bath
A bird bath can attract wildlife to your garden ideas with rocks, adding another dimension to your rock garden. Choose a wide, shallow bath and place it on a pedestal or flat rock. Locate it near plantings that provide shelter and nesting spots for birds. The sound of birds splashing in the bath adds auditory interest, and the birds themselves add movement and life. Make sure you're providing clean, fresh water every day for the birds.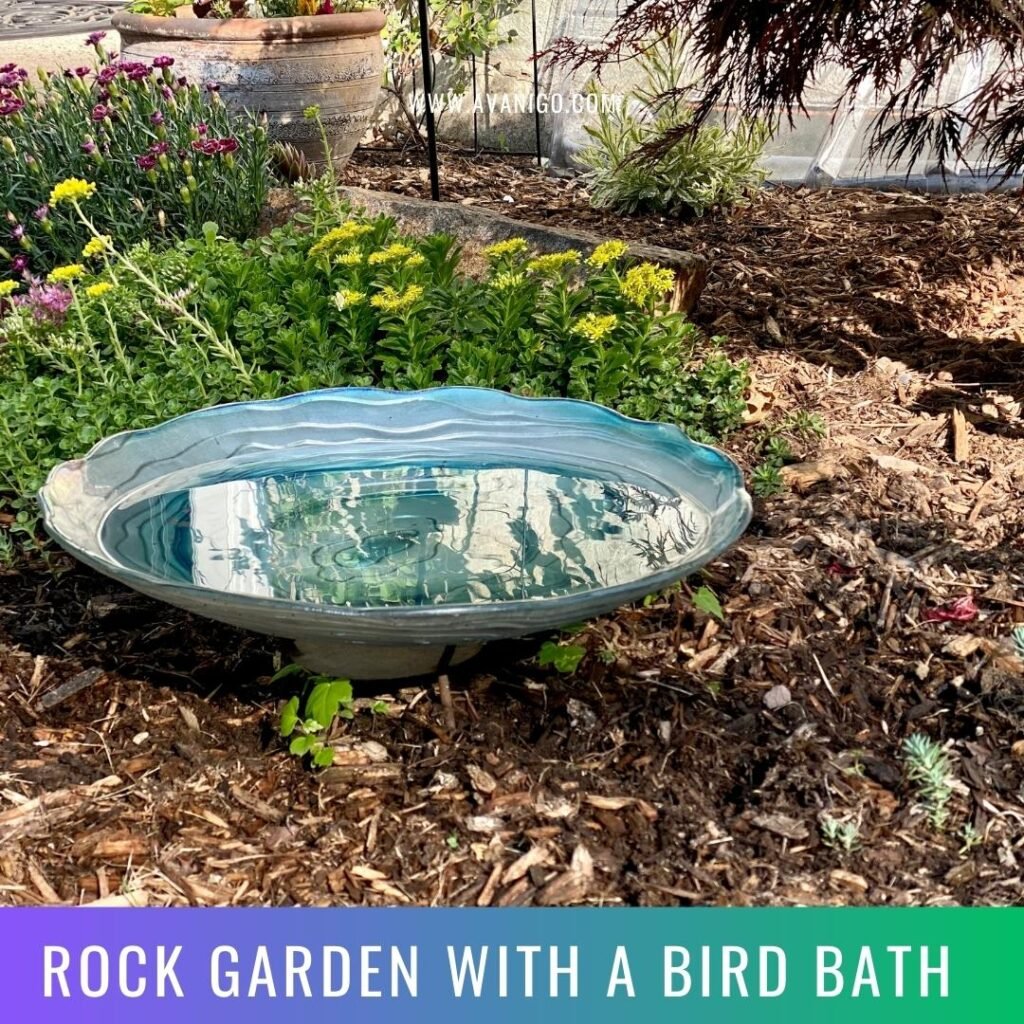 Rock Garden with a Pergola
A pergola can provide shade and structure in a rock garden. Climbing plants can also be supported by it. Pergola must be placed over a path, seating area or entryway. A pergola allows you to enjoy your rock garden designs even in hot or rainy weather. Climbing plants add greenery overhead and can provide privacy. An open-air pergola allows some sunlight through while still offering shelter.
Rock Garden with a Pond
Ponds can also attract a variety of wildlife. Please use a preformed liner or dig a shallow depression and line it with an impermeable liner. Have the edges of the liner under rocks buried around the pond's perimeter. Include a recirculating pump and filter and possibly a fountain or waterfall. Plant foliage around the pond, leaving some open space. Locate seating where the pond can be enjoyed. The sound of running water enhances the sense of calm. Fish and frogs may take up residence, adding to the charm.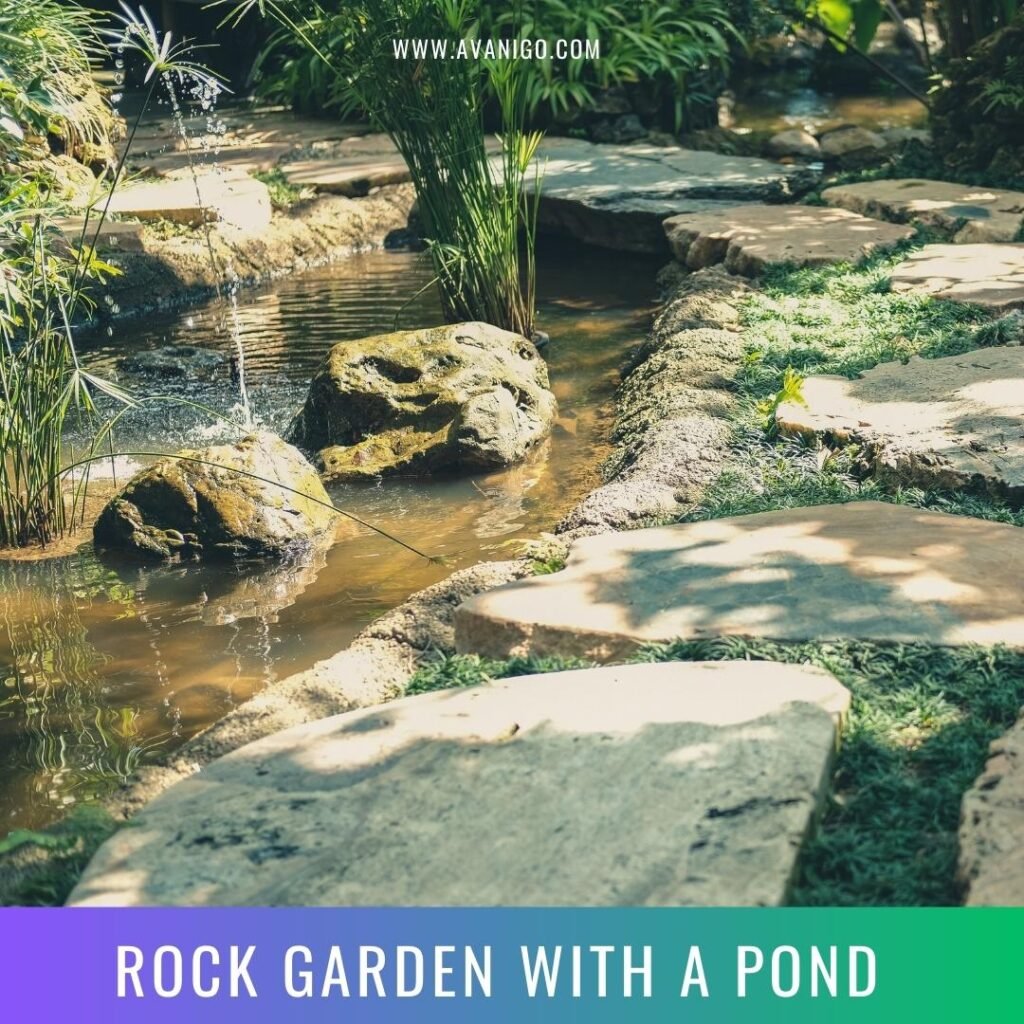 Rock Garden with a Bridge
A bridge can add a sense of journey and discovery to a rock garden. It may additionally serve as an eye-catching design element. The bridge should be over a dry creek bed, water feature or path. A bridge invites exploration of what's on the other side. It creates an illusion of a more expansive space and adds depth to a garden. For a dramatic effect, incorporate a waterfall or stream under the bridge.
51 Ways to Save the Environment from Your Home
20+ Types of Indian Handicrafts that Add More Elegance to Your Home
Rock Garden with a Gazebo
Choose an open-sided gazebo style that complements your garden. A gazebo offers shelter while still allowing enjoyment of the garden. It provides a destination point and invites visitors to sit and observe the details of your rock garden.
Rock Garden with a Greenhouse
A greenhouse can be an excellent addition to a rock garden to grow various plants. Pick a greenhouse design that matches your demands and price range. A greenhouse expands the possibilities for your rock garden, allowing you to include plants that require protection from the elements. It can also provide shelter for propagation and overwintering plants.
Rock Garden with a Swing
A swing can add a playful element to a rock garden. It can also provide a place to sit and enjoy the garden. A swing invites visitors of all ages to sit and enjoy the garden from a different perspective. It adds an interactive and fun element that can make a rock garden more appealing to children.
Extra-curricular activities to build life skills in your kids
Rock Garden with a Tree House
A tree house can add a sense of adventure to a rock garden. It can also provide a place to sit and enjoy the view. Secure the tree house to the tree using lag bolts and braces. A treehouse provides an elevated vantage point to observe and appreciate the details of your rock garden. It adds an element of fun and imagination, especially for children. In such rock garden designs with tree house, climbing plants can be grown to provide greenery and privacy.
Rock Garden with a Hammock
A hammock can provide a place to relax and enjoy your rock garden. Hammocks should be in between two sturdy supports, like trees or posts. A hammock offers a place to lounge and comfortably observe your rock garden.
Rock Garden with a Sculpture
A sculpture can add drama and interest to a rock garden. A sculpture that enhances your garden's style, scale and materials is significant. Locate it in an open area where it can be fully appreciated. A sculpture provides a visual focal point and enhances the aesthetic appeal of your rock garden. It invites visitors to contemplate its form, adding an artistic dimension.
Rock Garden with a Fountain
A fountain can add a sense of movement and sound to a rock garden. It should be in an open area to be seen and heard. A fountain adds visual interest with its flowing water and auditory stimulation with its sounds. It provides a focal point that draws the eye and invites contemplation.
Simple Backyard Rock Garden Ideas
Finally, remember the potential of your backyard for creating a stunning rock garden. Whether it's a small corner or a large expanse, there are countless rock garden ideas to explore. Even a simple arrangement of rocks and succulents can transform an unused corner of your yard into a peaceful oasis.
Get ready to enjoy the beauty of a Rock Garden
Rock garden ideas are beneficial in creating a mind-blowing landscape. You can create a magnificent rock garden that fits your taste and the features of your land with one of these 22 rock garden ideas. Whether you prefer a minimalist Zen Garden, a rugged alpine landscape, or a colourful flower garden, there's a rock garden design. So, get your rocks ready and start creating your dream rock garden today!