Gandhi Jayanthi is the birthday celebration of Mahatma Gandhi, an unparalleled freedom fighter and leader in India. What makes the importance of Gandhi Jayanti is it is not only a national celebration in India but also a world-renowned one. The United Nations announced on 15 June 2007 that Gandhi Jayanthi date October 2nd will be celebrated as the International Day of Non-violence.
As we move ahead in this post, let us understand why Mahatma Gandhi is a great leader of India and all about Gandhi Jayanti.
Why do We Celebrate Gandhi Jayanti?
Gandhi Jayanti is celebrated to remember the contribution of Mahatma Gandhi to India and its fight for independence. The date of Gandhi Jayanti is 2nd October every year. As a part of the celebration, Mahatma Gandhi Jayanti activities take place across the nation.
Why is Mahatma Gandhi so Important?
India has many renowned leaders who participated in attaining freedom from the Britishers' clutches. Then:
Why do we celebrate Mahatma Gandhi Jayanti as a national celebration?
What is so unique about Mahatma Gandhi Jayanti?
Another common observation about Gandhi Jayanti is why only Mahatma Gandhi's image is used on Indian currency and not of other leaders?
Mahatma Gandhi is probably the only leader of India who influenced Indians irrespective of their language, caste, and creed. He was a great advocate of equality and staunchly believed in the eradication of casteism, thus getting closer to the people from every nook and corner of India. He inspired men and women across the country to participate in the freedom struggle so much that women even donated their mangal sutras as a contribution to funding the freedom struggle.
There are countless freedom fighters in India. However, to recognize them as a national symbol like we do Gandhi on the currency, many regional barriers and sentiments come into the picture. Mahatma Gandhi is the sole leader who has a remarkable influence on any Indian's mind. And thus, it justifies adding Gandhi's image to the currency.
Do you know?
The current pic of Gandhi on currency notes is not a drawing, but it was his real-life pic taken during his visit to Lord Fredrick Pethick Lawrence to then Viceroy's house (presently Rashtrapati Bhavan).
Don't Miss: Vasudhaiva Kutumbakam: The Timeless Philosophy of India's Global Harmony
Mahatma Gandhi History
Mahatma Gandhi was born to Karamchand Gandhi and the Putlibai couple on October 2nd, 1869 in Porbandar, Gujarat. His birth name is Mohandas Karam Chand Gandhi. His father served as Chief Minister in Porbandar along with some other places in Western India.
Gandhi's Childhood and the Influence of Mother
Gandhi's mother Putli Bai has a huge role to play in his life. She was a Vaishnava Pranami who had intense knowledge about the Bhagavad Gita, the Quran, and other religious texts. She was the reason for his abidance to the three vows he made in his life.
As a student, Gandhi was average in his studies. He used to steal money for petty purchases and was an angry young man. While he was 13, Gandhi was married to Kasturba who was 14 years old, as customary child marriage in those days. They have four children – Harilal, Manilal, Ramdas, and Devadas.
When he was 18, he left for England to pursue law education after seeking permission from his mother and wife.
Gandhi's three vows
When he was setting off to England to pursue his barrister education, Putlibai was worried about him deviating from the path of Indian culture and aping Western culture. It was then she asked and suggested he never deviate from the path of dharma and stay away from eating meat, consuming alcohol, and respect women.
Thus, Gandhi made three vows – "Mother, I bow at your feet and promise that I won't eat flesh, won't drink alcohol and look upon other women as my mother or sister!"
Gandhi in Africa
Upon the completion of the law course, he returned to India and started a practice. But as it did not go as expected, he went to South Africa to argue the case of a merchant. Starting this, he lived in Africa for 21 years. He then observed the discrimination shown on black people of South Africa.
Gandhi took active participation in the civilian rights movement in Africa. He was the man behind the Africans gaining the right to vote. This is why he is worshipped in Africa even to date. Thus, speaking about Gandhi Jayanti is never complete without mentioning his story in Africa that proved him as a great leader.
Gandhi's return to India
In 1915, Gandhi returned to India at the request of Gopala Krishna Gokhale, another famous leader of India. In 1930, he took the leadership of the Indian National Congress. What followed later is a huge journey of notable events and fights that eventually led to the unification of the country to fight for its independence.
Gandhi played a vital role in bringing people of various religions and castes onto one opinion and goal. The Indian independence struggle is noted for its non-violence due to the Gandhian philosophy.
After India attained independence on August 15th, 1947, it was on January 30, 1948, that Nathuram Godse shot Mahatma Gandhi while he was enroute to his morning prayer.
Gandhi Jayanthi Celebration Ideas in India
Mahatma Gandhi Jayanti is one of the three national holidays of India, the other two being Independence Day and Republic Day. After Narendra Modi became the prime minister of India, he advised that Gandhi Jayanti be a working day for government employees so that they practice his Swachch Shapath.
Gandhi Jayanthi celebrations have their prominence in India. On this day, all leaders pay their tributes to Gandhi for his incomparable contribution to India. The Prime Minister offers his respects by payng tributes to Gandhi at Raj Ghat, Gandhi's memorial in New Delhi. Raj Ghat is also one of the prominent places which every foreign leader visits on their trip to India. They offer garlands to his idols across the nation and reminisce about the greatness of Gandhian philosophy.
On Gandhi Jayanthi, alcohol sales are banned in India as a mark of his philosophy. Some people even refrain from consuming meat on Gandhi Jayanthi.
Gandhi Jayanti Celebration Ideas in school
One of the aspects to mention about this day is the Gandhi Jayanti celebration in school. Children get dressed up as Gandhi wearing his signature white clothes, stick, and glasses. The sight looks so cute and lovable to witness.
As a part of Mahatma Gandhi Jayanti activities, children sing songs related to Gandhi. Especially, the song Raghupati Raghava Raja Ram – the favorite devotional song of Gandhi is sung in every school.
Speeches, essay writing, and social activities are also a part of Gandhi Jayanti celebrations. Students form groups and spread social messages related to many issues like child labor, the importance of education, untouchability, hygiene, etc.
One of the main reasons behind the Gandhi Jayanti celebration in school is to teach the Gandhian values to the next generations and help his ideas and ideals pave the way for a stronger foundation for tomorrow's citizens.
Mahatma Gandhi Jayanti Activities at Home
Watch Mahatma Gandhi Jayanthi celebrations at Raj Ghat live on your TV. This is one of the Gandhi Jayanti celebrations no one should miss.
Explain the story of Mahatma Gandhi and about Gandhi Jayanti to your children and his contribution to the freedom we are enjoying today.
Gift Gandhi books to your children and encourage them to understand why Gandhi is a great leader of India.
Participate in online discussions on social media that pay tributes to the event of Mahatma Gandhi Jayanti.
Talk to your great grandparents and grandparents if you can and learn how Gandhi influenced the whole of India, as they are contemporaries to Gandhi.
As a part of the Gandhi Jayanti celebration, teach Gandhi songs to your children and encourage them to sing them daily.
Facts About Gandhiji
Mahatma Gandhi is popular as bapuji, which means the Father of Nation.
He came from a poor family that could not afford to pay his fee.
Gandhi was assassinated in the garden of the former Birla House, now known as Gandhi Smriti in Delhi.
He called the 'untouchables' as 'Harijans' meaning, the children of God. His role in the eradication of untouchability is prominent.
Mahatma Gandhi is a great writer. He has 30 books to his credit. The Story of My Experiments with Truth is Mahatma Gandhi's first book.
Mahatma Gandhi liked brown rice, dal, and fresh vegetables. He believed in the nutrients of goat's milk and used to drink it daily.
Gandhi also encouraged intermittent fasting as a way of healthy living. He supported and encouraged the drinking of raw juices to cleanse one's body.
Mahatma Gandhi was Time Magazine's Man of the Year in 1930.
The title Mahatma was given by Nobel Prize winner Rabindranath Tagore, a famous poet of India.
Mahatma Gandhi was responsible for the Civil Rights movement in 12 countries. No wonder the Gandhi Jayanthi celebration is celebrated across the world.
Though he was an ardent believer in peace and non-violence, Gandhi was never awarded the Nobel Peace Prize. He was nominated for the award 5 times.
Interestingly, to recognize his fight against British rule, Great Britain released a stamp on his name 21 years after his death.
You can find Gandhi Nagar in almost every state of India. They are places named after Gandhi as a mark of respect to him. Interestingly, there are also roads outside India named after Gandhi.
Gandhiji's favorite place is Sabarmati Ashram in Ahmedabad, Gujarat. From 1917 until 1930, he lived here and it served as one of the main centres of the Indian freedom struggle.
Gandhiji loved charkha. He encouraged every Indian to wear khadi clothes and abandon foreign clothes.
Mahatma Gandhi is the only person in the world who has the greatest number of stamps released on his name. Around 125 countries have released stamps on Gandhi's name.
Gandhi's spectacles frame is his signature style. It even influenced Steve Jobs.
What is Gandhi's Message to the World?
Gandhi's message to the whole world is to treat everyone with love and respect. He believed in the existence of God and Humanity. He advocated that everyone is equal and that every single effort can change the world for the better.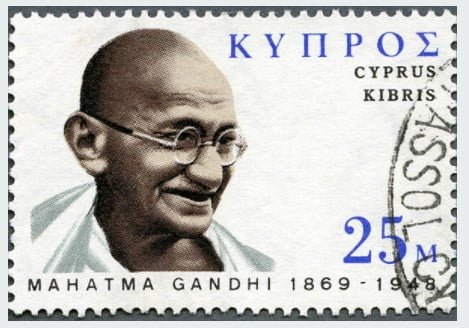 Mahatma Gandhi Quotes
This great leader's philosophy and principles live even today and motivate us through Mahatma Gandhi's quotes. Here are some of the Mahatma Gandhi quotes on life, freedom, and principles that will inspire us every day.
"Live as if you were to die tomorrow. Learn as if you were to live forever."
"The greatness of humanity is not in being human, but in being humane."
"In a gentle way, you can shake the world."
"Change yourself – you are in control."
"I will not let anyone walk through my mind with their dirty feet."
"The weak can never forgive. Forgiveness is the attribute of the strong."
"If we could change ourselves, the tendencies in the world would also change. As a man changes his own nature, so does the attitude of the world change towards him. We need not wait to see what others do."
"A man is but a product of his thoughts. What he thinks he becomes."
"I will not let anyone walk through my mind with their dirty feet."
"Nobody can hurt me without my permission."
"Happiness is when what you think, what you say, and what you do are in harmony."
"The weak can never forgive. Forgiveness is an attribute of the strong."
"An ounce of practice is worth a thousand words."
"A coward is incapable of exhibiting love; it is the prerogative of the brave."
"Live as if you were to die tomorrow. Learn as if you were to live forever."
"Freedom is not worth having if it does not include the freedom to make mistakes."
"Service which is rendered without joy helps neither the servant nor the served."
If we are to teach real peace in this world, and if we are to carry on a real war against war, we shall have to begin with the children."
"The best way to find yourself is to lose yourself in the service of others."
"In a gentle way, you can shake the world."
"If I have the belief that I can do it, I shall surely acquire the capacity to do it even if I may not have it at the beginning."
"Hate the sin, love the sinner."
"Glory lies in the attempt to reach one's goal and not in reaching it."
"Whenever you are confronted with an opponent, conquer him with love."
"Permanent good can never be the outcome of untruth and violence."
"The future depends on what you do today."
"To give pleasure to a single heart by a single act is better than a thousand heads bowing in prayer."
"Earth provides enough to satisfy every man's needs, but not every man's greed."
"It's the action, not the fruit of the action, that's important."
"Strength does not come from physical capacity. It comes from an indomitable will."
"You don't know who is important to you until you actually lose them."
I object to violence because when it appears to do good, the good is only temporary; the evil it does is permanent."
"You may never know what results come from your actions, but if you do nothing, there will be no results."
"I cannot conceive of a greater loss than the loss of one's self-respect."
"You must not lose faith in humanity. Humanity is like an ocean; if a few drops of the ocean are dirty, the ocean does not become dirty."
Final Thoughts
Mahatma Gandhi Jayanti celebration may be a day's celebration; however, Gandhian principles guide us to lead a life where we can treat everyone with respect, dignity, and love.