Festivals in India bring along their dose of celebrative mood and fun, and the Dasara festival brings this in higher measures! Celebrated for ten days, Dussehra or Dussehra is one important festival of India. Dances, food, fun, worship, fasting, rangolis, and crackers – Dasara is an amalgamation of all these festive attributes. Every state in India has its mark in Dasara celebrations. Though the style and celebrations vary, the essence and the reason why we celebrate Dasara remains the same.
As we move along in this post, let us explore the fascinating aspects related to the Dasara festival.
Dasara 2022 Date
Dasara 2022 date is on Wednesday 5th, October. The auspicious muhurat of Dasara Vijaya is from Vijay Muhurat – 02:53 PM to 03:40 PM on this day.
Dasara 2022: Why we celebrate Dasara?
The meaning of the word Dasara is "a celebration of ten days". Originated from the word "Dasa + Hara", which means "killing of evil", Dasara marks the end of evil and the rise of good.
But why do we celebrate Dasara? Like every other Hindu festival, Dasara too has its legends associated. Besides, there is a scientific reason behind Dasara celebration and fasting during this Dasara.
Legends behind Dasara festival
According to Ramayana, it was on Dasara that Lord Ram killed the ten-headed Ravana. Ravana was a great warrior and it was after a fierce battle that he was killed in the hands of Ram. Ravana has ten heads, which brings us the word "Dasha -hara" means "a person with ten heads killed!"
Dasara is also related with Mahabharata. Pandavas were sent to the forest for twelve years being lost in the gambling in the hands of Kauravas. In the thirteenth year, they had to spend time in exile without identifying themselves as Pandavas. To accomplish this, all the five of them tie up their weapons and leave them at a Jammi tree. They pray to the tree to safeguard those weapons till they come back. And then they join the court of Virata as helpers.
However, Kauravas sense that they are in Virata. They planned to spoil their exile and thus wanted to grab their kingdom forever. For this, they draw a plan and invite Pandavas to war. With nothing else to do, Arjuna, the third of Pandavas, goes back to the Jammi tree where they hid their weapons. He thanks the tree for protecting their weapons and takes them from the tree. With the tree's blessings and the auspiciousness of the Muhurtha, he easily defeats lakhs of soldiers of the Kaurava army alone.
That day was nothing but Dasami or Dasara- the same day when Lord Ram killed Ravan. Arjuna has another name – Vijaya. Meaning – Successful. This is the reason why we call Dasara Vijaya Dasami.
If these are the legends, then we get a doubt here. Why do we worship Goddess Durga on Navratri?
Why we worship Durga during Navratri?
Dasara festival is also called Navaratri. The reason why we worship Goddess Durga is related to this story below:
Long ago, there was a demon king named Mahishasura. He was mad with power and wanted to become immortal and rule the whole three lokas. Thus, he did an intense penance to Lord Brahma and took a boon. He wished that 'no man or animal' would kill him. Lord Brahma granted the boon with a twist saying he would die in the hands of a woman.
Mahishasura was fully confident that no woman could kill him. Then his atrocities grew like anything. He started troubling the three lokas, the Gods, normal people, and everyone in between. Vexed with his raging powers, all Gods requested the help of Lord Vishnu. Vishnu then consulted Lord Shiva and Brahma and created a Shakti – The Supreme Feminine Power Durga.
Durga is another incarnation of Maa Parvati. She is the threshold of feminine power. She waged a war against Mahishasura. The war went on for nine days where Mahishasura kept changing his forms from one animal to another thus confusing Durga. On the tenth day, when he was in the Buffalo face, Goddess Durga killed him with a single bow with her Trident. That day was Vijaya Dasami.
The nine days that she fought against Mahishasura represent the fighting of good and evil. Thus, these nine days are considered immensely sacred in the Hindu religion. Sadhu, saints, and religious scholars worship Maa Shakti on these nine days in her various avatars. On the tenth day – the Dasara festival, is the culmination of these worships and prayers.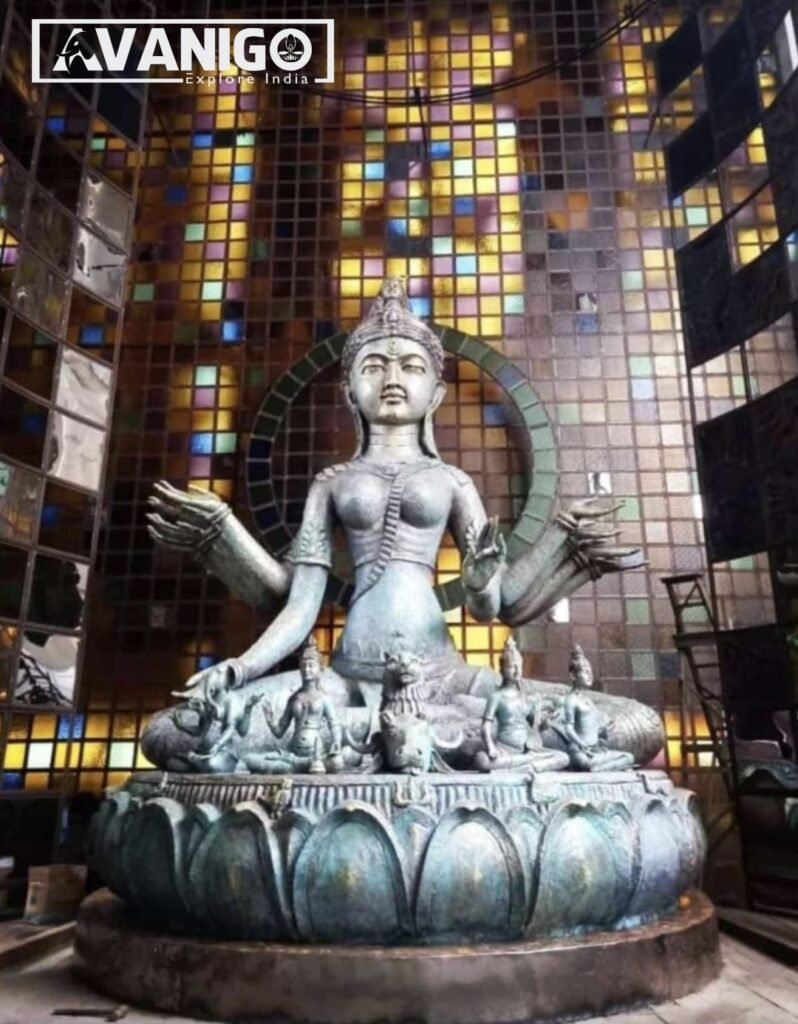 The scientific reason behind the Dasara festival
The Dasara festival falls in the months of September-October as per the English calendar. According to the Indian lunar calendar, the Dasara festival occurs on Ashwayuja Suddha Padyami to Ashwayuja Suddha Dasami. It is a ten-day festival where Goddess Durga is worshipped in her ten avatars- grouped into Durga, Lakshmi, and Saraswati.
Related: Significance of Goddess Lakshmi in Hinduism
These ten days are most potent enough to arise the three hidden powers in every one of us- iccha (will power), jnana (knowledge), and Kriya (action). By fasting on these nine days and performing homas, pujas, and sadhana of Maa Durga, one can realize their true power.
The worship of Maa Durga with fasting is called Sadhana. This Sadhana helps to eradicate the six enemies hidden in every one of us:
Kama (desire)
Krodha (anger)
Lobha (greed)
Moha (infatuation)
Mada (arrogance)
Matsarya (jealousy).
Once a human gains control over these qualities, it eventually brings in success in everything they do. This is the reason why people fast and worship Durga on the Navaratri.
Dasara festival is also the season when schools in India declare holidays for the whole ten days. It is the time for children to relax with their grandparents and cousins enjoying the festivities. Women draw huge colorful rangolis in front of their houses. They decorate the house fronts with mango leaves, marigold flowers, turmeric, and Kumkum. Women and men worship Goddess Durga in different avatars on every single day of Dasara.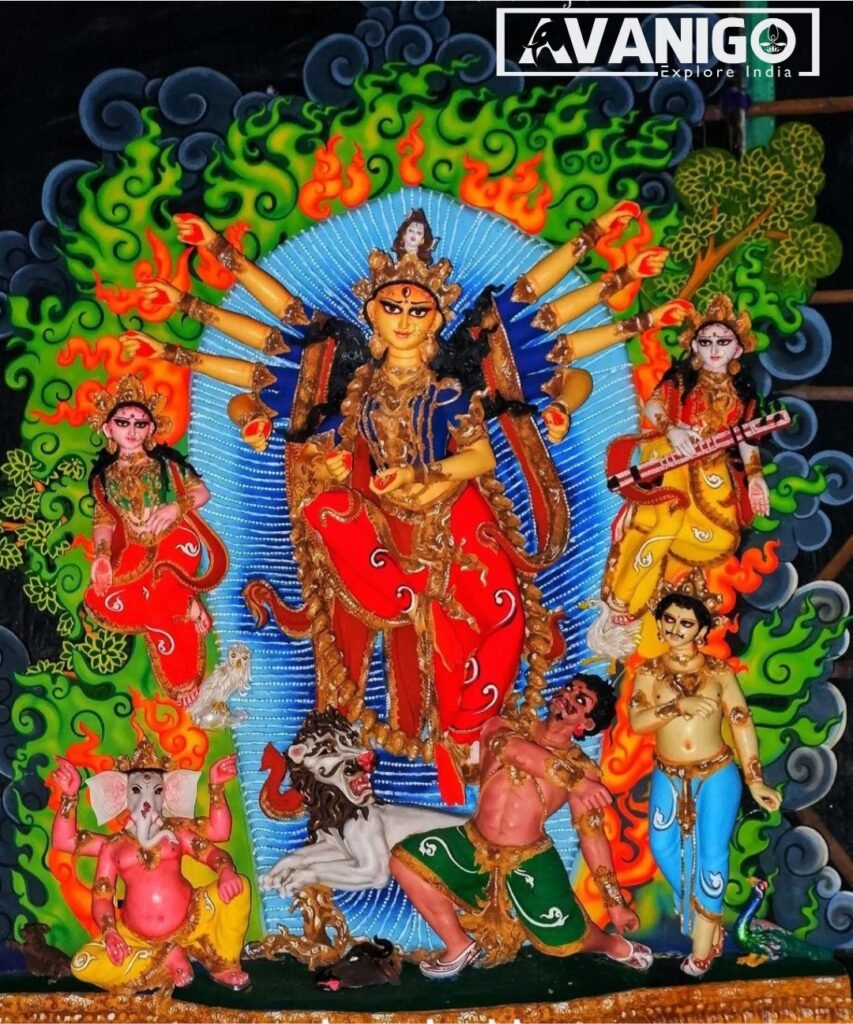 Significance of Each day of Dasara
The ten days of Dasara and Durga Puja take place reflecting worship of Durga in the following names and incarnations:
| | | | |
| --- | --- | --- | --- |
| Day | Name of Incarnation | Colour | Represents |
| Day 1 | Shailaputri | Grey | Action and Energy |
| Day 2 | Brahmacharini | Orange/blue | Moksha |
| Day 3 | Chandraghanta | White | Beauty & Bravery |
| Day 4 | Kushmanda | Red | Power hidden in vegetation on Earth |
| Day 5 | Skandamata | Royal Blue | Motherly power |
| Day 6 | Katyayani | Yellow | Courage |
| Day 7 | Kaalaratri | Green | Fiery power |
| Day 8 | Mahagauri | Peacock Green | Optimism |
| Day 9 | Siddhidatri | – | Ardhanariswara power |
Dasara Festival Celebrations
The celebrations of Dasara are one of their kind. It is time villages in India don their true beauty. Most cities wear an empty look as people rush to their native places to celebrate the Dasara festival with their extended families. Men, women, and children shine in traditional dresses. Authentic recipes that reflect one's culture take a fore seat in the Dasara festive menu.
Apart from the puja and fasting, the Dasara festival accompanies many specialties:
Durga pandals: People set up Durga pandals across streets and perform community worship. The festivities continue for 9-days of Navratri. On the tenth day, the idol is taken for Visarjan into the nearby water body.
Dandiya: Dandiya is a popular folk dance of India. People play music and do dandiya dance at Navratri and Dasara festivals. This is more popular in North India.
A Sons-in-law festival: Dasara festival is one of the two festivals, the other festival being Sankranti, which has utmost importance for gifting Sons-in-law. It is a cultural practice that parents invite sons-in-law and the daughter for Dasara festival, especially when it falls in their first year of marriage. They arrange a lavish feast and give them as per their financial status. This is a token of gratitude towards the couple and blessing them with the happiest life ahead. For this reason, the Dasara festival is also called Allulla Pandaga! (festival of sons-in-law, in Telugu)
Bathukamma: The worship of flowers arranged very carefully. Women display their expertise in gathering various specialized flowers for preparing Bathukamma. Gunuka poolu and tangedu poolu are mostly used in preparing Bathukamma. This is a local grand festival in the state of Telangana. The worship of floral Bathukamma happens for all the 9 days of Dasara. After the worship, the Bathukammas are left in the water bodies with immense devotion.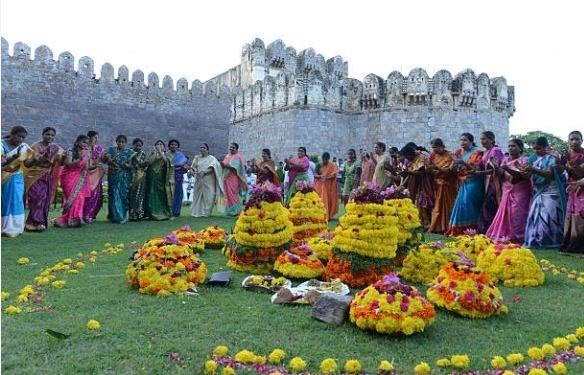 Rangoli competitions: Dasara is another festival, after Sankranti, where rangolis come to the fore. Women and girls draw beautiful and captivating rangolis that reflect the Dasara theme. Dasara rangoli designs usually portray Goddess Durga as Shakti, the bommala Koluvu, and the various celebrations that are intertwined with the Dasara festival.
Festival when culture comes alive: Despite their craze towards modern attire, youth make sure to specially design ethnic wear for the Dasara festival. Girls wear pattu lehengas, ghagra cholis while boys shine in dhotis and kurta pyjamas. Sarees, gold, and new household kitchen accessories are bought during Dasara season as a sentiment.
Bommala Koluvu: One of the Dasara festival special events that are famous in Telugu states is Bommala Koluvu. Women decorate the wooden toys and toys that are being handed down from generations in a specialized way on wooden platforms. They then invite neighboring women and children for having a perantam (a traditional gathering of women and children). Women sing songs, recite poems and slokas, and give harathi to the koluvu. In the end, fruits and offerings are distributed to the attendees.
Worship of vehicles/ equipment: The practice of Arjuna worshipping the Jammi tree and his weapons on Dasara day is one of the reasons why we celebrate Dasara. This practice continues in modern life too with the name Ayudha Puja (Ayudha means tool/weapon). People worship their equipment, tools, and vehicles on Dasara day. You can see RTC Buses, trains, autos, lorries, cars, bikes, seven-seaters, and bicycles wearing Haldi-kumkum and featuring marigold garlands on them with pride. This worship symbolizes that these vehicles are a reason for our safety and we should treat them with care and respect.
Similarly, heavy industries, engineering colleges, etc. also perform puja for the machinery inside their campuses. The department heads conduct pujas with the assistance of priests and lavish feasts are organized for staff on Dasara Ayudha Puja day.
Family gatherings: Dasara festival is called Pedda Pandaga (Meaning- a big festival) in Telugu states. This stands true because people pack their bags and head to their native villages and spend time with their families. The state road corporations and railway departments arrange special Dasara buses and trains to meet the demand of the Dasara season rush! In most cities, the roads wear an empty look during the Dasara festival while villages gleam with houses full of family members! Families get together, spend time, cook lavishly and have fun during Dasara.
The lighting of buildings: Many landmarks and heritage monuments of India come to life through special lightings at the Dasara festival. The Red Fort, The Mysore Maharaja Palace, The Charminar, and many such monuments glow in Dasara special lighting effects. Tourists who visit India should not miss witnessing these lighting effects to experience the Dasara festival to its fullest.
Aksharabhyasam: This is the ritual where a child is first given an introduction to formal education. The father of the child makes him sit on his lap and grab the child's hand making him write the first letter of the alphabet of the Mother Tongue. A priest accompanies this ritual and performs this one of the Shodasa Samskara(the 16 rituals every human should perform in their life). Dasara festival is one of the auspicious muhurtas for this ritual. Many parents make it a point to perform this samskara (religious practice) to their child on Dasara day owing to the prominence the festival and the Dasami day has.
Ram Lila: This event happens in North India. Ram Lila comprises enacting the life of Lord Ram. This is a theatrical event that ends with the burning of the effigy of ten-headed Ravana. People participate in this event with boosted enthusiasm and energy, which marks the end of evil and the rise of good.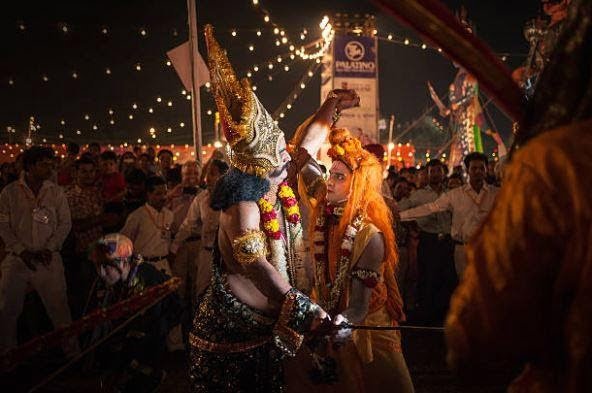 Dasara festival facts
Dasara falls in September or October depending on the Indian lunar calendar. It does not occur on a fixed date every year.
The Dasara festivities begin the celebrations of Diwali too. Diwali occurs after around 20 days of Vijayadasami.
In some parts of India, Dasara is celebrated as a harvest festival too.
The grandeur form of Ram Lila happens in the Ram Leela maidan in New Delhi.
Dasara celebrations happen with much fanfare in West Bengal and Mysore. Maa Durga in Kolkata and Goddess Chamundeswari in Mysore draw millions of devotees during Dasara season. Similarly, Goddess KanakaDurga in Vijayawada is worshipped with immense devotion on all the days of Navratri and millions of tourists take her darshan during every Dasara season.
Dasara is not only celebrated in India. It is a national holiday in Malaysia. People in Bangladesh and Nepal also celebrate Dasara.
Related: Facts about Diwali Festival
Ways to celebrate Dasara Festival
Dasara has its charm and there is a way that you should follow to experience this festival of energy and fun. If you want to celebrate the Dasara festival, you should follow all of these given below! Yes, we mean it!
Play dandiya: Dasara fun is incomplete without dancing to desi tunes and playing dandiya. Grab on your best authentic attire and take those dandiya sticks and shake a leg to the indie music to know what Dasara fun is actually!
Eat Dasara feast: Forget about calories and ditch into lip-smacking Dasara special festive menu. Right from Kodi Pulav to ghee fried sugary laddoos, do not leave anything untasted on this festival of food.
Praying to Goddess Durga: Pray to Shakti to reveal your inner hidden strengths. If you wish to bring out the fullest potential, fast for the whole Navratri (you can fast with fruits, or eat once a day or avoid rice and cereals as per your local cultural practice). But the meaning is to eat within the limit to invoke your hidden spiritual strengths. Do you know that the Prime Minister of India Shri Narendra Modi fasts on Navratri? He drinks only water the whole 9-days and nothing else! Visible proof of how Navratri fasting can make one strong and successful.
Watch Ram Lila: Not on TV or NetFlix! Go out and watch a theatrical performance of Ram Lila on the streets! This is what Dasara is all about – connecting with the roots and nature!
Participate in Ravan Dahan: Most communities, apartments, and colonies organize Ravan Dahan. If you are in cities, check where Ravan Dahan happens. For example, Shilparamam in Hyderabad organizes Dasara celebrations in the most authentic way. City people who do not travel to villages visit Shilparamam on Dasara festival to teach the beauty of the festival to their children. Participate in it and spark good in your soul paving way for all success ahead!
Start something new: Dasara's Vijaya Muhurta is one of the best times in the year to start a new venture. Be it a new business, or a new diet plan, or a new change you wish to see in your life, start it during the Vijaya Muhurta and continue with the same spirit thereafter.
Spend time with family: Dasara is a time for families. Take a break from the daily monotonous and hectic life and spend time with your friends and families enjoying Dasara festivities and feasts.
Decorate homes: Deep clean your homes and invite positivity with marigold flowers, oil lit diyas. Organize Durga pujas and Lalitha Sahasranama Parayan, taking care of COVID guidelines. Draw rangolis showcasing various themes of Dasara in your house front. Let the spiritual vibes spread all over your house through the nine days of Durga worship.
Worship your vehicle: Wash your vehicles and perform puja on Dasara day. This is believed to bring good luck to the whole family.
Watch movies: Dasara is also a time for the release of new movies! The movie industry every year releases mega movies for Dasara! Watch one on the big screen taking full safety measures related to COVID-19.
So, how are you planning for your Dasara celebrations? We are curious to know! Happy Dasara to everyone!!