India is the motherland of many legacies. Classical Dances are one of them. Many classical dances including Bharatanatyam, Kathak, Kathakali, Kuchipudi, Manipuri, and Odissi originated and evolved in India.
Evolution of Indian Classical Dances
The origin of these dances finds their roots in offering prayers and worshipping God in temples in Ancient India. Later, these dances were used as a medium to describe mythological stories to entertain the audience. Accordingly, these dances and the mythological stories were carried from one generation to another.
As these dances transited into modern times, they evolved by the inclusion of facial expressions. These dancers started performing themes based on their real-life experience and social issues.
All these dances are formed using the same 'mudras' as the basis and use hand signs as a language of expression. With their eyes and hand signs, they expressed the nine rasas which are – love, heroism, pathos, humor, anger, fear, disgust, wonder, and peace. A rasa is an emotion experienced by the audience conveyed by the facial expression of the classical dancer.
This article is a comprehensive guide on Bharatanatyam and Kuchipudi and explains many aspects of them in detail.
Origin of Bharatanatyam
Bharatanatyam is one of the famous and ancient known classical dances of India. It was originated in Tamil Nadu, one of the south-Indian states. In ancient times, like every other classic dance, Bharatanatyam was also performed in the temples and courts of kings of Southern India.
The art was passed from generation to generation because of the Devadasi system. According to this tradition, women dedicate themselves to serve the temple as dancers and musicians.
Bharatanatyam is also called artistic yoga. This is because it involves the movement of the body parts elegantly and artistically.
Also, it includes expressive eye movements and hand gestures to convey emotions.
The term 'Bharatnatyam' is comprised of four terms – Bhava, rag, taal, and Natyam.
Bhava means emotion
Rag means musical notes.
Taal means rhythm
Natyam means drama.
Today Bharatanatyam is recognised as a style of dance. However, in the olden days in Natyashastra, it is described as a system of dance that has the capability of manifesting in various forms.
Origin of Kuchipudi
Kuchipudi was introduced in the 3rd century BC. This world popular dance form originated as a dance drama from a village in Andhra Pradesh named Kuchelapuri.
Like most of the other classical dances, Kuchipudi was also performed in the temples by the Brahmin men known as Bhagavathalu. These dances were considered as offerings to deities and women never participated in the dance group.
Initially, the Kuchipudi themes were drawn from the epics like Ramayana and Mahabharata. These plays were performed in a center stage in the open air at night. The master of the ceremony plays an important role in introducing the characters in stage with humor and tie together the show.
With time, even women started participating in the dance group. The dancers perform certain rituals in the stage in front of the audience before performing the dance drama Kuchipudi.
A daru is a small composition of dance and song for each character which helps them to portray their character's identity and display their skill in the art. So, each character introduces themselves at the beginning with a daru.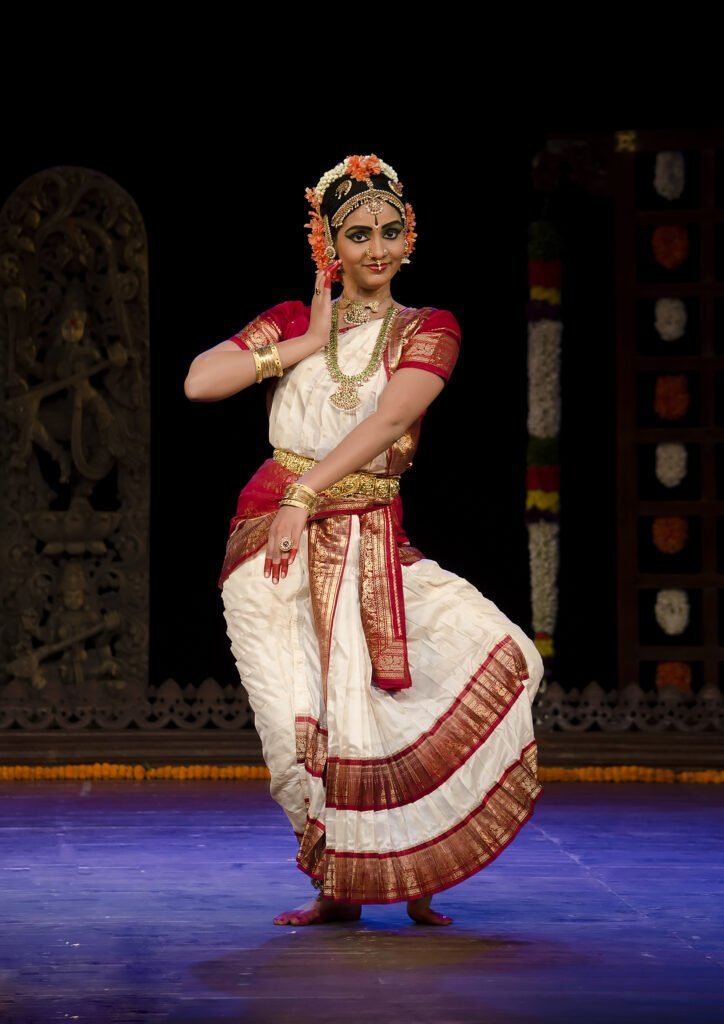 Related: Why India is termed as Incredible India?
Cultural Significance of Bharatanatyam
Bharatanatyam is considered the oldest classical dance of India. It is known as the mother of many other Indian classical dance forms.
Bharatanatyam initially originated from Sadir Natyam, also known as Dasi Attam. The term Sadir came into existence in the 17th century during the Maratha rulers of South India, which corresponds to the dance in the court.
This dance was evoked and evolved from Dasi Attam to the dance of Devadasis who performed it in Temple.
From then on, the dance evolved even further and underwent regional variations. The remarkable evolution was the development of Bharatanatyam recital of the current format in the 18th century.
During the British rule, rules were made against Indian art naming it as crude, immoral, and inferior to the concepts of western civilization.
British influence was strong enough to eliminate the ritual of performing these dances in temples and the devadasi system came to an end.
At the end of the 19th and 20th centuries, every classical dance of India was almost washed out even in Tamilnadu. Against all the odds, the art was restored by a few families who preserved the knowledge of this dance.
Such families included people from many backgrounds. These included devadasis, freedom fighters, and western families interested in Indian art.
Without these individuals, Bharatanatyam would have been erased from existence. Later young artists of Brahmin families were interested in Bharatanatyam, learned the art, and became experts in this dance form.
Cultural significance of Kuchipudi
Kuchipudi is a dance-drama performance of the art which was originated in a village of Krishna District, Andhra Pradesh, India. Kuchipudi's original foundation is traced back to the ancient Sanskrit Hindu text on the performing arts called 'Natya Shastra'.
In this book, the dance is divided into two different types namely 'Nrita' and 'Nritya'.
Nrita means solo expressive dance. Nritya represents standing postures, bhava, rasa, basic steps, methods of acting, gestures, and Tandava dance which is associated with Lord Shiva.
In the south region of Telugu speaking people, several inscriptions have validated the existence of Shaivism associated with the dance drama performance called Brahma Meals.
In the 16th century during the medieval era, the dance flourished and reached its peak. There were several records from the Vijayanagara empire which indicates the performance of Kuchipudi in their court.
During the Islamic invasion in the 16th century, the Vijayanagara empire got defeated. The Muslim army demolished the temple and created huge havoc in the cities, because of which most of the artists and musicians left the place.
Hindu King Achyutappa Nayak of the Tanjore kingdom gave shelter to these families and helped them to preserve their art.
But later during the British empire, almost every classical dance of India got washed out including Kuchipudi. The Indian community disagrees with such a ban against Indian art and culture in the fear of losing the rich and ancient custom of Hindu temple dancing.
During the Indian freedom movement, many classical arts were also revived.
Related: Chennai Music Festival All that You Need to Know
Famous dancers of Bharatanatyam
Bharatanatyam in these modern days got its name and fame because of some ancient dancers widely known as Tanjore Bandhu namely Chinnaiya, Ponaiyah, Sivanadam, and Vadivelu.
The following are a few famous dancers who contributed their life to art and made it famous all over the world.
Meenakshi Sundaram Pillai
He was born on September 22, 1869 and married the daughter of the great Ponniyah. He received training from his aunt's son Kumaraswamy Nattuvanar. Rukmani Devi invited him to Madras in 1954 and get training from him. He died in the year 1934 leaving his legacy for the people to follow.
Balasaraswati
She was a profound dancer as a child and did her first Arangetram when she was seven years old. Since she was a singer, music sped through her body and reflected in her movements.
She was acclaimed as a great dancer on an international platform at the Edinburg Festival.
The famous director Satyajit Ray has directed a documentary on her for the Tamilnadu government and the National Center of Performing Arts.
Rukmini Devi
She was born in the year 1904 in Madurai in a Brahmin family. She was from a background full of culture and learning and was married to Dr. George Arundale who was an educationist.
She traveled across Europe with him and gave lectures on Indian culture. She brought a great revolution in the field of Bharatanatyam by changing the theory of dance and music. Rukmini Devi designed the costumes artistically, chose exquisite jewellery and ornaments.
Famous dancers of Kuchipudi
Traditionally Kuchipudi was first performed only by men and women were not allowed to participate in the dance. These men usually belonged to the Brahmin families and were popularly known as Bhagavathalu. The following section gives the popular artists of Kuchipudi.
Guru Smt. Vijaya Prasad
She was the most famous Kuchipudi dancer and teacher. She has been practicing Kuchipudi for the past 50 years. Vijaya Prasad has started learning Kuchipudi at the age of 3 and has performed in more than 500 functions.
Dr. Vempati Chinna Satyam
He has established the 'Kuchipudi Arts Academy' in Chennai. Dr. Vempati renewed and restored the crude form of Kuchipudi through his dedication, talent, and unique style. He is one of the main reasons for Kuchipudi to occupy a privileged position among other classical dances in India.
Yamini Reddy
She learned Kuchipudi from her parents Raja and Radha, who were also great dancers in Kuchipudi. Yamini Reddy performed her first solo at the age of 3 in New Delhi.
She received numerous awards such as Yuva Ratna Award, Youth Vocational Excellence Award, FICCI young achiever's award, and Devadasi National Award.
Health Benefits of Bharatanatyam
Bharatanatyam has both physical and mental health benefits:
The basic posture where one sits in a squat position with knees turned either sideways and keep the torso steady while moving their hands and lower hips help in balancing.
While remembering the long sequence on stage helps in increasing memory power and imagination.
It gives a good workout to eye muscles while rolling the eyes from side to side.
The Chinhamudra posture, where the tips of the first finger and thumb are joined together and the other three fingers are opened up increases the blood flow from the fingers to other parts of the body. It also calms the mind.
Health benefits of Kuchipudi
Kuchipudi is a mixture of both expression and fleeting dance movements.
So it reduces the risk of anxiety and depression. It also cures people with certain physical and psychological disabilities.
Because of its posture and neuromuscular coordination, it prevents muscular problems and gives awareness to the body.
Kuchipudi is a mixture of yoga, walking, aerobics, and other exercises. Hence a regular practice of Kuchipudi will help people to recover from obesity, depression, arthritis, and other health conditions.
It gives us more positivity and with improvisation in posture, once could get a sense of confidence. 
Differences between Bharatanatyam and Kuchipudi
The basic difference between Bharatanatyam and Kuchipudi is that:
Bharatanatyam is a classical dance form of Tamil Nadu and Kuchipudi is a classical dance form of Andhra Pradesh.
The following section gives the difference between Bharatanatyam and Kuchipudi:
Bharatanatyam postures are adapted from sculptures and are elegant, graceful, soft, and clear. Kuchipudi postures are brisk, flat-footed, dazzling, and almost give curved round poses.
Bharatanatyam is also known as fire dance since it replicates the inner fire of the dancer and brings it in form. Kuchipudi reflects the longing desire of man to unite with god. Hence Kuchipudi is the symbolic representation of the unification of the human body to the spiritual force.
In ancient times, Kuchipudi was performed only by men, and women are not included in the dancing groups. But Bharatanatyam has always been performed by female dancers who dance at the temple.
Kuchipudi usually consists of singers who sing the song Telugu to depict the story of the play or the character. The dancers usually lip-sync the song following their part of the character. Bharatanatyam doesn't have any singer in particular and the dance doesn't have the lip sync part. It concentrates on expressing emotions through eye movement and hand gestures.
The costumes of both the dance forms show delicate distinctions. The attire of Bharatanatyam is comprised of three fans in various heights. These three fans give the looks of scattered pleated saree in certain poses. The attire of Kuchipudi consists of just one fan but it will be lengthier than the longest fan in Bharatanatyam's costume.
Bharatanatyam existed since the 2nd century CE and is well known in south India while Kuchipudi existed from 10th century CE and is well known in South-eastern India.
Similarities between Bharatanatyam and Kuchipudi
Bharatanatyam and Kuchipudi are two classical dances of India which are well known mostly in southern parts of India. Both Bharatanatyam and Kuchipudi originally performed in the temple as an offering to deities and god.
The following section gives the similarities between Bharatanatyam and Kuchipudi.
The style of dance is quite similar in both Bharatanatyam and Kuchipudi. Both the dances have half seating position with the legs bent as a basis.
Both the dances are performed for classical Carnatic music.
The ancient origin of both the dances is traced back to the Natya Shastra compilation by ancient scholar Bharata Muni.
The function of both dances is the reverence of God through dance and performance.
The performers wear traditional heavy jewellery and heavy makeup in both the dance forms.
Related: Differences between Indian Culture and Western Culture
Top Institutes to learn Bharatanatyam in India
The following are some of the top institutes to learn Bharatanatyam in India:
Sri Nritya Kalalaya – Classical dance class, Trichy
Samarpana Dance Academy, Bangalore
Sreejaya's School of Classical Dance (SSCD), Bangalore
Natya Institute of Kathak and Choreography, Bangalore
Academy of Bharata Natyam, Bangalore
Kalanritya Arts Academy, Chennai
Bharatanatyam classes and Classical Indian dance school of Pondicherry
Basant Natya Kala Mandir, Hyderabad
Lshva, Bangalore
Khechara Academy of Bharatanatyam, Bangalore
Top Institutes to learn Kuchipudi in India
The following are some of the top institutes to learn Kuchipudi in India:
Srinivasa Kuchipudi Art Academy, Hyderabad
Nritya Kuteera, Kuchipudi dance school, Bangalore
Jai Ananda Kuchipudi Dance School, Hyderabad
Sreejaya's School of Classical Dance (SSCD), Bangalore
Gayathri School of Kuchipudi Dance, Hyderabad
Nishrinkala Dance Academy, Hyderabad
Samarpana Dance Academy, Bangalore
Basant Natya Kala Mandir, Hyderabad
How to encourage modern kids towards learning classical dances?
Encouraging children to learn and practice traditional dances is a way to protect our culture and traditions. Here is how you can encourage your children towards learning classical dances:
Listen to them
Once the kids started going to dance classes, parents should have a conversation with them. They should ask them about their day and how they rehearsed. They should check if they had any struggles or difficulties with any postures. The conversation should be more listening and less speaking. This way it makes it more interesting for the kids to go there regularly and they will start to notice every minute details so that they could explain it to you.
Encourage them
When your kid says that someone dances better than them, encourage them that you believe in them and ask them to give their best. Put in some good qualities in their mind that how they grow personally is much more important than how they outgrow someone else.
Teach them to enjoy dance
There will be days when they are filled with disappointments if they can't do any particular mudras or postures. So, when they seem upset, tell them any funny thing you encountered while learning. Crack jokes now and then to make dancing more enjoyable.
Let them set the goals
While encouraging them, make sure that you are not pressurizing them to attain any particular goal. Let your kid decide the goal he/she wants to reach. Don't set goals for them on their behalf.
Positive behavior is the secret
Congratulate your kid even if they fail miserably while learning any pose. Tell them that they could do it perfectly after practice and tell them that you are proud of them. Tell them that they are doing good than most of the people. Always keep them filled with positivity
Appreciate little things
One of the basic things in life is the appreciation we give for little things. Appreciate them every day when they return from their classes. When they show their postures to you, appreciate them and say they doing a good job. appreciation gives them excitement and that will give eagerness to learn more.