Ganesh Chaturthi is one of the major festivals of India. It signifies the birth of Lord Ganesh – the elephant-headed God, and the son of Lord Shiva and Goddess Parvati. People from all over India celebrate this festival for ten days with great pomp, joy, and religious fervor.
Hindus consider Lord Ganesha as a fortune giver, obstacle remover, and who can bring success. So, people take Ganesha's blessings while starting a business, education, a marriage ceremony, or even a festival or ritual.
This post talks about Ganesh Chaturthi date, significance and eco-friendly ideas for celebrations along with recipes and places to witness the festival in India.
When is Ganesh Chaturthi 2023 date?
Ganesh Chaturthi 2023 date is on Tuesday September 19. 
The Vinayaka Chavithi date does not follow the English calendar. It occurs as per the Lunar calendar system that Indians follow.
According to the Hindu calendar, the Ganesh Chaturthi date falls in the month of Bhadrapada (August or September) on the fourth day of the waxing moon period (Shukla Chaturthi).
From this day onwards, the festival continues till 10 days. People decorate the Ganesha's Idols in their homes, in public places, in schools, and in organizations with pranprathishtha pooja. They conduct daily morning and evening prayers of Ganesha. People dedicate these 10 days of Vinayaka Chavithi to Lord Ganesha.
Ganesh Names
Ganesha is one of the most popular deities in the Hindu religion. Other names of Ganesha are Ganapati, Ekadanta, Vinayaka, Pillaiyar, Vignahartha, and Heramba.
Why Ganesha travels on a mouse?
Ganesha travels on his vehicle mooshika (mouse). According to mythology, Lord Ganesha kills the Demon King Mooshikasura in a war. During his last moments, Mooshikasura seeks a boon from Ganesha to make him His vehicle.
Symbolically, Ganesha being huge in size cannot go to every place. Hence, his vehicle mooshika (mouse) helps him overcome travel obstacles.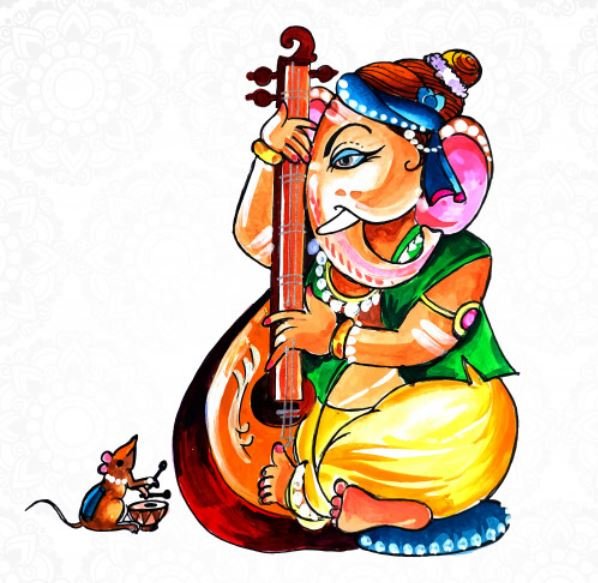 Story of Ganesh Chaturthi – How was Ganesha born?
There is a story behind every celebration of Vinayaka Chavithi.
According to Hindu mythology, Goddess Parvati was about to get ready to welcome her husband Lord Shiva from his victorious win in a war over a demon. She plans to go for a ritual bath using bath powder. Lost in her deepest thoughts while massaging herself with the bath powder, she creates a figurine from the shred of powder from her body. She adores the cutest figurine which turns out to be a baby boy. With her divine powers, she gives life to the figurine. This boy is none other than Ganesha.
Later Parvati assigns Ganesha as the guard and says not to allow anyone she completes her bath. Meanwhile, Lord Shiva returns earlier than expected and tries to enter his home. Ganesha, the little one being unaware of who Lord Shiva was, restricts him from entering in. Ganesh refuses to listen to Shiva despite him convincing in many ways. Lord Shiva gets angry at Ganesha's stubbonrness. Unaware that the Parvati Devi created him, Lord Shiva beheads him with his Trishul.
As she finishes getting ready, Maa Parvati comes out of the home to see this horror. She feels shocked to see her little son killed by Shiva. On her demand, Lord Shiva brings Ganesha back to life by arranging an elephant head to him.
This elephant head is none other than Gajasura, the elephant demon whom Lord Shiva just killed and returned victoriously. While he was dying, Gajasura seeks a boon that his head should be respected by all the three Lokas. Thus, by fixing Gajasura's head, Lord Shiva fulfills his boon as well as brings back Ganesha to life.
How is Ganesh Chaturthi celebrated?
Ganesh Chaturthi, also popularly called Vinayaka Chavithi, contains a special procedure.
On this day, people take head bath and wear new clothes. They purchase Ganesha idols made of clay. Then, they prepare a platform on a wooden base with some rice on it. In the middle, they draw swastika or eight petaled lotus rangoli with turmeric and kumkum. On this, they keep Ganesha's idol.
Later, they perform puja as per the Vinayaka Chavithi puja process using Patra and Pushpa (leaves and flowers). They read out the Ganesh Ashototra, Vinayaka Chavithi story, and Ganesh Mangala Harathi.
At the end of the puja, devotees offer Ganesha a feast. This includes various Vinayaka Chavithi special delicacies including kudumulu, undrallu, payasam, pulihora, garelu, and many traditional items.
People worship Ganesha again in the same way. This is called punah puja. In this way, people perform puja for an odd number of days based on their convenience. Most people do puja for 10 days while some worship for 3, 5, 7, 9 days and proceed with Ganesh Visarjan.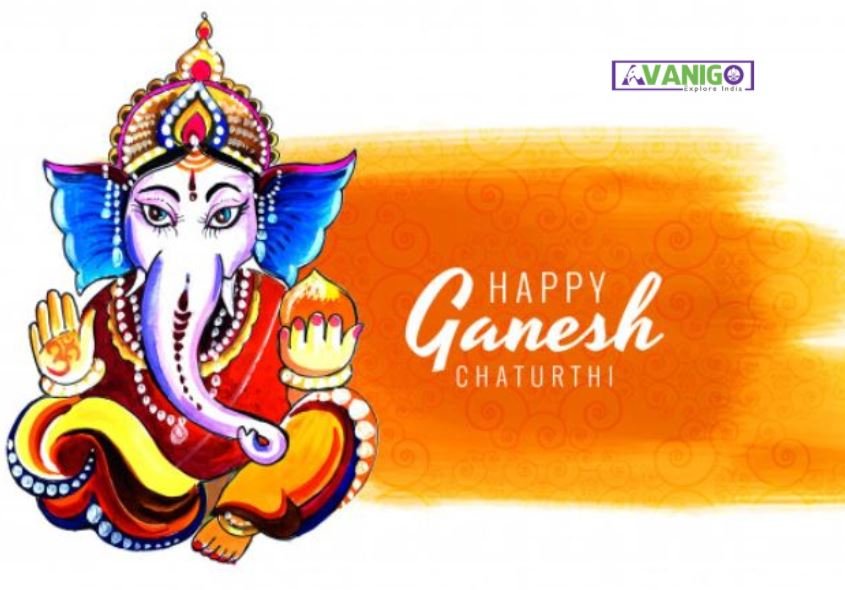 Ganesh Visarjan Date 2023
The grandest ceremony of Ganesh immersion or Ganesh Visarjan takes place on the day of Anant Chaturdashi. This immersion day varies with religious observations too. Ganesh Visarjan date 2023 is 28th September.
On the Ganesh Nimajjan day, people immerse the idols of Lord Ganesha in the water body i.e nearest lake, pond, sea, etc. People who don't have any water body near them can use any water-filled vessel or pot to immerse the idol.
For performing immersion, people carry the idol from the place of installation to the water body in a grand manner. The head of the family or the society carries the idol on his head. The people accompanying him distribute sweets and shout "Ganapati Bappa Moriya" with fervor throughout the way to the immersion site.
What is the reason to immerse Ganesha's idol in the water?
According to Hindu Mythology, everything present on Earth has to return to any of the elements of nature. Lord Ganesha is made up of clay and hence should return to the element in that form.
The idea behind the Ganesh visarjan or nimajjan is that Lord Ganesha is going back to Kailash to his Maa Parvati after staying with his devotees for 10 days.
Points about Ganesh Chaturthi
· On this festival, people do not see the moon in the sky. This is because the moon receives the wrath of Maa Parvathi when he laughs at the full tummy of Ganesha.
· Staunch Hindus never miss celebrating Ganesh Chaturthi. Wherever they are across the globe, they make it a must o celebrate this festival and worship Ganesha on this day. Missing to do so is believed to bring in misunderstanding and misfortune in the year ahead.
· Even Gods worship Ganesha during the start of any war or good deed. He is believed to remove any obstacle that may hinder the success of a good deed.
· Vinayaka Chavithi was celebrated at the times of Chhatrapati Shivaji. Peshwas followed this ritual with shlokas and bhajans.
· Bhausaheb Laxman Javale was the first person who gave the idea of celebrating the Ganesh Chaturthi.
· Lokmanya tilak promoted the Sarvajanik Ganesh Utsava to eliminate the social differences among the people. This festival bridges the gap and gave a feeling of oneness by engaging everyone at a place for celebrations.
· During the British rule, Indians were not allowed to hold meetings or gather at a place as they were afraid that gathering can be a way of Indians planning against them. Ganesh Chaturthi was the first social gathering started during British rule and it became a good chance for national leaders to discuss the political issues and current affairs of India.
· Even today, the actual significance of the Vinayaka Chavithi is that it is a way to unite people from different castes and creed.
Famous Recipes for Ganesh Chaturthi
Ganpati festival is not just about gathering, Ganesh pooja, and fun. It is also about the famous special delicacies. Here, we are listing some of the must-try delicacies during Vinayaka Chavithi.
Modak: From Chocolate modak to fruit modak, there are numerous varieties of Modaks people prepare during this festival. In its basic form, it contains coconut shreds and dry fruits. This recipe is a must-try during Ganesh Chaturthi.
Varan Bhaat: This is a lentil rice dish and is the bhog to Lord Ganesha during this festival. It is simple and delicious. This is one of the major dishes of this festival.
Puran Poli: Puran Poli is the flat sweet bread that everyone likes to eat a lot. This is also one of the classic dishes of Vinayaka Chavithi.
Coconut Ladoo: This a famous dish made with crushed coconuts and condensed milk. These ladoos are the most delicious sweet made at every household on the occasion of Ganesh Chaturthi every year.
Ksheera: Ksheera made with Semolina, milk, banana, dry fruits and sugar is the famous sweet offered during the Ganesh Chaturthi along with modak and ladoos.
Shankarpali: These are the flaky sweet biscuits made up of flour and Rava. These biscuits are the most preferred sweet dish made by people during this grand festival.
Patholi: This dish is made up of steam rice rolls with jaggery and coconut filling. These rolls when steamed with leaves, give it a lip-smacking taste. Some people use banana leaves in place of turmeric leaves.
Karanji: This is the most used dish for gifting purposes on this festival. These are the fried pockets with sweets filled inside. These can be stored for a few days. People make it in bulk to enjoy them for more days.
Shrikhand: Shrikhand is a dish made from curd along with mangoes and dry fruits which give it different flavors. This is one of the must-try desserts for this occasion.
Gajar ka halwa: Gajar ka halwa is made of Grated carrot, Ghee, Sugar, dry fruits, and milk. This is a special sweet dish on this festival for the guests.
Motichoor Ladoo: This is one of the favorite sweets of Lord Ganesha. People prepare this in households as well as shops.
Sabudana Vada: These are the lip-smacking fried vadas made with sabudana and potatoes. Spices and roasted peanuts give them the most delicious taste ever.
Kothimbir vada: Kothimbir vadas are a famous dish made with gram flour, coriander, and spices. These fried delicacies will treat your tastebuds.
Best Places to Witness Ganesh Chaturthi Celebrations in India
Ganesh Chaturthi is a nationwide festival in India. But there are some of the places in India that celebrate Ganesh Chaturthi with greater joy and grandeur.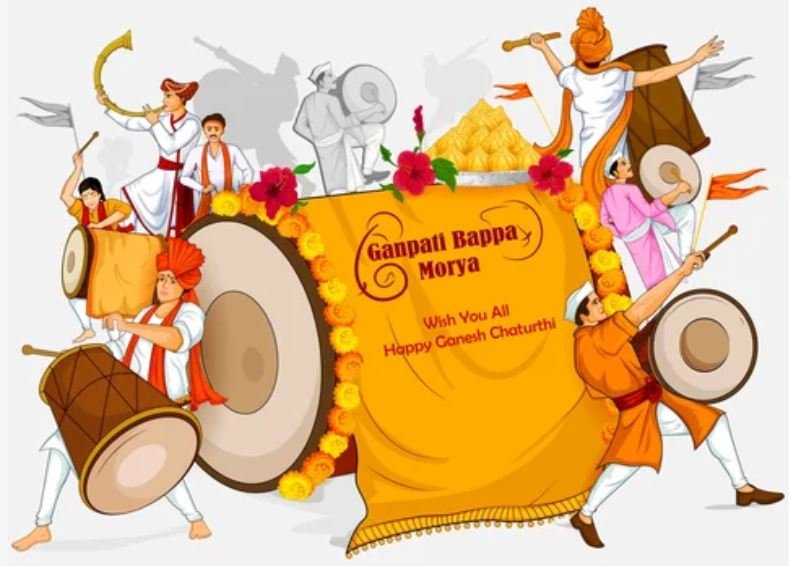 Here are some popular places in India to witness Ganesh Chaturthi celebrations:
Pune
One can witness the true beauty of Ganesh Chavithi celebrations in Pune. The grand celebrations turn the whole Pune into a lively, colorful, and joyous city. The idols made in Pune are the most famous. Many people visit from different states to attend the ceremony and witness the grand idols that are in various shapes and sizes. The famous idols comprise Kesariwada Ganapathi, Kasba Ganpati, Guruji Talim, Jogeshwari Ganapathi, and Tulsi Baug.
Mumbai
Mumbai, the capital of Maharashtra witnesses these celebrations at its best. With more than 6000 statutes installed every year, each street of Mumbai becomes most lively and joyous during this festive season. One can witness the maximum grandeur of this festival here. Numerous pandals are arranged in every street and city center. Some of the famous pandals are Lalbaugcha Raja and KhetwadiGanraj.
Bangalore
The grand Bangalore Ganesh Utsav organized by Shree Vidyaranya Yuvaka Sangha at the APS College Grounds, Basavanagudi is said to be one of the biggest events in the country. It depicts the best of Indian culture and Vinayaka Chavithi celebrations with heritage with outstanding performances of music, drama, dance, and art by the famous artists of India. Visitors also attend the visarjan rituals at Sankey Tank and Ulsoor Lake.
Hyderabad
In Andhra Pradesh, Vinayaka Chavithi is one of the main festivals celebrated with royal celebrations. In Khairtabad, the biggest Ganesha Idol is installed every year. The size of this idol is always made the biggest of all the Ganesha idols in the country. Hyderabad is the best place to witness the grand ceremony and the biggest idol on the occasion of Ganesh Chaturthi.
The main immersion takes place in Husain Sagar. Foreigners visit Hyderabad just to witness the colorfulness of this festival on this immersion day. The whole of the Necklace road is filled with devotees and tourists. It is a feast for the eyes on the immersion day in Hyderabad.
Goa
This small and beautiful state becomes even more attractive and joyous during the days of this celebration. This festival holds a special place in the hearts of the people of Goa. This is an occasion of the unification of families and friends.
Ganpatipule
Swayambhu Ganpati temple is one of the famous Ganpati temples of India with the unique Ganpati statue installed. Ganesh Chaturthi celebrations are organized in this temple every year with high zeal. People from different states visit this temple during this festival.
Kanipakam
Kanipakam is a village in the Chittoor district of Andhra Pradesh. The famous Varasiddhi Vinayaka Temple has the Vinayaka idol which grows in size every year. The Bhramhotsava, an annual festival is conducted every year in this village which lasts for 21 days starting with Vinayaka Chavithi.
Hubbali
Hubbali in Karnataka celebrates this festival most grandly with Gauri Pooja where devotees worship Goddess Parvati. The streets glow with Ganesh pandals and the prayers offered by priests during all the 10 days.
Celebration Ideas For Ganesh Chaturthi in an Eco-Friendly Way
Ganesh Chaturthi is undoubtedly one major festival that accompanies joy and fun. Children and elders like this festival with equal enthusiasm. All Hindu festivals that are in tune with nature. Similarly, Ganesh Chaturthi is also designed in many scientific ways that explain the need to protect nature.
By doing patra puja or worshipping with leaves, we are identifying the importance of various plants and trees all around us. Worshipping Ganesha with leaves signifies the importance to preserve our biodiversity and trees.
Ideally, one should use clay taken from the river bed to make Ganesha idols for worship. Thus, after the puja, when nimajjan takes place in the river, the ecological balance is not disturbed.
Unfortunately, people are tending towards idols made with artificial material added with harmful decorations and colors. This is spoiling the health of water bodies.
Instead, we can celebrate Ganesh Chaturthi in an eco-friendly manner in many ways:
Let's strictly adhere to using clay idols only. We can see many campaigns during this festive season in schools and apartments where they teach how to make clay idols. Send children to such campaigns and encourage them to make their clay idols for worship during the festival. This way you are passing a great message to the next generations and preserving their future natural resources too.
Another great benefit of clay idols is one can do the nimajjan at one's own home. Remove all the patra used for worship and immerse the Ganesha idol in a bucket of water by thanking him for his blessings. After a certain while, use this clay and water for plants at your home.
We can create organic compost for plants with the leaves and flowers used for Ganesh puja. In case you are living in an apartment, collect all the leaves and flowers in one huge earthen pot and let it decompose. Later use this organic manure for plants in your apartment.
Ganesh Chavithi is accompanied by bhajans and songs in loud pitch at the mandals. It is not wrong to enjoy the festive season with related music, but make sure that you do not cause inconvenience to the people living nearby. Keep the volume low after the peak hours at least.
If you want to make creative Ganesh idols, make them with environment-friendly items. Use cereals, rice, pulses, sugar, jaggery, Multani mitti, etc. which are later edible by aquatic animals.
At Ganesh Chavithi gathering for lunch and distributing prasad and snacks, use eco-friendly items for having food. Opt for banana leaves or paper plates instead of thermocol or single-use and throw plastic plates and cups.
While purchasing puja items and idols from the market, carry your bag to avoid the unnecessary addition of polythene covers and bags.
If you are planning to firecrackers during nimajjan, choose those which emit less noise.
Decorate your home fronts with natural oil lamps instead of electric lamps. Oil lamps do more good to nature and humans compared to electric lamps.
If you are immersing the idol in water bodies, remove all the decorations and flowers before doing so. Handover them to the municipal workers at the visarjan spot for eco-friendly disposal.
Instead of throwing away the fruits used for worshipping Ganesha, share them with someone who needs food. Food shared is a lot better than food dumped.
Decorate handmade clay Ganesha idols with natural eco-friendly and natural colors. Use tilak, Kumkum, Chandan, turmeric, vibhuthi, flowers, etc to decorate the little Ganesha you just made.
Tips for Ganesh Puja Decoration at Home
Arrange pandal for Ganesha with eco-friendly items. Use flowers and leaves instead of artificial glittering papers.
Prepare an umbrella for Ganesha with handmade paper or carton and decorate with natural colors and bindis instead of using non-biodegradable papers.
Use mirrors, sarees, peacock feathers, glass bangles, paper flowers, leaves, fruits, and sticks for Ganesh pandal decoration at home.
Go all authentic and create a pandal with only clay pots and clay items or terracotta items for adding a lovely look to your home.
Happy Vinayaka Chavithi Wishes to you all!!