Onam festival marks the harvest season of people in Kerala. Known for its vibrant colors and grandeur celebrations, Onam celebrations are to be witnessed and experienced at least once in a lifetime. It is during the Onam festival the true beauty of Malayali Culture and the Land of Kerala shines more than ever.
When is Onam 2021 date?
Onam date 2021 begins on 12 August 2021 and lasts till Monday 23 August 2021. Like many festivals in India, the Onam festival date does not follow the English calendar. Onam festival date is decided as per the Malayali calendar or Panchangam.
Onam is celebrated in Kerala and worldwide every year on the 22nd Nakshatra Thiruvonam in the month Chingam of the Malayalam calendar. Accordingly, this festival of flowers falls in August or September every year.
What are the ten days of Onam called?
Onam is a ten-day celebration. People celebrate every day of this festival with a unique name and prominence. Accordingly, the ten days of the Onam festival are named as:
Day 1: Atham
Day 2: Chithira
Day 3: Chodhi
Day 4: Vishakam
Day 5: Anizham
Day 6: Thriketa
Day 7: Moolam
Day 8: Pooradam
Day 9: Uthradam
Day 10: Thiruvonam
Significance of Onam Festival
Onam is also the end of the monsoon season in Kerala. The start of this festival brings on the time for harvest. Another main reason behind the Onam celebration is the return of Demon King Mahabali.
Onam festival marks the New Year for Malayalis. On this day, they replace all the old items in their houses with new ones. They especially purchase new clothes as per Malayali tradition. Women wear new Kasavu sarees while men don White Mundus with colorful shirts. The whole streets and homes turn white and colorful on this festival day.
Why is the Onam festival celebrated?
The Onam festival celebrates the greatness of Demon King Mahabali. According to legend, King Mahabali was kind-hearted and ruled his people like his own children. He was the grandson of Prahlada, an ardent devotee of Lord Vishnu. With his immense penance, Mahabali attained supreme powers with which he won over the three Lokas – Earth, Space, and the Underworld.
Though he was kind, Gods were threatened with his powers. They sought Lord Vishnu's help in killing him. However, Lord Vishnu refused to do so because he was a kind king and the grandson of his ardent devotee Prahlada. But he assures he will show some solution to their fear.
As per his words, Lord Vishnu manifested into a small Brahmin boy named Vamana. It was his fifth avatar from the Dasavatara (the ten divine incarnations of Lord Vishnu). Vamana then approaches Mahabali and seeks a gift. Mahabali who is known for his charity and helping nature assures him to seek anything. He promises that he would give him tonnes of gold, wealth, and money.
However, Vamana says that one should not take anything that they do not need or beyond their usage. Thus, he seeks only "three feet of land" for himself. King Mahabali immediately promises the same.
Soon, Vamana turns into his giant avatar and covers up the whole space with his first foot. Then he occupies the planet Earth with his second foot. He questions Mahabali where to keep his third foot. For which, the king happily says to land his feet on his head. Vamana keeps his foot on his head and presses him down to the underworld.
Satisfied with his charity nature, Lord Vishnu gives a boon to Mahabali that he would visit his kingdom every year and enjoy the good name forever. Thus, Onam is the time when Mahabali returns to his Kingdom- Kerala to visit and bless his people.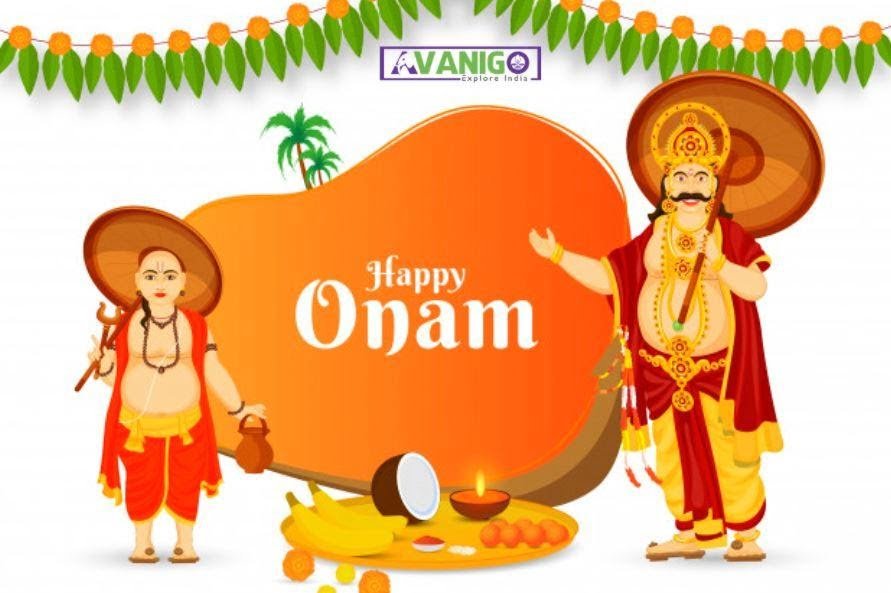 There is also another story of Onam celebration. This story behind Onam relates to another incarnation of Vishnu in the name of Parashurama.
Parashurama is also known as Jamadagni. He is known for his intense anger and love for his mother. It so happens that one day when Parasurama was not in the house, the king of the land Kartavirya steals their calf. Annoyed with his immoral behavior, Parasurama calls on for war and kills the whole army as well as the king with his renowned weapon – axe.
After the war, he throws away the axe into a distant place towards the sea. Afraid of the power of his axe, the sea retreated and formed the land of modern Kerala. Thus, the Onam celebration also marks the formation of Kerala from the axe of Parashurama.
Onam Celebrations
Onam festival is predominantly related to Hinduism. Legend supports this. However, if one witnesses the Onam celebration in Kerala or other places where Malayalis reside, the festival marks a communion of various religions.
Hindus and Christians take an active part in the Onam celebrations. Some groups of Muslims also participate in this festival of flowers symbolizing the cultural unity in the state.
Though Onam is a ten-day celebration, the first and the last day are of immense significance. Onam celebrations display the rich culture of Malayali traditions. Right from the rangolis filled with flowers to the lavish and mind-boggling feast 'Onam Sadya' every aspect of the Onam celebration is lively.
Elephant processions
The Onam celebrations begin with the procession of elephants called Athachamayam from the Thrippunithura in Kochi. Parades with people wearing colorful cultural masks, drum beats and decorated elephants accompanied by people in traditional Kasavu sarees and Kerala dhotis is a sight not to miss on this day. The parades start from Thrippunithura and end at Vamanamoorthy Temple in Ernakulam.
Traditional Dances
Onam celebration accompanies traditional dances reflecting the rich culture and history of the Land of Kerala.
Thiruvathira Kali: This includes Kerala women performing their traditional dances dressing up in off-white Kerala traditional saree.
Tiger dance: Men decorate their tummies and bodies with paint as tigers and dance to thrilling beats.
Kummatikali and Kathakali: This includes dancers performing to various stories from the epics Ramayana and Mahabharatha wearing traditional make-up and masks.
Boat race
Onam celebrations are incomplete without boat races. Mainly taking place in the backwaters of the state, these boat races are also called Vallam Kali or snake boat races. These boat races happen with much extravaganza and attract thousands of participants from all across the state with their hefty cash prizes.
Elaborate feast
The Onam festival is mainly known for its elaborate feast – Onasadya. This is mainly prepared on the tenth day of Onam, also called Thiruvonam. Served on banana leaves with the number of items reaching as much as 30 or more, Onasadya is a vegetarian feast especially served only during Onam. Many delicacies including curries, payasam, rice varieties, appalams, chutneys, etc. are served as a part of Onasadya.
Flower rangolis
Rangolis have been an integral part of festival celebrations in India. However, they don the brightest colors through flower petals and traditional brass lamp glitter in Kerala during Onam. Women draw huge designs on the floor and adorn them with flower petals. These flower rangolis are called pookkalam. Every office, school, home, organization, and street in Kerala turn attractive with these flower rangolis during the Onam celebration.
Ideas to celebrate Onam Festival in Apartments
Apartments gather many families compared to individual houses. This brings more life to celebrations like Onam, which attain more beauty when more people come together.
Gather all the women in your apartment and draw elaborate pookkalam at the main entrance of your gate.
Dress up in the traditional Kerala Kasavu saree and bring a glow to the day.
Join together and prepare the lavish and elaborate Onasadya and dine in a traditional way together.
Arrange competitions for children and adults in the evening to end the day with more fun.
Organize traditional dances, tiger dance competitions, and singing competitions for children.
Fancy dress competitions wherein children will dress up as Mahabali will look cute too.
Arrange for a big screen in the apartment and watch boat races together.
Ideas to celebrate Onam Festival in Schools
Festivals are one beautiful occasion to teach children about the beauty of their culture and traditions.
Encourage kindergarten children to talk about the stories behind the Onam celebration.
Making your students perform tiger dance is one activity that you should not miss while celebrating Onam in school.
Fancy dress competition for young children encouraging them to wear get up of the King Mahabali or Vamana will look very lovely on this occasion.
Pookkalam competitions are a must for students of higher classes. Herein, they can also be encouraged to dance around the traditional lamps and the pookkalam in circles.
Schools can arrange onasadya for all students and staff to bring cheer to this festive celebration.
Organize DIY competitions where students can make replicas of Mahabali or Snake boats with eco-friendly materials.
Virtual Onam Celebration with Kids
Kids should know the greatness of their culture and traditions. Festivals are one beautiful occasion to teach them about the same. If you have been living in foreign lands and miss celebrating Onam in your native place, you should explain the significance of Onam to your kids. Here are some ways to celebrate the Onam festival with kids.
Telltales: Explain the stories behind the celebration of Onam to your kids. Teach them the cultural and religious significance of Onam by storytelling.
Pookkalam: Prepare a small pookalam in your home. Be it in the place of worship or in the middle of the hall or if permitted in the house front. Engage and encourage kids to draw the design and fill flowers in it.
Traditional attire: Dress your children in the traditional dresses. Alongside, encourage girls to wear flowers in their plaits and boys to wear Mundus.
Shake a leg: Do traditional dance or tiger dance at home. Watch related videos and show them to children too.
Encourage DIY: Ask your children to do any DIY crafts such as snake boats or elephants adorned with decorations to decorate your house.
Take kids out: If your place or locality is celebrating the Onam festival, take kids out and encourage them to participate in the Onam celebrations.
Let them interact with relatives and grandparents: Make children talk to their grandparents via video calls. Let them flaunt their new dresses and share their experiences in making the flower rangolis and feast enjoyment.
Onam festival is one of the major festivals of Keralites. Malayali diaspora across India and the globe celebrates this festival with equal fervor and joy! Happy Onam to you all!