Shilparamam is an arts and crafts village in the metropolitan of Hyderabad. Amidst the glass and concrete building full of techies, Shilparamam gives a fresh breath of air with its authentic Telugu village environment. Located in Madhapur, Hyderabad, Shilparamam is one of the popular Hyderabad tourist places. Every day tens of hundreds of visitors visit this mesmerizing place.
In this post, you will take a close look at Shilparamam Hyderabad, ticket details, timings, things to do, and how to reach Shilparamam.
Shilparamam Timings
The place is open for visitors from morning 10.30 tonight 8. There also is a night bazaar that is open till 12 in the night. It is currently under renovation.
Shilparamam Ticket Price
The price of Shilparamam is Rs.60 for adults and Rs. 20 for children of 4-10 years. The fee for a DSLR camera is Rs.500.
How to reach Shilparamam?
Shilparamam is easily accessible from any part of Hyderabad. Being located in Madhapur in the heart of the city, you can reach Shilparamam by RTC bus, metro, cab, or auto.
By RTC bus: Several RTC buses are available from Koti, Secunderabad, LB Nagar, and Lingampally.
By metro: Shilparamam is a direct metro stop. You can get a comfortable journey in Hyderabad's metro.
By cab: You can reach Shilparamam from the airport in around 35 minutes. It is located at 30kms from Rajiv Gandhi International Airport. The distance of Shilparamam from Secunderabad railway station is around 25kms.
By autos: Plenty of private autos and share autos are available to reach Shilparamam.
Best time to visit Shilparamam
Shilparamam is best visited in the summers and winter seasons of India. The place is a fully open park, rains may dampen your experience of enjoying Shilparamam at its best.
Visit this place during festivals like Sankranti, Ugadi, and Dasara to witness the fullest of its liveliness. If you wish to avoid crowds and enjoy shopping arts and crafts, visit during the off-season in the afternoons.
History of Shilparamam
Shilparamam is an idea to preserve the cultural and traditional richness of the Telugu people. The then state government in 1992 conceived this idea in the form of opening this village place.
After its immense success and public response, similar Shilparamams are started in Tirupati, Uppal, Vizag, and other places of Telugu states. Another idea behind this theme park is to encourage Indian arts and crafts and highlight their richness to the next generations.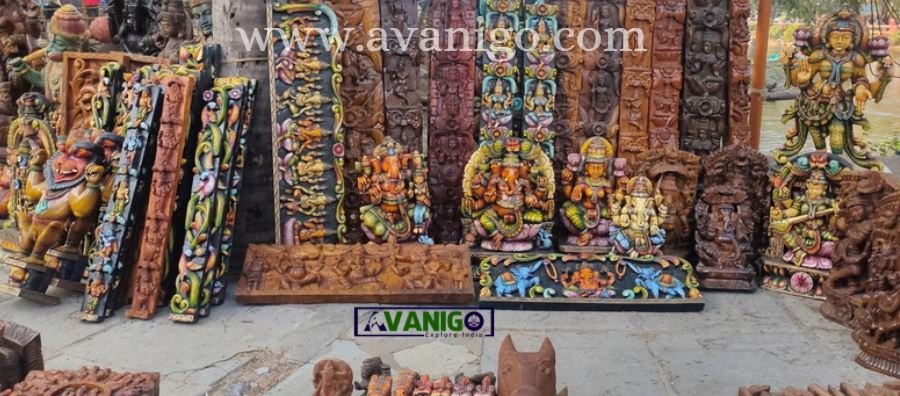 Shilparamam is a place to witness the traditional aspects of the Telugu people. Right from the artisans of various occupations such as goldsmith, cobbler, farmer, toymakers, saree weaver to the doo doo basavanna (the ox famous for its decorations during the Sankranti festival), this traditional village is a great place to show the cultural richness of Telugu to children and foreigners.
Features of Shilparamam
This park has many features and designated areas for visitors to witness and understand arts and crafts, festivals, and the traditional Telugu lifestyle.
Amphitheater: An open-air theatre where you can watch and enjoy classical art performances including Kuchipudi, Bharatanatyam, Burrakatha, and Harikatha, along with many folk dances of India.
Rock Museum and Sculpture Park: This is a collection of various sculptures that artists beautifully crafted out of stones. Each stone sculpture glows with life and brings out the expertise of modern-day sculptors.
Village Museum: A place dedicated to showcasing the beauty of the village lifestyle. You can witness many figurines full of life and bring us the scenarios of everyday village lifestyle. Kalamkari saree making, khadi weaving, hand-made wooden toys making, village fair, black smith's life, brass utensils making, and many such scenarios are created with life here using the figurines and models.
Waterfalls: This is the latest addition to this craft village. Waterfalls falling from stones are a treat to the eyes and are one of the sought-after selfie spots in this traditional village theme park.
Boating: Visitors can enjoy boating on the lake in the middle of this park. It is a refreshing experience to go on boating amidst this lush green park with the sight of waterfalls for both families and friends.
Shopping: Shilparamam is a hub of handicrafts. Handloom sarees and dress materials, pottery, home décor items, and sculptures made of wood and stone, hand-made and authentic jewelry, etc. are available in the stalls here. Be ready to get spoilt with options. You can negotiate the prices and have a heartful shopping experience in Shilparamam. If you want to revamp your home's decor with an authentic touch, Shilparamam is a go-to place for this purpose.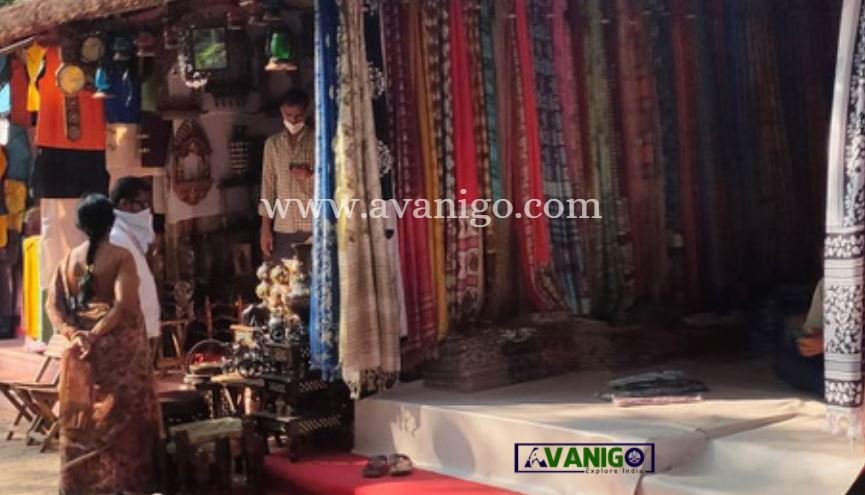 Open lawns: Spread over an area of sprawling 65 acres, this open park boasts of greenery. It is a heaven for those who wish to spend time close to nature and enjoy long walks. 
Also Read: Golkonda Fort Facts, Architecture, History
Local artists: You can find artists full of talent in Mehendi designs and caricature drawing. For as minimum as 100 rupees, you can get beautiful mehndi designs on your palms. Similarly, caricature artists are available here, whom you do not find easily in most other tourist places of Hyderabad.
Celebration hall: There is a celebration hall on the premises of Shilparamam. It has the best authentic appeal with décor in bamboo and clay. Anyone who wishes to have a traditional theme wedding should not miss checking this place.
Restaurant: The restaurant here serves many dishes and tiffin. The prices are reasonable making it a convenient option for dining amidst the greenery.
Shilpa Kala Vedika: Though not inside the premises of Shilparamam, this is an open-air auditorium just to the next wall of Shilparamam. Movie launches, audio releases, and corporate functions happen here regularly.
Related: Beauty of Taramati Baradari Near Golkonda, Hyderabad
Related: Lip smacking street food of Hyderabad and where to taste them
Related: Dazzling Durgam Cheruv Bridge and Lakefront, Hyderabad
Things to do at Shilparamam
Take long walks in the lush green garden.
Shop your heart out from the thousands of options available in Indian arts and crafts.
Show to your children the greatness of Indian arts, sculptures, lifestyle, and classical dances.
Witness Telugu festivals come alive with fullest traditions.
The best place to enjoy a budget family outing as you can bring along home-packed lunch.
Get your palms adorned with a variety of Mehendi designs.
Witness the doo doo basavanna dancing to the words of its trainer.
The best place to purchase traditional souvenirs for our family and friends in foreign countries.
Make your celebrations special by planning them in the traditional function hall here.
Relax in the village ambiance and get a fresh breath of air.
Places to stay near Shilparamam
You can find endless hotels to stay near Shilparamam. It is located in Madhapur, and so there are many paying guest accommodations or private hotels that are available at affordable prices. There are also many international hotels if you are looking at a lavish stay here.
Places to visit near Shilparamam
You can explore the beauty of this authentic village in one full day. If you are planning for a multiple-day trip to Hyderabad, you should check out these other places near Shilparamam too.
Durgam Cheruvu: A park and secret lake in Hyderabad known for its natural beauty. The best place for families and friends to relax on a super awesome budget. This lake is just 15 minutes away from here.
Related: All about Durgam Cheruvu
Inorbit Mall: Located in the reach of 10 minutes, this is a family destination for modern shopping and movie-watching experience. One of the notable tourist places in Hyderabad.
Hitex Exhibition Center: One of the renowned International convention places in Hyderabad. Time to reach: 8 minutes from Shilparamam.
JNTU, Hyderabad: One of the reputed educational institutions in India with a sprawling campus, JNTU Hyderabad is at a distance of 9 minutes from Shilparamam.
Biodiversity Park: A modern addition to Hyderabad tourist places, Biodiversity Park is a theme park that explains the significance of Biodiversity. Time to reach: 8 minutes from Shilparamam.
Botanical Garden: A popular tourist place in Hyderabad and a reach of 10 minutes from Shilparamam.
There is also another Shilparamam in Uppal, Hyderabad. You can get more details about the events and other details from the government website https://www.shilparamam.in.
Related: Taramati Baradari in Hyderabad
Conclusion
If you are in Hyderabad, you should bring your children here as often as possible to make sure they are in touch with the culture. If you are a tourist to Hyderabad, you should not miss visiting this beautiful place that depicts the richness of Telugu culture.