Street food in Hyderabad can satiate the taste buds of anyone. Sweet, hot, spicy, cool, crispy, or smooth – whichever your street food preference is, Hyderabad street food has it all. If you are planning a trip to Hyderabad, get ready to explore tastes beyond the authentic Hyderabadi biryani. This metropolitan offers every dish ranging from the Mughal era to the modern era.
Here we help give you a complete look at the street food in Hyderabad along with the best places to relish them.
Irani Chai
Let's begin with the traditional and aromatic Irani chai that no one would dare to miss as on a trip to Hyderabad. A blend of pure milk, and tea powder with elaichi and other aromatic spices, Irani chai is served in many famous restaurants and cafes in Hyderabad.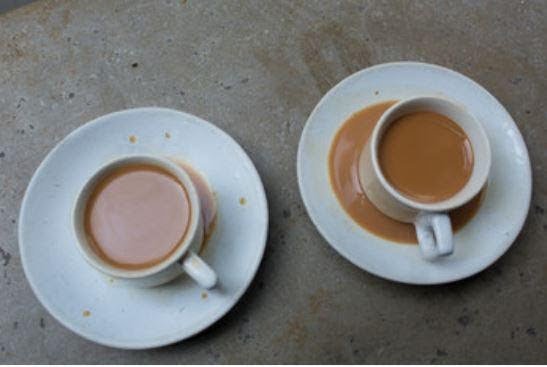 Trust us, if you want to enjoy the real taste of Irani chai, you should take a sip at the popular roadside cafes in Hyderabad rather than in the five-star restaurants. Savor the full experience of Irani chai with the Osmania biscuits, Samosa, Bun Maska, or Lukhmi.
Where to taste Irani Chai in Hyderabad?
Café Alpha, Secunderabad Railway Station
Zeeshan Café, Golconda
Madina Café, Charminar
Niloufer Cafe
Also many cafes in Old city, Tolichowki, Nampally, Koti, and Abids
Haleem
Here comes another signature dish of Hyderabad, Haleem. Popularly available during the two months of Ramzan, Haleem is a treat for non-vegetarians. Cooked traditionally on large, wood-fired cauldrons, Haleem is a perfect go-to dish for instant energy and nutrition. Makers of Haleem use pure ghee, spices, dry fruits, and nuts, along with mutton, barley, and wheat.
Here's one secret for vegetarians! You need not worry that you cannot taste this royal dish. Head straight to Pista House near Charminar. It is the only place in Hyderabad that serves vegetarian Haleem. The taste is so good and will leave you lingering for more!
Where to taste the best Haleem in Hyderabad?
Pista House
Café Bahar
Paradise
Shah Ghouse
You can also find many Haleem battis during the Ramzan season. If you are near to one of them, don't hesitate to order a plate for yourself.
Related: Beauty of Taramati Baradari Near Golkonda, Hyderabad
Related: Details about Shilparamam in Hitech City, Hyderabad
Related: Dazzling Durgam Cheruv Bridge and Lakefront, Hyderabad
Idli and South Indian Tiffins
Though a city with a base in Nizam culture, there is no dearth for south Indian tiffins in Hyderabad. These are some of the affordable and healthy options if you are looking to live on street food in Hyderabad.
You should try hot steaming idlis served with varieties of chutneys and sambar, multiple variants of dosas including chocolate dosa and paneer dosa, along with traditional Andhra tiffins such as Jeedipappu Upma, Panasaku Idli, and Aaviri Kudumu.
Where to eat Andhra tiffins in Hyderabad?
Roadside bandis in Madhapur and Gachibowli
Aha tiffins in Manikonda
Café Nandini
Swati Tiffins
Chutneys, the best five-star restaurant for vegetarians
Taj Three Star, another best vegetarian 5-star restaurant, Near Sarojini Devi Road
Kebabs and Keema
You cannot miss tasting the Mughlai kebabs and Hyderabadi Kheema when you are in this heritage city. Either you want to enjoy them as a snack or starter, they will treat your non-vegetarian taste buds like no other.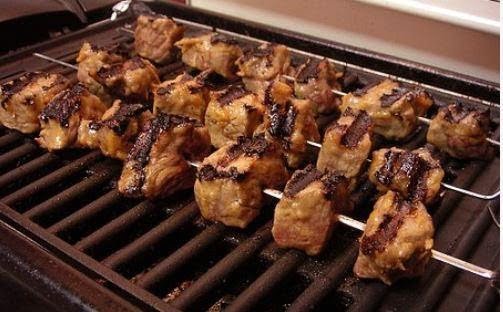 Made of mutton and spices using pure ghee and oil, they are high in calories as well as energy. There are varieties of vegetarian kebabs available for vegetarians.
Where to eat kebabs in Hyderabad?
Sarvi Take away, banjara Hills
Bawarchi, RTC Roads
Siddique Kebabs, Tolichowki
Paradise Restaurant
Barbeque Nation
Qubani ka meetha
Another signature dish of Hyderabad, this is a most loved dish for those with a sweet tooth. Dried apricots and sugar comprise the main ingredients while rose water and saffron impart their magical flavor and smell.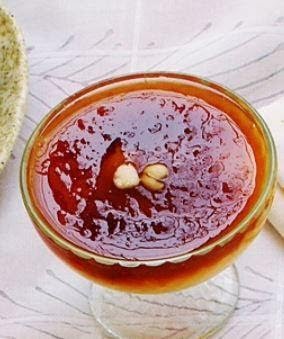 A bowl of qubani ka meetha will fill your tummy like no other. Don't miss this dessert that you may not find in most other places except Hyderabad.
Where to eat Qubani ka meetha in Hyderabad?
You can buy this at Haleem battis during Ramzan season
Also available in all popular restaurants
Dahi Vada
A Hyderabadi name for the Telugu recipe Perugu vada, this dish is perfect on a hot afternoon or evening. Dumplings of Urad dal mixed with salt and pepper are soaked in pure creamy curd and added with spices and seasoning. They are popularly available during Ramzan season, as Muslims break their fasting by taking Dahi Vada.
Where to eat Dahi Vada in Hyderabad?
At Haleem Battis during Ramzan season
In Old city near Charminar, in popular cafes such as Pista House or Shah Ghouse
Also, in vegetarian restaurants like Chutneys, and Taj Tristar
Mirchi Bajji and Muntha Masala
The spiciest Andhra snack stuffed with onions, coriander, and dhaniya – Mirchi bajji is another street food in Hyderabad you just cannot miss. Along with this, many bandis sell muntha masala, which is a mix of various ingredients and savories sprinkled with spices and powders that will surely bring tears due to their hotness!!
Where to eat this spicy street food in Hyderabad?
Mostly available near Madhapur bandis
Exhibition grounds during exhibitions
Nizampet and Kukatpally
JNTU X Roads
Kondapur
Also available during public events like exhibitions and family outing places like parks.
Jowar Roti and Pulkas
On a diet or looking for healthy street food? Grab a hot phulka or jowar roti instantly. You can find many roti corners that sell these fresh handmade rotis on tawas. Available at as little as Rs.10, they are your best choice if you are keen on hygiene or health-conscious.
Where to find fresh rotis in Hyderabad?
Try your luck in areas that are with hostels for working people and students. For instance, Nijampet, Madhapur, Ameerpet, and near Secunderabad too.
Also available in Manikonda, Gachibowli, Nampally, Kondapur.
Chicken Tangdi
This kebab is a treat to Chicken lovers. Infused with the secret spices of each restaurant, the dish tastes differently at various restaurants. One thing that is for sure is, the crunchy and spicy taste will leave you asking for more.
Where to eat Chicken Tangdi in Hyderabad?
Mandi King Arabian Restaurant
Shah Ghouse
Behrouz Biryani
Also at most cafes and restaurants that serve biryani and non-vegetarian dishes
Shawarma
An Arabian delicacy that is made of slowly roasting slices of meat on all sides, Shawarma is popular street food in Hyderabad. Mostly you find chicken and mutton variants of Shawarma in Hyderabad.
Where to eat Shawarma in Hyderabad?
Sammis Shawarma, Sri Nagar Colony
Mohammedia Shawarma, Mehdipatnam
Shawarma Corner, Banjara Hills
Also, at various Arabian restaurants in Madhapur, Old City, and all over Hyderabad.
Kaddu ki kheer
A sweet treat for foodies! Made of bottle gourd, creamy milk, ghee, sugar, and dry fruits, this kheer is best tasted chilled. This is also one of the popular street foods of Hyderabad that you can find during Ramzan season at Haleem battis.
Where to eat Kaddu ki kheer in Hyderabad?
Bawarchi restaurant
Paradise
Niloufer Café
Also served in many restaurants as a dessert.
Lukhmi
A Hyderabadi version of Samosa, Lukmi is a popular snack and street food in Hyderabad. You can find both veg and non-veg variants of Lukhmi. Goes well with chai as an evening snack.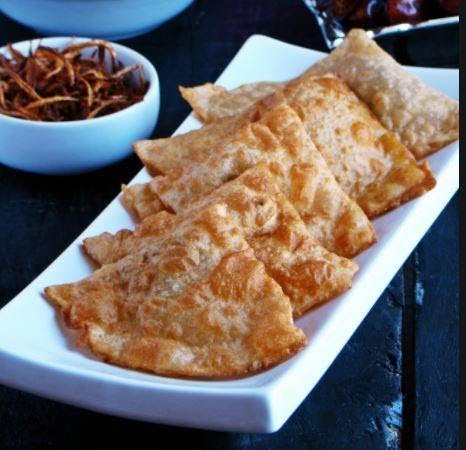 Where to eat Lukhmi in Hyderabad?
Most Irani cafes including Alpha Hotel and Garden Restaurant
Also in many bakeries
Kachori
A spicy snack made of besan and vegetable fillings, Kachori is an equally popular snack as samosa is. One kachori and one cup of tea will keep you filled for 2 hours. Thus this is another street food in Hyderabad that suits perfectly as an evening snack.
Where to eat Kachori in Hyderabad?
At all Irani cafes, including Paradise
Also at roadside bandis who sell samosas and pakoras
In chat stall that is set on the roadsides
Variants of Bun
Various sizes and shapes of buns stuffed with cream, tutti frutti, and cherries. They are a must-try if you are visiting Hyderabad on a trip. Also, they are a suitable choice for children, who cannot eat spicy and hot food. Available in many prices starting from Rs.15 depending on the size and the filling.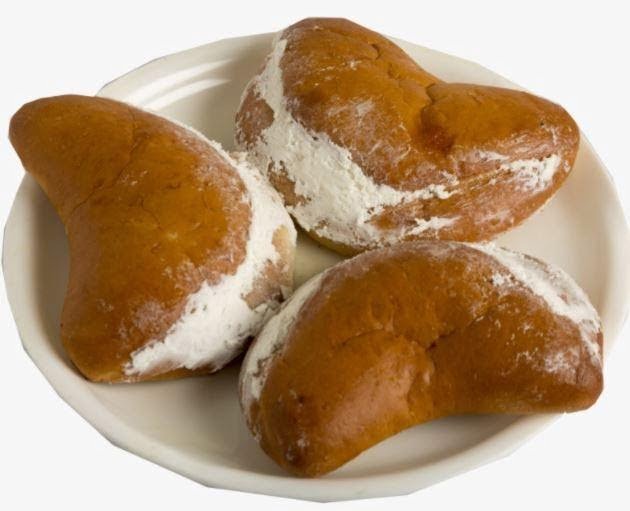 Where to eat cream buns in Hyderabad?
Karachi Bakery
Shah Ghouse
Iyengar Bakeries
All cafes that serve Irani chai and Hyderabadi cuisine
Panipuri
One street food of Hyderabad that needs no special introduction. Light on the stomach and full-on taste, panipuri is one of the most loved snacks of Hyderabad. Try various varieties of Panipuri including Masala Puri, Meetha Puri, and Sev Puri at numerous pani puri bandis and stalls in Hyderabad.
Where to eat Panipuri in Hyderabad?
Eat Street, Necklace road
Tank Bund
Exhibition Grounds
Secunderabad near Keyes High School
Madhapur
Ameerpet
Also, in many populous places of the city, bus stops, and even in 5-star hotels!
Double ka meetha
A Nizami dessert made with slices of bread toasted in ghee and soaked in creamy milk infused with saffron, pista, badam, and other dry fruits. Best eaten chilled! Grab a plate at Haleem battis or any popular restaurant in Hyderabad.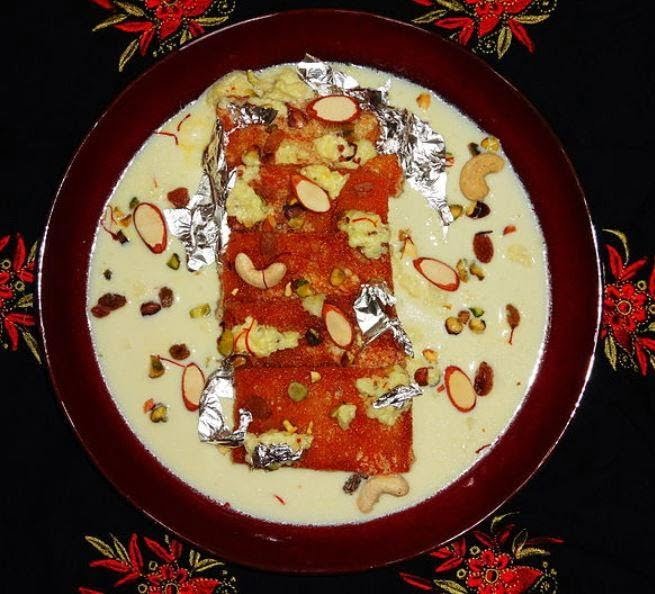 Where to eat Double ka meetha in Hyderabad?
Paradise
Chutneys
Taj Hotels
Irani food joints in Old city
Also, in many family restaurants across the city
Falooda
A chilled drink made of semolina, dry fruits, milk, sabja seeds, sugar and dashed with a scoop of your favorite choice of ice cream, faluda is a popular street food among girls and youth. One glass of falooda fills the stomach with ease. This is best taken chilled and available in many roadside bandis and food joints in Hyderabad.
Where to try falooda in Hyderabad?
Masquati falooda, Charminar
Falooda Nation, Kondapur
Shadab Hotel and Restaurant
Phirni
A creamy rich dessert made of milk, pista, and flavoring substances, this is another popular dish in Hyderabad. You can take this as a snack or a dessert after a meal. Rich in calories as well as taste, this is so smoothening on your tummy!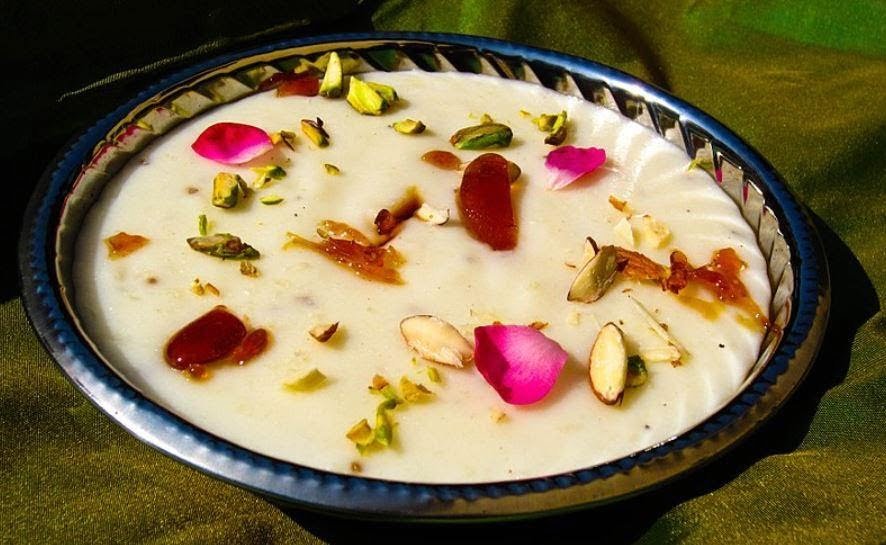 Where to eat Phirni in Hyderabad?
Pista House, all branches
Paradise
Many 5-star hotels
Also during Ramzan feast special menu
Bagara rice
The second most popular rice item after the aromatic Hyderabadi Biryani is Bagara rice. Made with spices infused in basmati rice, Bagara rice is a spicy and filling dish. Enjoy this better with a side gravy such as Chicken or Paneer curry.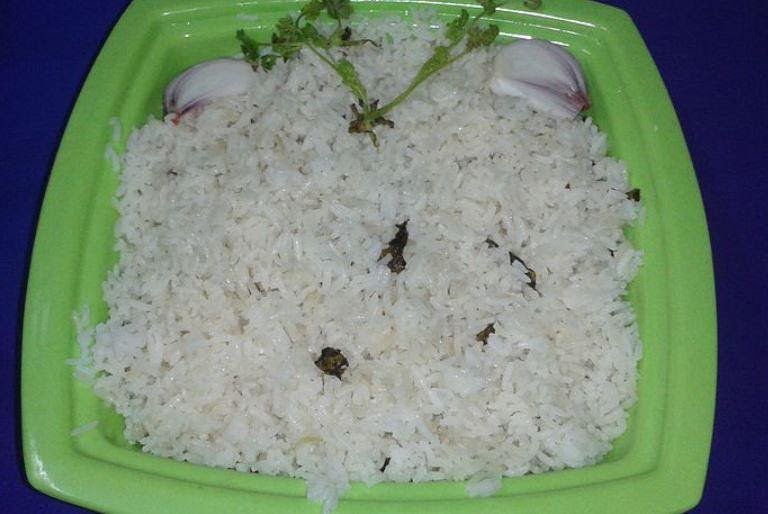 Where to eat Bagara rice?
Available at fast food joints that serve rice and curries
In many hotels and restaurants
Parathas
Made with wheat flour and stuffed with your choice of filling, Parathas are another popular street food in Hyderabad. They can be eaten alone as they are already filled with curry inside. You can find them in most paratha joints and also in restaurants.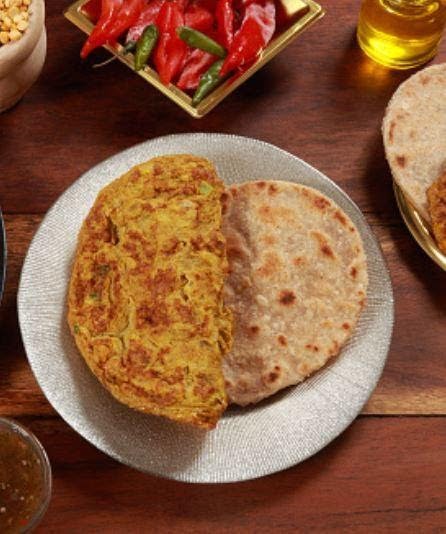 Where to eat Parathas in Hyderabad?
Head to any Punjabi restaurant, mostly in Madhapur, Gachibowli, or Banjara Hills
Also, easily available in most family restaurants
Eat street, near Necklace road
Variants of Samosas
A bestie of Irani chai, you should never leave Hyderabad without tasting at least one samosa! Choose from various options available such as Onion samosa, Corn Samosa, Paneer samosa, and the good old potato samosa, you must try this street food of Hyderabad along with a hot cuppa chai! If you ask us, nothing beats the aloo samosa, which has its charm in treating your tastebuds.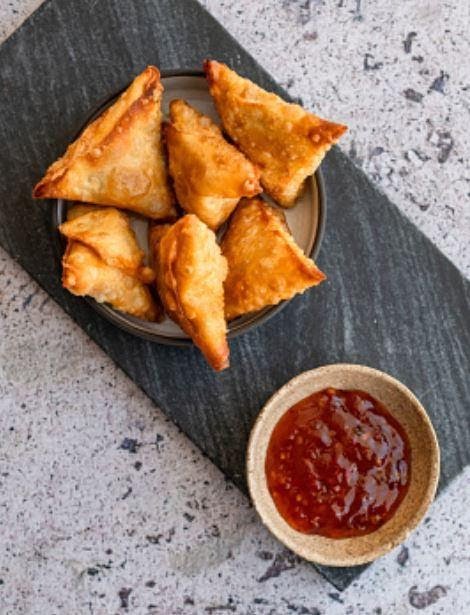 Where to find the best samosa in Hyderabad?
At any Irani café that serves chai
Eat Street, Necklace road
Most food side bandis serve hot samosas
Bhelpuri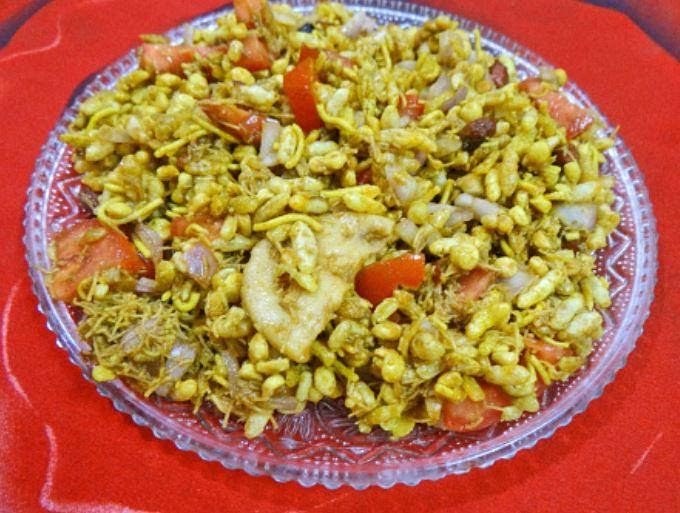 A light yet spicy crispy snack made of fluffed rice with a dash of the mixture, onions, fried nuts, salt, and spices. This is a filling snack though it sounds light in hand. For the health-conscious, calorie-conscious, and also for those who love spicy snacks!
Where to find best Bhel Puri in Hyderabad?
In many bakeries and roadside bandis
Tank Bund and Necklace road
At popular tourist places outside the entrances
Also available for delivery from many chat points
Also Read: Best street food of Bangalore
Pakoras and jalebis
Onion pakoras have their way of appeasing foodies. Being a traditional South Indian recipe, in Hyderabad, you will find onion pakodas in all sweet shops and jalebis counters. Taste a plate of pakoras alongside hot sweet jalebis for a sweet and hot experience.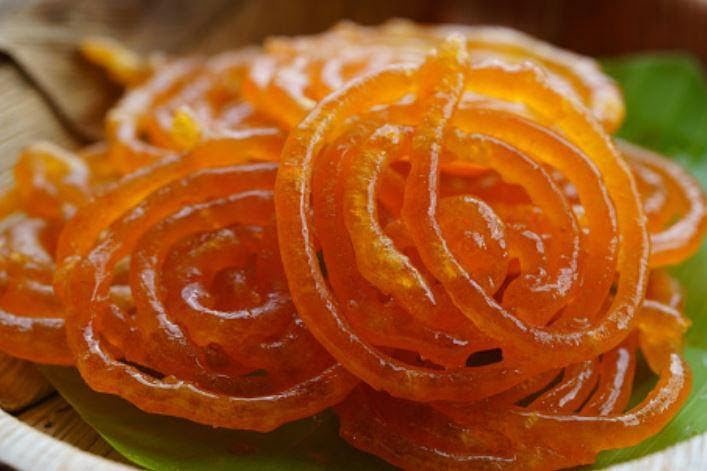 Where to find pakoras and jalebis in Hyderabad?
At most jalebi points in the roadside
Sultan Bazaar and Koti
Sambar rice
If you want to try something other than biryani and Bagara rice for lunch or dinner, your option should be Sambar rice. Available in many five-star hotels and special takeaways of bowls of Sambar rice, this is another healthy dish.
Made with rice, lentils, vegetables and seasoned with ghee and spices, Sambar rice is another famous food of Hyderabad.
Where to find best Sambar rice in Hyderabad?
Chutneys
Taj Tristar
Various vegetarian restaurants across the city
Special takeaways that sell Sambar rice in bowls
Dahi papdi
A healthy variant of Chat made with minimal oil, Dahi papdi is another popular street food in Hyderabad. It contains curd, pomegranate, and namkeen over papdi and makes a great choice for an evening snack. Healthy, filling, and easy on the stomach!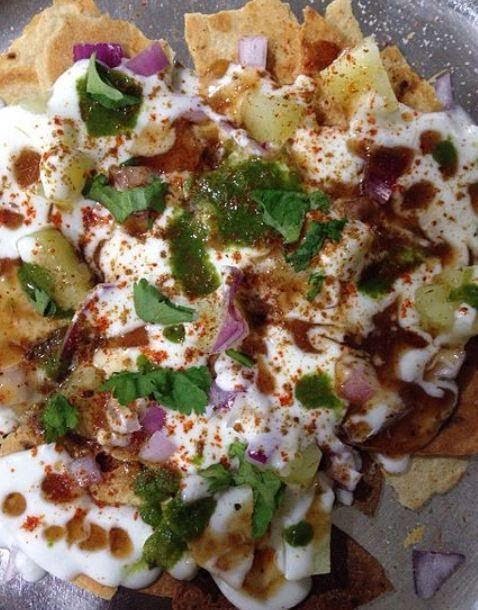 Where to eat Dahi Papadi in Hyderabad?
Karachi Bakery
Bikanervala
Gokul Chat
Maheswari Chat
Available at most chat places all across the city
Variants of Paan
How can we miss the sweet and chilled paan that is the actual show stopper of the Hyderabadi menu? When on a trip to Hyderabad, never complete your Biryani meal without taking a paan! Want some options? Try chocolate paan, saada paan, meetha paan, kulfi paan, ice cream paan and many other depending on the paan place.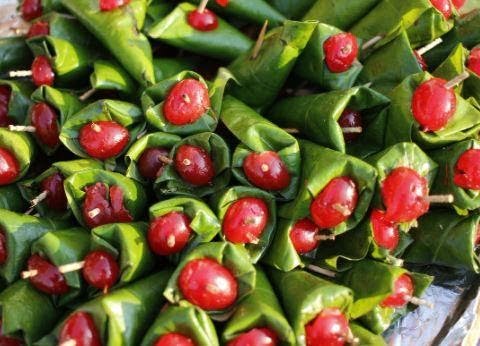 Where to get the best paan in Hyderabad?
Mayur Pan House
Dimmy Pan Palace
Available in every nook and corner of Hyderabad, including Old City and Charminar
Even at the exits of popular 5-star hotels, which tells how the city loves paan!!
Happy eating in Hyderabad!!