The festival of lights Diwali is around the corner. Called with love Deepavali or Diwali, it is one main festival of India which adds its glow to people's lives. Families get together, cook, exchange gifts, share love, and strengthen bonds on the Diwali festival. This year try to celebrate Eco-Friendly Diwali.
Why to celebrate eco-friendly Diwali ?
Well, we have plenty reasons.
Diwali is a time for shopping and extravaganza. Shockingly, online sales and in-store purchases skyrocket during the Diwali season. People often tend to buy more than needed to celebrate the festival brighter. Retailers opine that last year there was a 55% spike in online sales during this festival. Sadly, every year around 800 tons of plastic waste during the Diwali season. The main components of this waste include shopping leftovers and gift pack remnants.
The money spent on Diwali crackers every year is roughly 20,000 crores!! Imagine the good we can do to society with this amount.
Such reasons explain why we should celebrate Diwali in an eco-friendly manner. The main essence of Deepavali is to spread happiness and joy. It is the festival that explains us to rekindle the inner light and move towards enlightenment. Sadly, the materialistic demands are pushing the mainstream meaning of this cheerful festival far away.
Are you inspired to contribute your share towards a greener environment on this Diwali?
Ideas how to celebrate eco-friendly Diwali
Here are some magical ways to celebrate Diwali in an eco-friendly way. Choose those you love and contribute your share to protect the environment.
Use traditional oil lit diyas
The age-old tradition of lighting diyas filled with mustard oil, coconut oil, and cow ghee has many scientific benefits. They kill the harmful viruses in the ambient atmosphere and contribute to keeping the family members healthy. Thus, the tradition of oil diyas drives the harmful effects of the dark and the negative energy and ushers in the positive energy. This is the real Lakshmi they invite in.
Thus, to celebrate Diwali in an eco-friendly way shift to lighting oil diyas. Cut down the usage of electricity-based lamps and welcome true happiness and health with traditional diyas.
Don't Miss: Vasudhaiva Kutumbakam: The Timeless Philosophy of India's Global Harmony
Opt for eco-friendly Diwali gift packing
Diwali is the season for exchanging wishes and gifts. To celebrate Diwali in an eco-friendly way, recheck your gifting strategy. Shift to gifting things that you made at home rather than buying from commercial sites and stores.
Opt for eco-friendly gifts for Diwali. Use recycled paper, decorative cloth, and variants of handmade paper to wrap your gifts and present them to your dear ones.
Eco friendly diwali gifts ideas
If you cannot miss sending Diwali gifts to your friends and well-wishers, try Diwali gifting differently. Instead of gifting plastic and synthetic items for home décor and personal Diwali gifts, choose wiser and alternative ones.
You can give handloom sarees, dry fruit baskets, puja items for elders.
Pick health-related gifts for spouse, and elder siblings, etc. Try yoga mats, dumbbells, skipping, back support items, desk décor, etc.
Gift silver-based, stainless steel-based items that last long instead of porcelain and synthetic items.
Plants make excellent gifts. Gift colorful flowering plants and herbs that one can grow indoors and add freshness to their interiors.
Cook at home
Gather your friends and relatives and celebrate Diwali at home. Cook elaborate menu and encourage everyone to give their contribution in cooking.
Eating at home prevents tens of plastic plates and single-use and throw items easily. Also, if you are planning to organize Diwali lunch or dinner for your guests, choose banana leaves for serving rather than thermocol plates or buying new dinner sets, and so on. Similarly, make Diwali delicacies and sweets instead of buying from shops.
Celebrate together
By celebrating Diwali together, you can cut down many expenses. Right from crackers cost to food, house decoration, and travel, or spending money on hotels and restaurants – you can minimize all these. Pool the money or throw a home-based Diwali party and celebrate Diwali in an eco-friendly way together at home.
Choose pure form of pottery
Diwali is a time to add glow to the home in terms of new home décor and utensils. This Diwali, shift to a pure form of pottery to add a festive look to your home. Avoid purchasing pottery adorned with colors as they do no good to the environment. Select handmade, chemical-free, and authentic pottery and home décor made of terracotta to give a dash of festive vibes to your home.
Plan alternatives for crackers
Crackers are what make Diwali celebrations special. If you are strongly intended to cut down the pollution to zero, skip crackers and plan for alternatives instead. Need tips for eco-friendly Diwali without crackers?
Leave wish lamps from your terrace or balcony.
Gather kids and conduct competitions, magic shows, or some indoor fun activities and games to make them forget that they are not enjoying crackers.
Organize rangoli competitions, potluck, best-dressed awards, singing and dancing competitions, etc. to pass time together on Diwali night.
Decorate your home in an eco-friendly way
Diwali demands home decoration. There is no second thought on this. However, to celebrate Diwali in an eco-friendly way, think creatively.
Decorate your house with fresh marigold flowers and neem leaves. After their usage, you can bury them in the soil or dry them and make powders to use as face packs.
Bright sarees and dupattas make great items to decorate your home on Diwali instead of using shiny synthetic papers.
Add fresh energy to your home by adding indoor plants and outdoor plants. Not only do they make great choices to turn Diwali eco-friendly, but they will also fill in positive vibes in the home.
Deep clean the home and give it a renewed look by rearranging the furniture. Discard or donate old and unused items. Try bringing in fresh energy using Vastu items, Fengshui items, etc.
Use less noisy firecrackers
According to Hindu shastras, elders say that one should fire at least one small firecracker on Diwali day. This belief is scientifically backed too. Crackers in the good olden times were made with eco-friendly chemicals that killed mosquitoes and other insects with ease without harming humans. It is the modernization that hampered this meaning and drove chemical crackers to the top.
Thus, it is okay to firecrackers on Diwali (and you should too!). However, choose the least polluting variants and no-noise type firecrackers to celebrate Diwali in its full essence. Use your common sense to know your limits where to stop spending on crackers and which types are eco-friendly.
Reduce purchases and reuse your possessions
Instead of going on a shopping frenzy, reuse old clothes. A quick peek into wardrobes will reveal those old and quality pure silk sarees or costly designer sarees that you might have worn once or twice and kept aside. The same goes for men's and children's clothes too.
Before the festival, get them cleaned and wear them on a festive day. It is always okay to reuse clothes as long as they are perfectly in good condition. The textile industry consumes millions of gallons of water every year to produce garments. By choosing to reuse clothes, you are contributing your best to celebrate Diwali in an eco-friendly way.
Opt for nature-friendly rangoli colors
Rangoli is one dispensable part of Diwali celebrations. This Diwali, decorate rangolis in your house fronts with natural colors. Opt for Haldi, Chandan, Kumkum, spices, rice flour, flower petals, and leaves to bring your beautiful Diwali rangoli designs to life.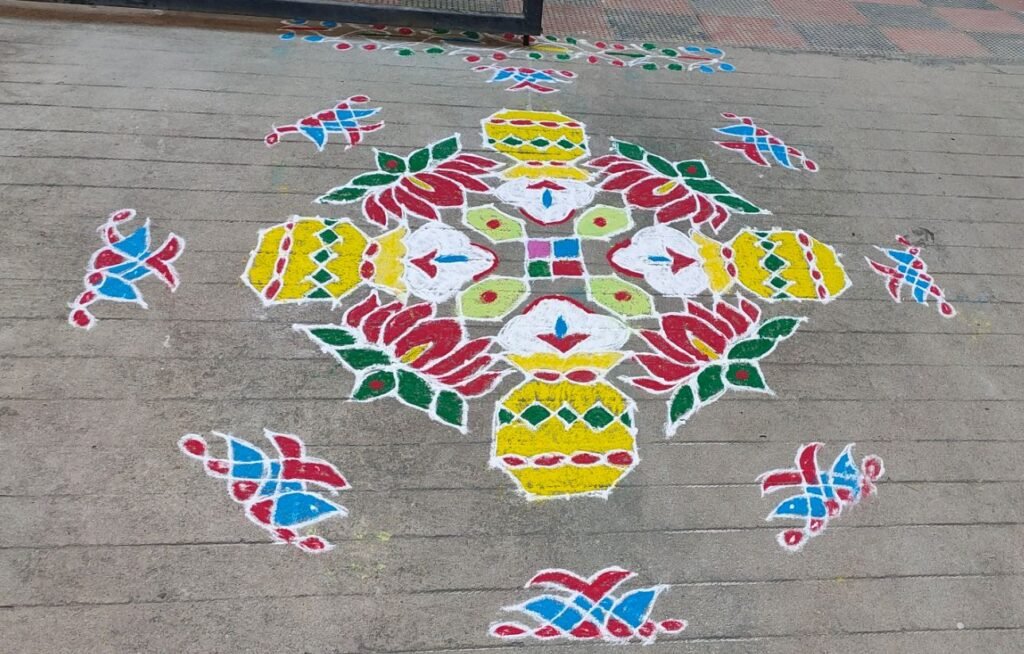 Ditch chemical-laden colors as they are pure chemicals with appealing colors. Let's revive the old tradition of putting rangolis with chalk pieces, muggu stones, and rice flours to contribute our share for an eco-friendly Diwali.
Start a balcony or indoor garden
Diwali is the time to start something new. Why not add fresh energy to your indoors by adding fresh live plants? They bring in lots of positive energy besides helping you to celebrate Diwali in an eco-friendly way. Likewise, start growing your vegetables and fruits on your balcony from this Diwali. What better way to celebrate a festival than by planting trees?
Shift to traditional music
Good music adds a spark to Diwali celebrations. This Diwali, try celebrating the festival with traditional music in a low volume. Not only will it be relaxing you from every inch, but it also helps a great deal to cut down noise pollution.
Pray and help
Stay grateful for what you have and pray relaxedly on Diwali. Thank God for what you have (and what you don't have to!) and start a new life with positive thoughts and energy. Do meditation, relax amidst positive spiritual vibes, and let this Diwali bring in new energy that will drive you towards health and happiness.
Similarly, help the poor on Diwali with whatever you have. Add glow to their faces by contributing your share to brighten up this festival of lights for them too. Happy Eco-Friendly Diwali to you all!!