How to wear a saree?
Which type of saree should I wear at a farewell party?
How to choose a saree that matches my complexion?
How to look tall in a saree?
How to look slim in a saree?
The doubts related to wearing the Indian garment – Saree, are endless. Despite the penetration of western attire into India, the saree never loses its charm. Be it a traditional function or a party, a small family gathering, or an official meeting, nothing can beat the look a saree imparts to a woman.
How to wear a saree?
Wearing a saree may seem a daunting task for beginners. However, let us assure you it is an easy game.
Before wearing a saree, you should just keep all the essentials ready. The list of accessories for wearing a saree is:
Saree
Bra
Blouse
Petticoat
Saree pins
Safety pins
Footwear
Step 1: Wear the blouse over the bra. Make sure that the blouse fits perfectly under your bust.
Step 2: Wear the petticoat and tighten it to your comfort using the drawstring. Make sure it is neither too loose nor too tight. Else, the saree may keep slipping. If it is too tight, you cannot breathe after tucking in the pleats. Wear your footwear, especially if you are using blocks or heels. Make sure that the saree falls covers them when you finish wearing the saree.
Step 3: Take the saree in the right hand. Tuck the start of the saree into your petticoat at your navel with a depth of an inch. Make a round behind your bottom. Tuck the whole saree an inch into your petticoat.
Step 4: When the saree comes to your navel part after a round, tuck it in at the right hand.
Step 5: Now take the pallu. Make steps out of pallu with the help of your left and right hands.
Step 6: Hold the steps carefully, pin them to the length you desire, and take them from your back from below your left hand.
Step 7: Bring the pin of the steps you made to your left-hand shoulder. Pin the steps carefully to the blouse using the safety pin.
Step 8: Now, set the front part of the saree over your blouse adjusting the steps elegantly.
Step 9: Now hold the loose part of the saree using your left hand and pin it on the right side of your navel to the petticoat with a safety pin.
Step 10: Make pleats carefully with left and right hand, and tuck them into the petticoat to an inch deep. Safeguard the pleats with a heavy saree pin. If you are an expert, or the saree is light in making, a normal safety pin will serve the purpose here.
You are ready to rock in a saree!!
Which type of saree is best?
Every saree has its own speciality. The choice of best saree depends on many factors like the occasion, budget, body type, etc. Pure cotton and pure silk last long. Chiffon and georgettes are easy to maintain and wear at home daily. Polyester and machine-made sarees need less maintenance compared to handloom ones. The choice of saree is purely individual.
Also Read: 40 types of sarees names in India
How to wear a saree to look slim?
To look slim in a saree is very easy. These tips will help you to give a slim look in a saree:
Never choose a saree with a big border if you think you are fat.
Opt for borderless sarees as much as possible.
Do not choose checkered, big circles, big boxes, and horizontal stripes, and other big design sarees.
If you have fat in your arms, avoid sleeveless blouses. Opt for blouses till your elbows.
Wear sarees with thin laces or light embellishments. Avoid heavy work sarees.
Prefer lightweight sarees made of georgette, chiffon, and linen blends.
Leave the pallu over your left hand instead of making it steps.
Do not prefer blouses that are high on the neck. Wear moderate neck blouses.
Wear sarees with vertical stripes, small prints, and designs.
How to wear a saree to look tall?
To look tall in a saree, follow these tips:
Prefer thin vertical striped sarees.
Choose full sleeve blouses if you are thin.
Wear sarees with small borders.
Avoid checks and box designs.
Prefer floral prints and color blocks in lightweight materials.
What is a half saree mean?
A half saree is a traditional wear of unmarried women in South India. It essentially contains – a pavadai, a voni, or pallu. The girl wears the pavadai and ties it firmly using the drawstring. Then the pallu is tucked from the left side and taken to the front via the below of the left hand from the back. The step is made in the front part and pinned at the left shoulder.
How to put pleats in a saree?
To put pleats in a saree, tuck the saree after the first round from the navel. Complete the pallu steps and arrange the front part of the saree elegantly. Bring the loose portion of the saree through your back from the down of your left hand and secure it with a safety pin near the bottom of the navel to your petticoat and the first layer of the saree.
Then, hold the saree with your right hand. Stretch your right hand as much as possible and make a fold. Then, bring the fold in the opposite direction. Repeat this till the loose portion of the saree is completed. Adjust the pleats to equal size and set them neatly. Then carefully tuck them into your petticoat to an inch deep. Secure with a saree pin. You can master this with practice.
Also Read: Starting wholesale clothing business? Read this for sure.
How to Choose a perfect saree for your body type
Fat women can prefer lightweight sarees with full design and or small borders. Heavy and big borders and designs make them appear fatter.
Women who want to look plumpy can choose cotton and heavy material. They give weight to your body giving you a whole complete look.
Women with dusky complexions look elegant in pastels and light colors. They better avoid pure whites, and bright yellows, and neon colors.
Women with fair complexion look decent in dark colors like maroon, green, and many more.
Tips to choose a blouse for saree
Always keep two blouses for every saree – one blouse with a traditional look, the other with a modern look. By mixing and matching the blouses, you can create a different look with the same saree every single time!
Avoid high necks if you are very fat. Slim people need to avoid full sleeves till wrists.
Avoid deep backs if you are fat. Opt for boat necks and high neck blouses to look decent in a saree.
Sleeveless blouses look good for slim structured women. For women with fat at arms, blouses till elbows suit charmingly.
Always have a black blouse with a white print. In case you do not find any blouse, you can wear this onto any saree.
Experiment with prints in cotton to create magic with cotton sarees.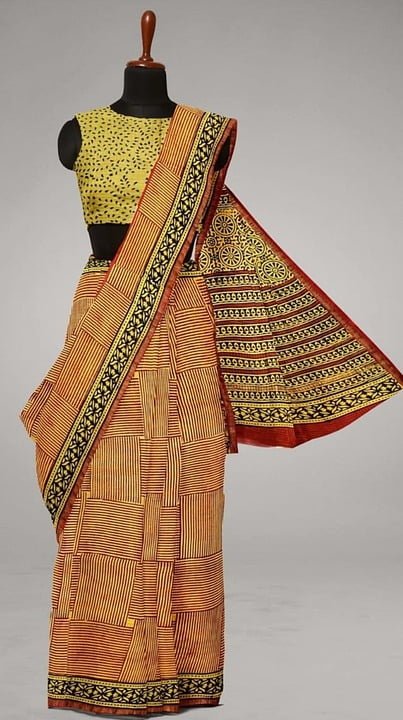 Hairstyle for saree
Both modern and traditional hairstyle suit sarees. Make sure to choose a hairstyle that fits your body type and face cut.
For traditional sarees, complete your look with a part in the middle and plait with flowers.
For modern sarees, leave your hair or style them as per your choice and wear suitable hair accessories.
Accessories for sarees
A look in the saree is incomplete without certain accessories. They are mentioned here:
Earrings: Wear heavy jhumkas for party wear saree and elegant studs for office wear. Small hangings look good for family functions and outings.
Bangles: Glass bangles and traditional bangles complete the look of traditional sarees. Handmade bangles of wood and lac look stunning for office wear.
Bindis: Get the wholesome saree look with bindis. Wear around dark red or maroon bindi with traditional sarees. Bindis made of stone and glitters suit well for occasions and parties.
Neckwear: Pure gold is the best match for pure silk sarees. You can also wear one gram gold or artificial jewelry. Tribal jewelry, silver oxidized jewelry, etc. look good on office wear and party wear.
Flowers: Flowers give a stunning look for a woman in a saree. Tie your hair like a bun or weave a beautiful plait. But complete the look by wearing flowers.
Footwear for saree
Depending on the occasion, you may wear flats, heels, blocks, and other stylish footwear. However, shoes and sandals are better avoided when you are wearing a saree.
Handbags for Saree
Use clutches made of embellishments, printed, hand embroidered, or silk thread for traditional sarees. For an office look, use a branded handbag or an indie printed one.
Saree Love – The Endless Charisma of Saree
India has seen many rulers at different times. The British, the Mughals, the French, the Dutch, and many other nations have had their impact on Indians' way of dressing along with various other aspects of their lifestyle.
Beating all its counterparts, the saree is making millions of Indian and foreign women fall in its magic for ages. Interestingly, the love of sarees seems to increase every year as we move more and more towards modernization.
What is the reason for this saree love? What binds women to sarees? Well, there are many. Let us share a few of the reason why women love sarees:
Fits any body type: Fat, thin, short, tall, fair, dusky, bald, long hair – saree sees no such constraints. Women of any size and any color and other traits can look stunning in a saree.
Affordability: Sarees come at various prices. Right from 200 rupees to twenty lakh rupees, sarees are available at every price, for every budget.
Fits any occasion: Be it a traditional ritual, or a lavish party, an official meeting, or a romantic outing, a saree fits any occasion perfectly.
Unbeatable range of colors, designs, and models: Probably saree is the only garment in the world that is available in many designs, colors, and cloth!
Imparts women the sexiest look: The secret why women look stunning in a saree is it highlights their features without giving a vulgar or obscene look. It is an age-old belief in India that women look sexiest in saree and none other garments! And this is fully true! We bet!
Lets you experiment: Either you wear it full sleeve blouse, or sleeveless; wear it in the traditional style or modern style, the choices to experiment with saree are endless.
Symbolises power: Many women leaders in India who ruled the country and leading the Ministries wear saree. Corporate giants, teachers, professors, doctors, dancers, etc. all love this saree and take its poise to a next level.
Suits as the best gift: Confused what to give your dear woman on any occasion? Go and pick a saree without a second thought. Sarees make the best gifts to mothers, girlfriends, lovers, wife, sisters, friends, employees, and any woman!
Imparts decency and confidence: Saree can offer the ultimate decency to a woman. The confidence when a woman wears a saree is unbeatable.
The trick lies in wearing a saree in such a way that all these functionalities are attained to their fullest.
Saree Quotes
Saree- six yard of sheer elegance!
I don't want anything else, just give me the whole saree types of India!!
Saree – the single piece of attire that can give both a traditional and sexy look.
I love sipping filter coffee sitting in my garden in my favorite cotton saree.
Saree has its power. And it comes from the decency and elegance it imparts.
Related: Motivational Quotes for Women
Indian Saree Styles
India is amazingly diverse. And this holds to its saree styles too. There are various types of sarees in India. The cloth they are made of and the way they are draped depend on the local climate and traditions followed. Here are some of the fabulous saree styles of India:
Kunbi drape: Followed by women of Goa. To get this look, you should wrap the saree around your waist and knot it over the right shoulder. Ideally, the saree is tied very above the ankles to let women work and walk freely.
Coorg style: Originated in Coorg, Karnataka, you can wear this style either with a full blouse or without a blouse as the local women of Coorg wear. In this style of saree wearing, you should tuck the pleats at the back, instead of at the front.
Parsi style: Parsis mostly wear light weighted sarees like georgette or light chiffon. In the Parsi style of saree draping, the pallu comes from behind and the folds are formed in the front.
Halakki Vokkaliga: This saree style is from Karnataka. In this style, you do not need a petticoat. First, wrap the saree around the neck under the shoulders and then complete the saree tying.
Gujarati style: The pallu comes from the right shoulder and then it is tucked onto the left shoulder.
Kappulu: Andhra people follow this style of saree draping. In this method of saree tying, the wrapping direction is from left to right, unlike in other styles. The pallu passes through the waist twice, covering the whole body, leaving the women with a graceful look.
Madisaru: Another type of saree wearing that does not need a petticoat. This is a traditional style of Tamilnadu. The saree is first worn as a loincloth and then the actual wearing of the saree begins. This is one of the most loved traditional saree styles of South India.
Oriya style: Bring the pallu from underneath the right arm and then pin it. This is another popular style of saree wearing in Odisha.
Mekhela chadar: The Assamese style of saree draping. Here two pieces of the garment are included. One, you should wear around the waist, the other you should wear in steps like a pallu.
Seedha pallu: This saree draping style is from North India, mainly Uttar Pradesh, Gujarat, and Odisha. This saree draping style can highlight the design and the work of pallu in a beautiful way. The pallu comes from the back onto the right shoulder and falls freely. You need to tuck in the pallu at the left part of the waist in the front or the side.
Atpoure shari: Another elegant and eye-catching saree style of India. This saree draping style is from West Bengal. The pallu comes from the back onto the right shoulder and then goes back from over the left shoulder.
Surguja: A Chhattisgarh way of saree draping. This style has no pleats and the whole saree is tied very high over the ankles allowing women to work and dance.
Namboothiri: A Kerala way of saree draping. The saree is first draped around the waist with the help of a petticoat and then wrapped over the chest in multiple layers and tucked in perfectly.
Santhal: People of Jharkhand follow this style of saree draping. The pallu is pulled over the left shoulder and box pleats are formed in the front.
Innaphi and Phanek: Manipuri style of saree draping. The saree contains horizontal stipes in its one half while the other half is rich in floral or other designs.
Purnia: A Bihari style of saree draping, where the saree covers the head too.
Retro Saree Draping: This is another famous style of saree draping in movies. Here the belly button is exposed with a tight rape of saree on the whole body.
Modern Saree Draping Styles
Modern women are draping sarees using belts, jeans, crop tops, jackets, leggings, etc. As long as the essence of wearing a saree is not missed, any sort of modernity looks welcoming in saree draping. There are also ready to wear sarees, where you can wear a saree just like you wear a shirt or a salwar, with no effort!
Sarees for different occasions
The choice of saree should be made depending on the occasion. Here is some guidance about choosing the type of saree based on the occasion:
Sarees for Traditional Occasions
Sarees chosen for the traditional occasion must give a rich and respectful look. You can choose the following types of sarees for traditional occasions like puja, rituals, vratas, perantas, etc.
Benaras silk
Kanchipuram silk
Chanderi silk
Floral print traditional silk
Kerala Kasavu
Maharashtra Paithani
Mangalagiri/ Uppada/ Gadwal/ Pochampally
Gujarat Patola
Bihar's Bhagalpuri silk
Bengal cotton saree/ Jamdani
Mysore Silk
Tussar Pure silk
Kota Silk Saree with brocade work
Nauvari
Benaras brocade
Kutch Bandhani sarees
Net thread work embroidery
How to wear Saree for Office?
The material of the saree that you choose for office wear should help in forming pleats and pallu stiffly. It should not cause inconvenience nor need adjustment from time to time. Here are some best saree types for office wear:
Kota Sarees
South Silk Sarees
Bengal Handloom Sarees
South Silk Zari buta
Matka silk
Jamdani printed and handloom
South silk printed
South Silk textured
Bhagalpur handloom
Handloom Jacquard
Ikat cotton and silk
Tussar handloom printed
Bagru printed
Dabu printed
Hand-painted cotton
Buta thread
Patola
Color block
Ajrak
Maheshwari
Chanderi
South cotton and handloom
Ghicha
Linen
Chevron print
Kantha pure silk
Checkered
Kalamkari
Ilkal
Sungudi
Khadi
Tangail
Sarees for farewell parties
Prefer sarees that are light in weight. Floral, embroidery, lace based, embellished, net, organza, tissue, georgette, liva, velvet, ruffle, half and half, tie and dye, bandhani, leheriya, digital prints, lehenga saree, ready to wear sarees, etc. create magic at college parties.
Sarees to wear at home
Sarees that you wear at home should need little maintenance. They should withstand the rough and tough daily activities. Choose georgette, crepe, chiffon, mull cotton, and cotton for wearing at home. Dark colors in these sarees will withstand the stains too.
Best Sarees for outings
Prefer lightweight sarees for outings. Net (printed and light embroidery), Mysore silk, cotton silk, jute silk, linen blend, tussar, polyester, mull cotton in prints, patola, half and half in lightweight materials, bandhani, a printed cotton, etc. suit well for family outings.
How to wear Saree for party?
While choosing a saree for the party, you have two basic choices – go rich and flaunt the designs and the work. Or keep it simple and shine amidst the guests.
Net sarees with heavy work, embellished sarees, heavy art silk, poly georgette with prints and work, Dhakai silk, Chikankari saree, phulkari, velvet, color block sarees in crepe, foil print sarees, ruffle sarees, Lycra sarees, printed crepe sarees, dupion silk, half and half in heavy materials, etc.
How to wear Saree for engagement?
You can choose from pure silk to the ones mentioned in the list of sarees for parties. Make sure to appear your best by choosing a rich and heavy saree for your engagement.
How to wear Saree for a wedding?
Wedding sarees do follow the customs and traditions of the bride and the groom in India. Accordingly, they may vary from cotton, silk, and brocade to any choice that a bride wants.
Here are some popular wedding saree materials that can make evergreen options.
South silk soft brocade
Benaras heavy silk brocade
Embellished traditional sarees
Kanjeevaram silk sarees
Uppada silk sarees
Pochampally silk sarees
Sarees for honeymoon
Flaunt your curves by choosing these types of sarees as mentioned below. They are light in weight, hence you can carry them easily. Besides, they also give a sexy look as no other modern dress can!
Organza, crepe, velvet, Net thread work embroidery, lycra sarees, linen blend with digital floral prints, fancy crepe sarees, tie and dye sarees, polyester, lace saree with embellishments, crepe silk with designs, digital printed sarees, Chikankari saree, liva, printed crepe, poly crepe floral print, fancy georgettes, hand-painted sarees, etc.
Different Saree Materials
Sarees are available in many materials. With the beginning of the power loom, the styles and materials of sarees increased in India.
These days we get sarees in many materials including heritage weaves to the latest lightweight machine-made sarees. Here are some popular saree materials:
Pure Silk
Pure Cotton
Acrylic
Art Silk
Bagru
Baluchari
Batik
Bandhej
Cashmere
Chanderi
Chiffon
Crepe
Dobby
Dharmavaram
Gadwal
Georgette
Handlooms
Ikat
Jari
Jamdani
Kanchipuram
Kantha
Khadi
Kosa silk
Linen (pure as well as a blend)
Liva
Mangalagiri
Maheshwari
Mysore Silk
Net and tissue
Organza
Paithani
Patola
Pochampally
Polyester
Sambalpuri
Tangail
Satin
Venkatagiri
Tussar
Types of handloom sarees in India
India is a tropical country. Handloom sarees help in controlling body temperature. They also last long with care and impart a grandeur look like none other. Here are some famous handloom sarees of India:
Pochampally
Mangalagiri
Uppada
Dharmavaram
Ajrak
Dabu
Bagru
Bagh
Banaras
Chanderi
Indigo
Kasavu
Ilkal
Khadi
Linen
Phulkari
Kutch hand embroidery
Balotra
Ikat (Orissa)
South Cotton (Kalamkari, Madurai cotton, etc.)
South Pure Silk
Tangail and Jamdani
Types of Sarees Every Woman Must Own
Kasavu
Tant
Kanchipuram Silk
Paithani
Mugga silk
Mangalagiri
Pochampally
Tussar
Mysore pure silk
Chettinad
Chikankari
Uppada Silk
Benaras silk
Net
Liva
Surprising facts about sarees
A saree can be worn in more than 100 ways!
The length of a saree can vary from 3.5 to 9 yards!
Do you know? We can wear a saree without using any safety pins.
Millions of handloom weavers in India live on sari making.
Sarees are not only worn by Indian women, they are also equally loved by women of Sri Lanka, Pakistan, Bangladesh, Nepal, Malaysia, Singapore, and even the USA!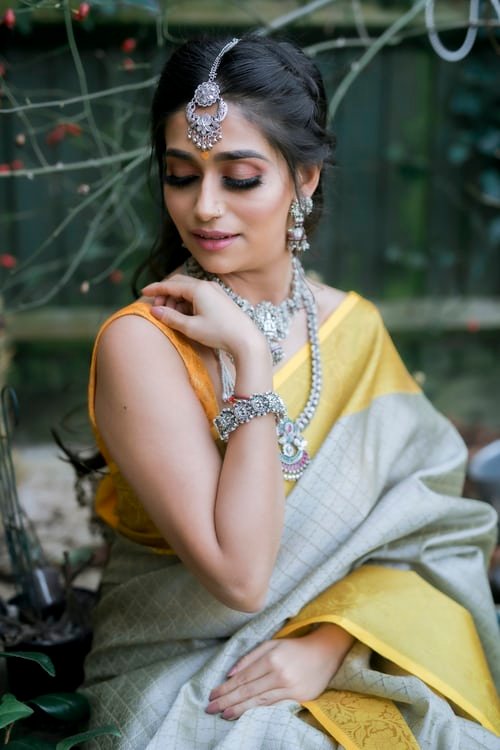 How to take care of sarees?
Never store silk sarees in covers. Always dry-clean them and store them individually, wrapping them in a newspaper or a brown paper.
Every while, keep changing the folding of the sarees in the wardrobes to avoid their tearing at the folds.
Wash sarees gently in water mixed with shampoo to preserve their color and weave.
Never put heavy sarees in water or washing machines.
Importance of Saree in Indian Culture
In India, a saree is more than a garment. It is a symbol of respect, tradition, and heritage. For thousands of years, Indian women have been wearing sarees with utmost pride and happiness. They let women work without any inconvenience.
In many families, sarees are passed to the next generations with immense love and pride. Daughters wear the marriage sarees of their mothers with great pride. It is also a common sight in India that girls wear sarees in their childhood and jump in joy looking at their new look!
Many ancient scriptures show the existence of the saree since millions of years ago. The story of Lord Sri Krishna giving saree to his sister Draupadi to protect her modesty in Mahabharata is well known. One can see that all Indian Goddesses are in saree. We must protect this beautiful tradition and pass it on to the next generations.