Incredible India is an enchanting destination for tourism. With millions of tourists thronging the subcontinent every year to delve into its unbeatable diversity, Indian tourism is always a fascinating topic.
As we move along, let us understand the various enchanting aspects of Indian tourism.
When is National Tourism Day celebrated in India?
In India, January 25th marks National Tourism Day. The Government of India created this National Tourism Day to promote awareness about the richness of tourism in India. India is a land with different types of tourism that adds to its economy in a myriad way. On this day, various campaigns and events are held that promote Indian tourism and related aspects.
What is the Slogan of India Tourism?
The tagline of Indian tourism is Athithi Devo Bhava. This is a Sanskrit term that means "Guest is like God". This Athithi Devo bhava campaign was launched in 2005 with Bollywood actor Amir Khan as its ambassador. Learn more details about the Athithi Devo Bhava campaign here.
India Tourism Campaign and Logo
Incredible India is the campaign to promote tourism in India. The tourism logo of India mentions "Incredible India" It is shown here below.

As mentioned, the Athithi Devo Bhava campaign also has its logo as shown here. Know more about why India is called Incredible India and details about Athithi Devo Bhava campaign.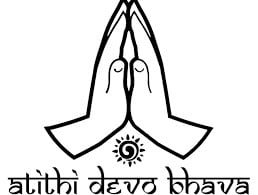 Essay on Tourism in India
The country is rich in diversities of all sorts – physical, geographical, cultural, linguistically, bio-diversity, and many more. Probably no other country in the world has these many diversities lying warmly under one umbrella. That is the unique charm and greatness of India.
Types of Tourism in India
According to the definition of Tourism, traveling to another place for recreational purposes. As much astonishing it can be, India is opulent in terms of offering to anyone who visits it.
Right from Kashmir to Kanyakumari, every inch of this land is different, unique, and offers varying experiences for tourists. Thus, we can find many types of tourism in India. They are described hereunder:
Cultural Tourism in India
Festivals, melas, and gatherings in India reflect how culturally beautiful this land is. This is the reason for the emergence of the concept of Cultural Tourism in India. Be it Dance Festivals, Kumbh Melas, or Rath Yatras and Ganesh Chaturthi or Durga Puja festivals, thousands of foreigners visit India to witness these cultural events. Boat races in Kerala, Pongal festivals in Tamilnadu, Holi celebrations in North India, tribal festivals of Northern East, are all some examples of events that come under cultural tourism.
To me, India's always represented 'everything'; it represents 'all.' Everything is here. You can stay here forever, and you'll never feel like you've missed out on life.

Chris Martin
Adventure Tourism in India
India has no dearth of hills, mountains, seas, and oceans. Accordingly, tourists can enjoy many adventurous sports in various tourist places in India. States like Arunachal Pradesh, Uttaranchal, and Assam are known for their adventurous activities such as rafting. Skiing and trekking are other adventurous activities that tourists love in the mountain caps of the Himalayas in Jammu Kashmir and Himachal Pradesh.
Eco-Tourism in India
This branch of tourism focuses on preserving the natural resources and biodiversity of an area besides providing a refreshing experience to the visitors. National Parks in India such as Gir, Kazhiranga, and Kanha are well known for this eco-tourism. Valleys of Araku and Tea estates of Tamilnadu, Kerala, Assam, etc. are also some of the places that tourists go to enjoy eco-tourism.
Medical Tourism in India
India is renowned not only for its richness in culture but also for its advancements in medicine at affordable rates. Thousands of foreigners visit India every year to benefit from medical procedures such as cardiac surgery, dental treatments, and cosmetic surgeries.
Wellness Tourism in India
Besides modern medical procedures, India has always been a land of Ayurveda. The country has many Ayurvedic wellness centers. Besides Ayurveda, Yoga and Meditation are also deeply rooted in Ancient Indian treatments. Such wellness centers that offer meditation classes, ayurvedic treatments and massages, as well as alternative therapies like Homeopathy and Unani attract thousands of tourists every year.
India's tropical forests are home to uncountable species of flora and fauna. Many endangered species are preserved carefully in Indian zoological parks. Wildlife sanctuaries such as Sariska, Keoladeo Ghana, and Corbett are some top places for wildlife tourism in India.
Beach Tourism in India
Being a sub-continent, India has an ample number of beaches. The beauty of each beach is different and every beach offers a different kind of experience to tourists here. While beaches of Rameshwaram are popular for traditional practices, Goa beaches are full of life and fun for tourists. Beaches of Kerala, Goa, and Andaman draw the maximum amount of beach lovers every year.
Heritage Tourism in India
The depth and vividness of the cultural heritage of India need no specific mention. It is a country that has seen everything and withstood the test of times. Right from the age of Harappa Mohenjo-Daro civilization, the rise of Aryans, and the establishment of Kings followed by Muslim Invasions and British rule, the country has tasted it all. As a result, one can witness a copious number of monuments and constructions all across the country.
Heritage places in India draws millions of tourists domestically and internationally. Constructions like Qutub Minar, Charminar, Temples of South India, Bodh Gaya, Ajanta Ellora caves, Hampi, and Beluru draw millions of tourists every year. Each of these monuments has many stories to tell that fascinates tourists.
Religious Tourism in India
India is a warm place for many religions. Hindus, Muslims, Christians, Buddhists, Jains, Zoroastrians, and people of other religions live in harmony here. Accordingly, many sacred places of all these religions are present in India. They draw both foreign and domestic tourists equally.
Temples such as Tirumala Balaji temple, Kanchi Kamakshi, Madurai, Chidambaram, Anantha Padmanabha Swamy, Kamakhya, Kasi Vishwanath, Puri Jagannath are popular attractions among religious places. Besides drawing millions of tourists, they contribute to the economy in many ways.
India has two million gods, and worships them all. In religion all other countries are paupers; India is the only millionaire. – Mark Twain
On the other hand, not just for its countless temples, India also is rich in yoga tourism. The Ministry of Tourism promotes yoga tourism hub in India. Places like Kerala, Hrishikesh and Mysore are famous for yoga tourism.
India also has sacred places of worship for Muslims. Dargahs and mosques such as Jama Masjid, Dargah Qutub Sahib, Hazratbal Shrine, Ajmer Dargah, Haji Ali are world-renowned.
The Golden Temple of Amritsar draws many tourists both nationally and internationally. Similarly, Sravana Belagola and Mount Abu are sacred places for Jains. All such religious and sacred places comprise religious tourism in India.
India Tourism Facts
Uttarakhand is famous among religious tourism places in India.
According to The Travel and Tourism Competitiveness 2019 Report, India ranks 34 out of 140 countries.
The postal network in India is the largest in the world. It contains 1,55,015 post offices.
The Mahabodhi Temple in Bodh Gaya, Bihar is one of the holiest sites for Buddhists across the world.
Kunchikal Falls in Shimoga District Karnataka is the highest waterfall in India. The water here falls from a height of 1493 feet.
Leh Ladakh in Kashmir is the highest hill station in India. Located at an altitude of 3,505 meters, amidst the Himalayan and Karakoram mountain ranges, this is one of the top tourist places in India.
Islands are also another famous attraction in India. As per NITI Ayog, India has a total of 1382 off-shore identified islands.
The percentage of medical tourism in 2019 was 6.4 and leisure and recreation contributed 57.1 percent.
The Kumbh Mela of Allahabad is one of the biggest gatherings of humanity. Do you know that it can also be witnessed from space?
The Kanchenjunga Peak which is on the Indo-Nepal border is the highest peak in India and the third highest peak in the world after Mount Everest and K2.
The Jewar International Airport is the biggest international airport in India. India has in total 34 international airports.
There are 38 World Heritage Sites recognized by UNESCO in India. Konark Sun Temple, Hampi, Ellora are some examples of such places.
India has more than 3,00,000 active mosques which are more than that of most Muslim countries in the world.
As per the 2001 census, India has 2 million Hindu temples.
The latest attraction of India The Statue of Unity attracted more than 29 lakh tourists as of Dec 2019, generating 82.51 crores of Indian rupees as revenue.
Statistics on Tourism in India
In 2019, 10.93 Million foreign tourists arrived in India.
In the same year, 6.98 Million was the number of NRIs visiting India for many reasons.
Rs. 211661 Crore was the foreign exchange earnings from tourism in 2019.
India's rank in World Tourists Arrival is 23.
India is the 12th country that has the highest number of the world's tourists' recipients.
Among the Asia Pacific region, India ranks 8th in International Tourists Arrival.
The contribution of Indian tourism to GDP was 9.3% in 2019.
The travel and tourism sector in India contributes to 8.1% of total employment opportunities in India.
India ranks third in the World Travel and Tourism Council (WTTC)'s Travel and Tourism Power Ranking, 2019.
Related: Beautiful Quotes on Indian Culture
Related: Best Cities to Live in India as an NRI
Related: Surprising facts about India
Related: Most popular Indian cities for tourism
Related: Travel essentials while travelling in India
Related: Why India is called Incredible India?
State with the highest tourism in India
According to Statista, Uttar Pradesh is the state with the highest tourism in India. In 2019, the state attracted as much as 535.86 million tourists. Popular places in Uttar Pradesh include Varanasi, Mathura, Ayodhya, Fathepur Sikri, Prayagraj, Lucknow, Jhansi, and many more.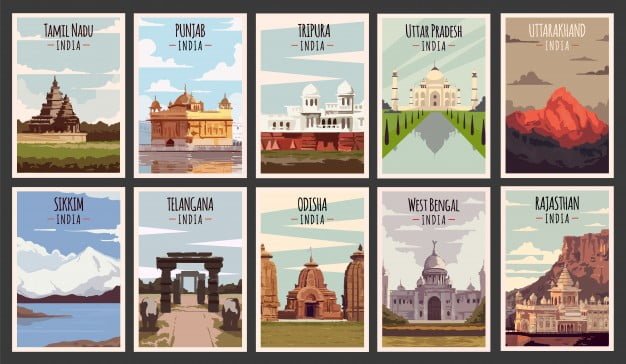 Top Tourist Places in India
To list the top tourist places in India may be a fascinating feat. The country gives numerous choices for tourists to visit. Tourist places in India are in a diverse range. Though the list of tourist places in India can be unending, here are the top 30 tourist places in India.
Goa
Manali
Andaman Nicobar Islands
Pondicherry
Varkala
Kanyakumari
Agra
Jaipur
Udaipur
Leh Ladakh
Varanasi
Delhi
Jaisalmer
Alleppey
Munnar
Srinagar
Gangtok
Amritsar
Darjeeling
Ooty
Nainital
Mussorie
Hyderabad
Bangalore
Khajuraho
Chennai
Ajanta Ellora
Haridwar
Kodaikanal
Kochi
India is a place where color is doubly bright. Pinks that scald your eyes, blues you could drown in.

Kiran Millwood Hargrave
FAQs
What is an e-tourist Visa?
The e-tourist visa allows foreigner tourists to apply for an India visa without visiting the Indian Mission in person. They can pay the visa fee online and start the process. Upon arrival in India, they need the Visa to be stamped by immigration authorities here.
For more details about fees of e-tourist visa, regulations for an e-tourist visa, and the time taken for an e-tourist visa, please visit: https://indianvisaonline.gov.in/evisa/tvoa.html
Who is the Ambassador of Tourism in India?
Shri Narendra Modi, the Indian Prime Minister is the ambassador of Indian tourism.
India Tourism Development Corporation
The India Tourism Development Corporation, also called ITDC, was established in October 1966. Its main aim is to promote and develop the tourism sector in India. Activities such as construction and management of hotels, distribution of brochures related to Indian tourism, and provide transport and commercial services are its duties.
Currently, ITDC comprises the network of eight Ashok Group of Hotels, six Joint Venture Hotels, 2 Restaurants (including one Airport Restaurant), 12 Transport Units, one Tourist Service Station, 37 Duty-Free Shops at International as well as Domestic Customs Airports, one Tax-Free outlet and two Sound & Light Shows.
Tourism of India after COVID
COVID has affected the tourism sector in India as much as it did across the whole globe. The sector witnessed thousands of job cuts and millions of revenues lost. Gradually, the Indian tourism sector is bouncing back, with strict regulations as mandated by the Tourism Ministry of India.
COVID-19 Guidelines for Tourists in India
International arrivals shall have to abide by quarantine guidelines. Every passenger should have the Aarogya Setu app on their smartphones. Social distancing, wearing masks, and avoiding touching common surfaces are some of the mandatory precautions every traveler must follow. For more latest updates one can visit: https://www.mha.gov.in/notifications/circulars-covid-19
---