Experiences always get better with friends. So, adding adventure in the mix would be worth it. India is the most diverse country in the world. The wildlife tour here is just mesmerizing. Visiting wildlife places in India also generates feelings for nature and it grows empathy. Here we have presented an extensive list of wildlife places in India that are beautiful, adventurous, and a lot of fun with peers.
Best Places for Wildlife Tours
Gir National Park
The Gir National Park is located in Gujarat. It is also known by the name of 'Sasan Gir'. One of the best places for wildlife tours, the national park was established in the year 1965. It is near the cities of Junagadh (65 km), Somnath (43 km), and Amreli (60 km).
The Gir National Park boasts of a mammoth area of 1412 sq km. The place is divided into a wildlife sanctuary of 1153 sq km and the remaining 25 sq km is the protected national park. The national park comes under the arid belt of Gujarat. The region experiences less rainfall and is prone to frequent droughts. Water availability is a serious concern for animals during the peak summer season.
How to reach?
The Gir National Park is one of the best wildlife tour places in India. It is well connected by air, rail and road. The nearest airport is at Diu, located at a distance of around 65 km. Another nearby airport is Rajkot airport (160 km).
The Ahmedabad international airport is situated at a distance in excess of 350 km. This airport would cater for all international travellers and other frequent travellers. However, one may explore the option of connecting flights to other nearby airports.
Things to do
The national park is great for wildlife tours as it homes many species of animals like Striped Hyena, Indian Leopard, Mugger Crocodile, sloth bears, blackbucks and other carnivores and herbivores animals. The main attraction of this wildlife sanctuary is the Asiatic lion.
The lions have been preserved in a protective environment. Their numbers have been on a rise ever since 2010 when the government decided to breed these animals and pay focus on them.
The park remains closed from 16th June to 15th October every year for maintenance purposes. The best time for capturing wildlife would be the summer period.
In summer the wild animals are most active. Despite the region experiencing harsh dry summer months, the maximum wildlife tours can be seen through March to May.
Fees
The charges for jeep safari for Indian nationals is around INR 3800 and for foreign nationals are approximately INR 13800. The rates however may vary from season to season. Online Safari can be booked online from the official website of Gir National Park.
For further information, please visit girnationalpark.in.
The Jeep Safari timings are available in 3 slots. The timings however slightly vary according to the season and other factors
Accomodation at Gir National Park
A number of hotels and resorts are available for stay around the national park. The bookings can be done from the official site as well as other travel sites. The hotels and resorts are present for all kinds of budget.
The contact numbers for any query regarding the trip to the Gir National Park are
011 45586430+91 9315517530, +91 8826678881
Jim Corbett National Park
The oldest national park and one of the most beautiful wildlife places in India is the Jim Corbett National Park. Located in the beautiful valleys of Nainital, the national park is home to a wide variety of animals making it an excellent choice for wildlife tours.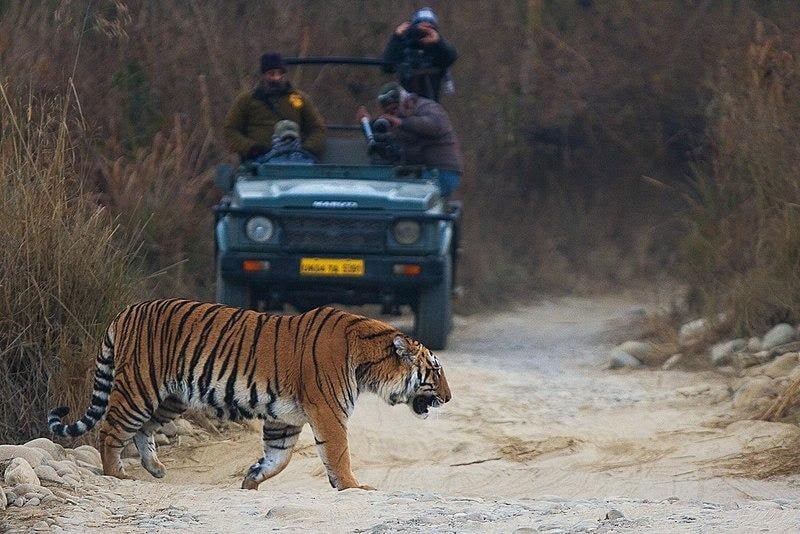 The Jim Corbett National Park initially came into existence in 1936 to protect the endangered Bengal Tiger. The national park also boasts to be one of the initial wildlife sanctuaries in the country which started the tiger preservation under the Project Tiger Initiative.
The Jim Corbett National Park is named after the famous British Indian army officer Edward James Corbett. He was famous as a hunter and a naturalist. He had killed a number of man-eating tigers in the forest.
How to reach?
This one of the diversified wildlife places in India is located in the district of Nainital. The nearest town to the national park is Ramnagar.
The railway station of Ramnagar is the nearest railway station to Jim Corbett. This railway station is well connected by all major cities.
The nearest airport from Corbett is Pantnagar airport at a distance of around 120 km. The nearest international airport for the wildlife tours is Indira Gandhi National Airport at New Delhi. The national park lies approximately 250 km from the national capital.
The national park has a cover of deciduous forests which covers more than ¾ of the total area. A noticeable portion of the area is devoted to grasslands. The area of the national park is 1300 sq. km. The area is divided into a protected area 520 sq. km, 500 sq. km. of reserve forests and 300 sq. km. of the wildlife sanctuary.
Things to do
Apart from Jeep safari they also have the option of Elephant Safari which gives the feel of wildlife tours costing around INR 3000. Each elephant can accommodate a maximum of 4 persons. The rates are the same for Indian nationals and international tourists.
The timings for Elephant safari are: 5:00 AM to 7:00 AM; 5:00 PM to 7:00 PM
Fees
The entry charges in the national park are:
Rs. 200 for Indian nationals
Rs. 1000 for International Tourists.
Jeep Safari rates at Jim Corbett National Park:
Safari rates for Indians – 4500 Rupees
For Foreign nationals – 7000 Rupees
Each Jeep would carry a maximum of 6 persons.
The timings of the Jeep safari are: 5:30 AM to 9:30 AM ; 2:30 PM to 6:00 PM
Accommodation
You can find the accommodation details here https://www.corbettnationalpark.in/
Kaziranga National Park
One of the sought after wildlife places in India , this national park nestled in the eastern Himalayan is a sight to behold. The two prominent eastern biodiversity hotspots are Golaghat and Nagaon district. Nestled between the two districts; is the World Heritage Site of Kaziranga National Park, a splendid place for wildlife tours.
This wildlife place in India stretches over an area of 430 sq. km. with lagoons, meadows and dense forests. The river Brahmaputra is one of the major rivers intertwined in this East Himalaya biodiversity hotspot. There are many small water bodies spread around the national park.
This national park came into existence in the year 1908, covering 40km from East to West and 13km from North to South. The site was visited by Mary Curzon, the wife of Indian viceroy Lord Curzon in the same year. She had gone with a purpose to encounter the famed the one horned Rhinoceros. Unfortunately, she could not sight any during her tour. This event made her compel Lord Curzon to create a wildlife sanctuary for the endangered animals. This was how the national park came into existence.
How to reach?
Nearest airports are Guwahati International Airport and Jorhat Airport
Nearest railway station Furkating
By road through town Kohora via NH 37.
Things to do
The park is home to several animal species including tiger, elephants, wild water buffalo and swamp deer among other animals. A variety of birds are also part of the Kaziranga National Park experience.
Mainly four types of vegetation like alluvial inundated grasslands, alluvial savanna woodlands, tropical moist mixed deciduous forests, and tropical semi-evergreen forests can be found in this wildlife place in India.
It is considered best to take a jeep or elephant in Kaziranga National Park but other methods would not at all hinder the mesmerising experience. The period between November and April is considered to be the finest time for wildlife tours here.
Fees
Elephant – 1950 Rupees per foreign adults
900 Rupees per Indian adults
Timing – 5:30 AM to 6:30 AM
6:30 AM to 7:30 AM
Jeep – 1750 Rupees per person
Timing – 8:00 AM to 10:00 AM
2:00 PM to 4:00 PM
Camera fees – 200 rupees per foreigner
200 rupees per Indian
Hotels – Rs. 4,300 approx.
Accomodation
For any queries, they can be contacted at info@kaziranga-national-park.com, 9212777225 /9212553107
Ranthambore National Park
Ranthambore National Park is one of the most beautiful wildlife places in India. This is another amazing wildlife destination in India for wildlife tours with friends and family. Everything feels natural here as the animals are so used to people around them. Wildlife tour here is worth everything. It is around 400 sq. km. and contains various kinds of flora and fauna ranging from numerous trees, flowers, animals, birds and more.
Ranthambore National Park is located 13.5km from Sawai Madhopur, Rajasthan. It is well connected by air, rail and road. The place was initially a sanctuary. It was established in 1955 by the name of Sawai Madhopur Game Sanctuary.
Around 18 years down the line, it was avowed as one of the Project Tiger Reserves. On 1 November 1980, Ranthambore was declared as a national park and the forests that were with it came to be known as Sawai Man Singh Sanctuary & Keladevi Sanctuary. The combined area is more than 500 sq. km.
How to reach?
Nearest airport is Sanganer Airport in Jaipur.
Nearest railway station Sawai Madhopur railway station
By road: many buses available from Jodhpur, Ajmer, Delhi, etc. cities
Things to do
The whole park is filled with statues and structures which give the aura of the history. Many ruins of the olden times can also be seen along with the fort this place was named after. The fort is situated on a knoll.
The park boasts various water bodies picturing a stunning landscape. People and the wildlife alike, often relax there or have fun or just gaze at it. Several people claim that they've witnessed tiger's hunt in real time. The park is famous for that. It is without question, one of the best wildlife places in India.
Fees
The Ranthambore fort itself was built in the 10th century. It consists of three temples of Lords Ganesh, Shiv and Ramlalaji. They are made of Red Karauli Stone.
Safari
Full Day – 65,000 Rupees per vehicle for foreigners
48,000 Rupees per vehicle for Indians
Half Day – 37,500 Rupees per vehicle for foreigners
27,000 Rupees per vehicle for Indians
Accomodation
3 Star Hotel – Rs. 4,400 on an average
5 Star Hotel – Rs. 52,500 on an average
Various packages can be found at www.ranthamborenationalpark.com
For any queries, contact at +91 9212777223
Rollapadu Wildlife Sanctuary
This gorgeous sanctuary near Kurnool is a sight to behold. Rollapadu Wildlife Sanctuary is a home for several flora and fauna. Many endangered trees, plants, mammals, birds and reptiles can be found in one of the best sanctuaries in India.
Rollapadu Wildlife Sanctuary spans 6.14 sq. km. in the area. It was specifically formed to save the Great Indian Bustard and Kharmore which are censoriously endangered in 1988. It is the only sanctuary in Andhra Pradesh for the bustard.
The sanctuary is a dry grassland. There is a water reservoir around 3km away from Rollapadu village which is proof that the environment and mankind can complement each other. It is also referred to as Rollapadu Bird Sanctuary as many birds migrate here too. This sanctuary sports one of the economical wildlife tour packages in India.
How to reach?
Nearest airport is Hyderabad and then take a taxi or bus to Kurnool.
Nearest railway station is Kurnool railway station
By road: many RTC buses available from Vizag, Hyderabad etc. cities
Things to do
The place houses the endangered Great Indian Bustard among others like blackbucks, sparrows, bonnets, mynas, Indian rollers, Russell's vipers and Indian cobras. This Wildlife place in India is a haven for nature and athenaeum for people fervent about biodiversity. A variety of protected species can be seen in this sanctuary.
Monsoon period and after that would be the best time to visit the sanctuary as countless migratory birds set home here in that time. There is also a small bird museum as well.
Fees
Tickets – 30 Rupees for Adults
20 Rupees for Children
(Prices may change)
Hotels – Rs. 3,200 approx.
The timings are 7:00 AM to 6:00 PM daily.
Accommodation
Better take an accommodation in Kurnool.
Arignar Anna Zoological Park
Arignar Anna Zoological Park is an asset to the country. This scientifically managed modern zoo spreads over 602 hectares along with 92.45 hectares large rescue and rehabilitation centre. It is the largest zoological park in the country. The brilliance of Arignar Anna Zoological Park with respect to nature conservation is highly valued. The park promotes breeding programs of various rare and endangered species.
38kms away from Chennai Central Railway Station; Arignar Anna Zoological Park is one of the most popular forest tourist places in India. The zoological park came to existence in 1855 and it shifted to Vandalur reserved forests in 1979, the current location. It was only in 1985 when the park was officially opened for the public.
Arignar Anna Zoological Park which is also known as Vandalur Zoo is a home for almost 2600 animals and more than 21 lac tourists visit the place every year. This zoological park is also a member of the World Association of Zoos and Aquarium.
How to reach?
Nearest airport is Chennai
Nearest railway station is Chennai
By road: many RTC buses available from Chennai city
Things to do
Arignar Anna Zoological Park took the responsibility of spreading awareness, teaching people and growing empathy in them towards flora and fauna. The park helps by means of eco awareness, recreation and excellent public service. There is a zoo school in Arignar Anna Zoological Park that increases the wildlife tour experience as a whole.
Fees
Children – 250 Rupees per foreigner
(5 – 12) 50 Rupees per Indian
Adults – 500 Rupees per foreigner
90 Rupees per Indian
Lion & Deer Safari
Adults – 100 Rupees
Children – 60 Rupees
Accomodation
Visit the official site at www.aazp.in
For any queries, they can be contacted at 044 22751089, or directoraazp1@gmail.com
The timings of the park are 9:00 AM to 8:00 PM. Though the animals are taken back to the cages by 5:00 PM. (Closed every Tuesday)
Silent Valley National Park
Silent Valley National Park is a UNESCO recognised park with the last rainforest in Kerala. The park was declared as a reserved forest in 1914. This national park has many rare species of flora and fauna. It is a paradise for bird lovers and bird watchers, as well as trekkers. Some animals that can be seen living their life here would be elephants, tigers, leopards, wild boar, sambhar, gaur and the endangered lion-tailed macaque among others.
Silent Valley National Park is 89.52 sq. km. in the area. In 2007, an area of 148 sq. km. was added to it as a buffer zone. Silent Valley was discovered by a botanist named Robert Wight. It was inaugurated in 1985.
There was a social movement in the 1970s, due to some plans of a hydroelectric project that would've threatened the biodiversity of the park. It is one of the smallest national forests in India. It is located in Nilgiri Hills. Annual environmental film festival called Kadoka misconducted by Silent Valley National Park to spread awareness.
How to reach?
Nearest airport is Coimbatore International airport
Nearest railway station is Palakkad
By road: many RTC buses available from Mannarkkad, Mukkali
Things to do
Silent Valley National Park is divided into four different parts, out of which only one part; named Sairandhri is available and open for a wildlife tour. The Western Ghats boasts one of the richest and unexplored landscapes in the world.
The Silent Valley national park consists of 41 mammals, 211 birds, 49 reptiles, 47 amphibians, 12 fishes, 164 butterflies and 400 species of moths. Silent Valley National Park also harbours a viable population of Lion tailed macaques which also is the most talked-about species of the Park. Many ethnic groups still live here and Silent Valley National Park has taken up the responsibility of protecting the culture and heritage of these people.
Fees
Tickets – 50 Rupees per person
Camera
The timings are 10:00 AM to 5:00 PM, Monday to Saturday.
Still – 25 Rupees
Video – 200 Rupees
Jeep – 1600 Rupees per vehicle (5 pax)
For packages, visit keralatourism.travel/silent-valley-national-park-palakkad
Accomodation
For any queries, they can be contacted at mail@silentvalley.gov.in, +91 8589895652, 9645586629. For more details, check out their website www.silentvalley.gov.in
Bannerghatta National Park
Bannerghatta National Park is in the reserve forests of Anekal Range in Karnataka. It is among the most renowned wildlife places in India. The national park also has one of the best wildlife safaris in South India.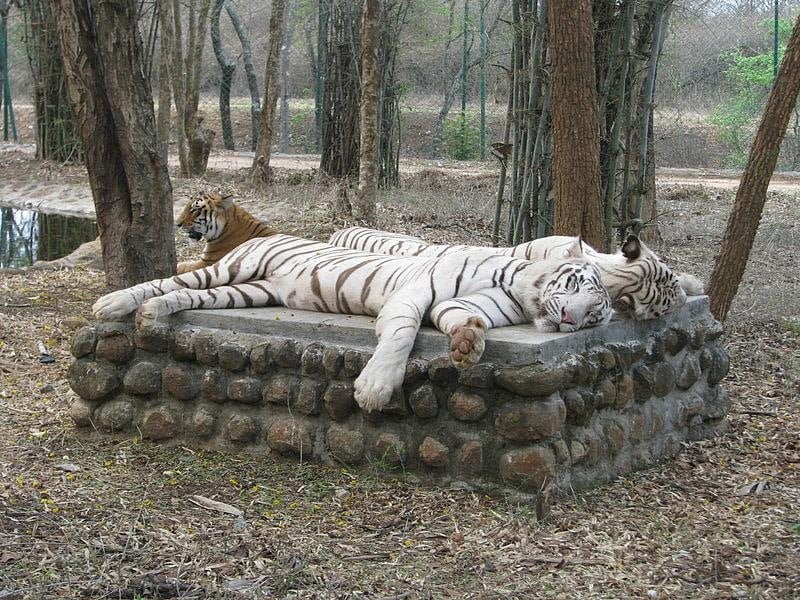 Things to do at Bannerghatta National Park:
Bannerghatta National Park easily covers 65,127.5 acres of land in Bengaluru. The national park was found in 1971 and it was declared a national park 3 years after that in 1974. There is a butterfly park which was established in 2006. The park spreads around covering around 7.5 acres of land. This park has 20 species of butterflies and the whole place is enclosed by a polycarbonate roof for creating tropical, humid and artificial climate.
There is a stream called the Swarnamukhi that runs through and it is cherished by the tourists. There is also a temple devoted to Lord Vishnu and his partners. Bannerghatta National Park also offers guided buses for all the tourists visiting the national park.
How to reach?
Nearest airport is Bengaluru International airport
Nearest railway station is Bengaluru and then take a train to Bannerghatta Biological Park
By road: many RTC buses available from Kempegowda Bus station
Things to do
Bannerghatta National Park involves the main Nature Reserve, a zoo, a children's park, an aquarium, a crocodile park, a museum, a butterfly park, a snake park and a safari park. The forest is home to innumerable flora and fauna.
People from around the world get attracted to the tigers, lions, leopards, bison, deer, bears, birds and butterflies that reside here. One of the main attractions of this park is lion and tiger safari or Grand Safari.
The best wildlife safari in India can be experienced here. Tourists spot various animals in the Grand Safari. Even elephant safari is available as an option for people interested.
Fees
Adult – 80 Rupees
Children – 40 Rupees
Sr. citizen – 40 Rupees
Bus – 200 Rupees for non A/C bus
500 Rupees for A/C bus
Jeep – 2500 Rupees per trip (4 pax)
Boat – 60 Rupees per head
Rs. 400 for foreigners
Rs. 130 for children
Rs. 260 for Indian adults
Timings for Grand Safari are 10 AM to 4:30 PM
Accomodation
For any queries, they can be contacted at probbpzoo@gmail.com, 080 29776466
The timing of Bannerghatta National Park is 9 Am to 5 PM, except for Tuesdays.
Nanda Devi National Park
Nanda Devi National Park is one of the most breathtaking wildlife places in India. The park is covered by the Nanda Devi mountain on three of the sides. Nanda Devi is the second highest mountain peak in India. This place is also a very sought out place for trekkers.
Nanda Devi National Park was made into a heritage site by UNESCO in 1988. The park is providing shelter to animals like the snow leopard, Himalayan black-bear, serow, Himalayan musk deer and Himalayan Tahr.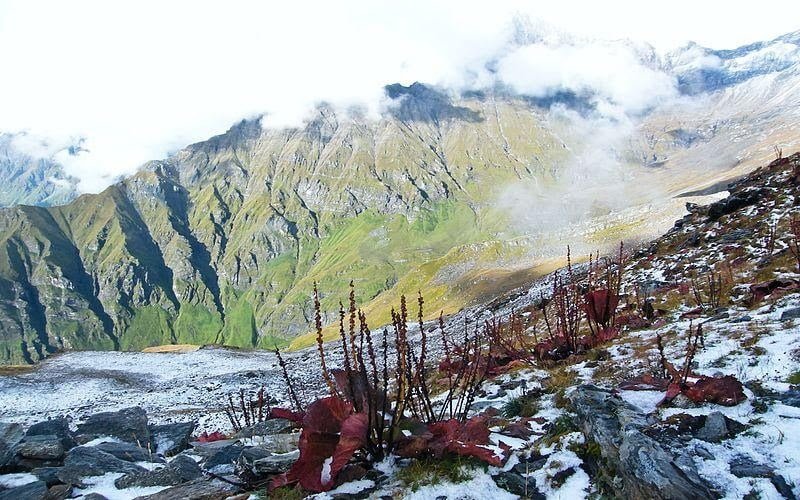 Nanda Devi basin was made into Nanda Devi Sanctuary in 1939. In the year 1982; an area of 630 sq. km. was added as Nanda Devi National Park. It is a part of the Nanda Devi Biosphere Reserve now. The national park is situated in the higher ranges of the Himalayas in Chamoli district of Uttarakhand at a distance of more than 3,500 m above the sea level. The Nanda Devi trek takes a whole 5 days, which is also one of the most prevalent activities in the national park.
How to reach?
Nearest airport Jolly Grant Airport, Dehradun is the nearest airport
Nearest railway station is at Rishikesh.
By road, reach Joshimath via metalled roads and trek from there
Things to do
There are around 114 species of birds, including orange-flanked bush robin, Indian tree pipit, yellow-bellied fantail flycatcher, blue-fronted redstart and vinaceous-breasted pipit in here. Varied species of butterflies can also be found in the Nanda Devi National Park. The park has more or less 312 species of flowers, along with juniper and alpine vegetation.
Lata village is the entry point of the national park. It is advised that tourists bring their own food and beverages as there are hardly any eateries in the vicinity. The best time to visit this wildlife place in India would be between the months of May and October.
Fees
Tickets
Indians – 2500 Rupees
Foreigners – 2600 Rupees
Accomodation
Hotels – Rs. 4500 approx.
For more details, contact www.euttaranchal.com/tourism/nanda-devi-national-park.php
Contact +91 13-52746934
Conclusion
These are some of the wildlife places in India that can be really fun and enjoyable with the peer group or otherwise. Forest tourism in India is very diverse and beautiful. There are several places that are not discovered by many. Wildlife tour provides a beautiful mix of adventure, bond, relaxation and fascination. Each and every location mentioned will provide a completely different experience which can be cherished for life.