Strong women always inspire us. We wonder what the secret of their success is. However, all the strong women's quotes inspire us and prove that the secret to the success of a strong woman lies in the within. These inspirational women's quotes here are a collection of motivational quotes for women which are the opinions of many successful people.
We hope you enjoy these strong women quotes and gain motivation. Share these powerful women quotes with wonderful women of your life and encourage them.
"If you can dance and be free and not be embarrassed, you can rule the world." – Amy Poehler
"My mission in life is not merely to survive but to thrive and to do so with some passion, some compassion, some humor, and some style." – Maya Angelou
"You can be gorgeous at thirty, charming at forty, and irresistible for the rest of your life." – Coco Chanel
"If you obey all the rules, you miss all the fun."– Katharine Hepburn
"Be messy and complicated and afraid and show up anyways." – Glennon Doyle Melton
"The most alluring thing a woman can have is confidence." – Beyoncé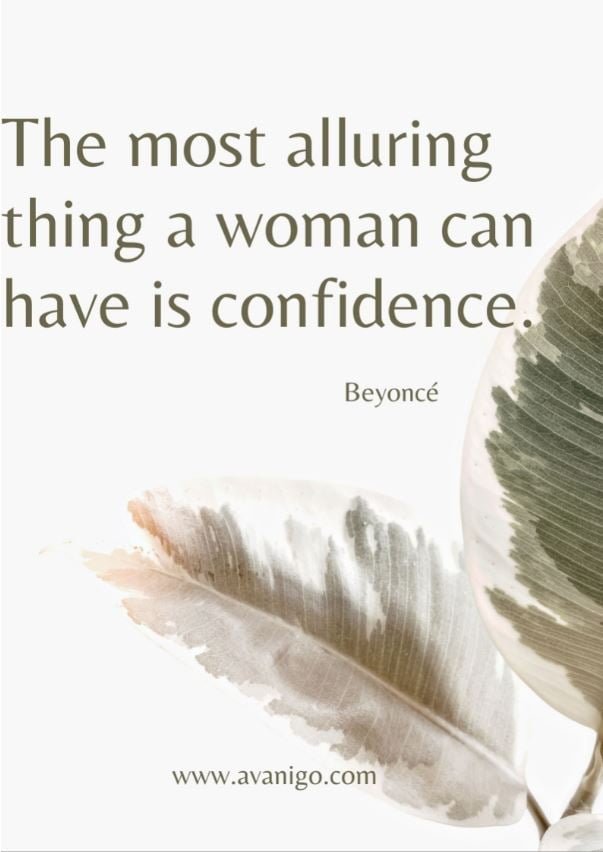 Motivational Women's Quotes
"I raise up my voice—not so that I can shout, but so that those without a voice can be heard. … We cannot all succeed when half of us are held back." – Malala Yousafzai
"The thing women have yet to learn is nobody gives you power. You just take it." – Roseanne Barr
"If you want something said, ask a man; if you want something done, ask a woman." – Margaret Thatcher
"Life shrinks or expands in proportion to one's courage." – Anais Nin
"Be a first-rate version of yourself, instead of a second-rate version of somebody else." — Judy Garland
"It took me quite a long time to develop a voice, and now that I have it, I am not going to be silent." – Madeleine Albright
"Women belong in all places where decisions are being made. … It shouldn't be that women are the exception." – Ruth Bader Ginsburg
"She believed she could, so she did." – Unknown
Motivational Women's Quotes
"Women who seek to be equal with men lack ambition." – Marilyn Monroe
"A woman with a voice is, by definition, a strong woman." – Melinda Gates
"Any woman who understands the problems of running a home will be nearer to understanding the problems of running a country." – Margaret Thatcher
"There is no limit to what we, as women, can accomplish." – Michelle Obama
"We need women at all levels, including the top, to change the dynamic, reshape the conversation, to make sure women's voices are heard and heeded, not overlooked and ignored." – Sheryl Sandberg
"Encourage yourself, believe in yourself, and love yourself. Never doubt who you are." — Stephanie Lahart
"I am thankful for my struggle because, without it, I wouldn't have stumbled across my strength." – Alex Elle
International Women's Day Quotes
"We need to reshape our own perception of how we view ourselves. We have to step up as women and take the lead." – Beyoncé
"Whatever you do, be different – that was the advice my mother gave me, and I can't think of better advice for an entrepreneur. If you're different, you will stand out."– Anita Roddick
"I feel now that the time is come when even a woman or a child who can speak a word for freedom and humanity is bound to speak." – Harriet Beecher Stowe
"Women have discovered that they cannot rely on men's chivalry to give them justice." – Helen Keller
"Justice is about making sure that being polite is not the same thing as being quiet. In fact, often times, the most righteous thing you can do is shake the table." – Alexandria Ocasio-Cortez
"A lot of people are afraid to say what they want. That's why they don't get what they want." – Madonna
"If you don't like being a doormat then get off the floor."– Al Anon
Quotes on Women
"One of the lessons that I grew up with was to always stay true to yourself and never let what someone else says distract you from your goals." — Michelle Obama
"She does not know what the future holds, but she is grateful for slow and steady growth." – Morgan Harper Nichols
"Dress shabbily and they remember the dress; dress impeccably and they remember the woman." – Coco Chanel
"Women, if the soul of the nation is to be saved, I believe you must become its soul." – Coretta Scott King
"Destiny is a name often given in retrospect to choices that had dramatic consequences."– J. K. Rowling
"When black women win victories, it is a boost for virtually every segment of society." – Angela Davis
"Success is liking yourself, liking what you do, and liking how you do it". — Maya Angelou
Inspirational Women's Quotes
"What I know for sure is that speaking your truth is the most powerful tool we all have." — Oprah Winfrey
"Drama is very important in life: You have to come on with a bang. You never want to go out with a whimper." – Julia Child
"We must believe that we are gifted for something, and that this thing, at whatever cost, must be attained."– Marie Curie
"Fearlessness is like a muscle. I know from my own life that the more I exercise it the more natural it becomes to not let my fears run me." – Arianna Huffington
"Think like a queen. A queen is not afraid to fail. Failure is another stepping stone to greatness." – Oprah Winfrey
"A man's face is his autobiography. A woman's face is her work of fiction." – Oscar Wilde
"Your talent is God's gift to you. What you do with it is your gift back to God." — Leo Buscaglia
Related: Inspirational Speech for International Women's Day
Quotes for Women's Success
"When you have a dream, you've got to grab it and never let go." – Carol Burnett
"Self-esteem means knowing you are the dream." — Oprah Winfrey
"Good girls go to heaven, bad girls go everywhere." – Mae West
"I could not, at any age, be content to take my place by the fireside and simply look on. Life was meant to be lived. Curiosity must be kept alive. One must never, for whatever reason, turn his back on life."– Eleanor Roosevelt
"The question isn't who is going to let me; it's who is going to stop me." – Ayn Rand
"If you're one of those people who has that little voice in the back of her mind saying, 'Maybe I could do [fill in the blank],' don't tell it to be quiet. Give it a little room to grow, and try to find an environment it can grow in." – Reese Witherspoon
"Just because you are blind, and unable to see my beauty doesn't mean it does not exist." – Margaret Cho
"Every accomplishment starts with the decision to try." — Brian Littrell
Related: Makar Sankranti Quotes
Related: Happy Diwali Quotes
Related: Yoga quotes for motivation
Related: Happy Holi Quotes
Related: Mother Language Quotes
Related: Mothers Day Quotes
Related: Women Empowerment Quotes
Related: Indian Culture and Karma Quotes
Women's Quotes for Inspiration
"I want to be like a sunflower; so that even on the darkest days I will stand tall and find the sunlight." — M.K.
"The best protection any woman can have … is courage." – Elizabeth Cady Stanton
"What would men be without women? Scarce, sir…mighty scarce." – Mark Twain
"I found that ultimately if you truly pour your heart into what you believe in — even if it makes you vulnerable — amazing things can and will happen." – Emma Watson
"Above all, be the heroine of your life, not the victim." – Nora Ephron
"You have to have confidence in your ability, and then be tough enough to follow through."– Rosalynn Carter
"A woman is the full circle. Within her is the power to create, nurture and transform."– Diane Mariechild
"There is a stubbornness about me that can never bear to be frightened at the will of others. My courage always rises at every attempt to intimidate me." – Jane Austen
"The way I see it, if you want the rainbow, you gotta put up with the rain!" – Dolly Parton
Women's Quotes for Success
We do not need magic to transform our world. We carry all of the power we need inside ourselves already." – J. K Rowling
"Just keep taking chances and having fun." — Garth Brooks
"What you do makes a difference, and you have to decide what kind of difference you want to make." – Jane Goodall
"Taking joy in living is a woman's best cosmetic."– Rosalind Russell
"When you lose a couple of times, it makes you realize how difficult it is to win."– Steffi Graf
"Being a woman is a terribly difficult task, since it consists principally in dealing with men." – Joseph Conrad
"We may encounter many defeats but we must not be defeated." — Maya Angelou
"You take your life in your own hands, and what happens? A terrible thing, no one to blame."– Erica Jong
"The woman who follows the crowd will usually go no further than the crowd. The woman who walks alone is likely to find herself in places no one has ever been before." – Albert Einstein
"I am not what happened to me. I am what I choose to become." – Carl Jung
Women's Quotes for Confidence
Keep your heels, head, and standards high." – Coco Chanel
"Do you want to meet the love of your life? Look in the mirror." – Byron Katie
"Because I am a woman, I must make unusual efforts to succeed. If I fail, no one will say, "She doesn't have what it takes." They will say, "Women don't have what it takes."– Clare Boothe Luce
'What's your favorite position?' 'CEO.' – Lauren Conrad
Womens Quotes on Working Hard
"Always be careful of what you hear about a woman. Rumors come from either a man who can't have her or a woman who can't compete with her." – Unknown
"Here's to strong women: may we know them, may we be them, may we raise them." – Unknown
"You can't be hesitant about who you are." — Viola Davis
"Courage is like a muscle. We strengthen it by use."– Ruth Gordon
"A woman is like a tea bag; you never know how strong it is until it's in hot water." -Eleanor Roosevelt
"Rise above the storm and you will find the sunshine." — Mario Fernández
"The age of a woman doesn't mean a thing. The best tunes are played on the oldest fiddles." – Ralph Waldo Emerson
"I have standards I don't plan on lowering for anybody, including myself." — Zendaya
"Women are the largest untapped reservoir of talent in the world." – Hillary Clinton
"When men are oppressed, it's a tragedy. When women are oppressed, it's tradition." – Letty Cottin Pogrebin
" You should never let your fears prevent you from doing what you know is right" – Aung San Sui Ki
"You can't cross the sea merely by standing and staring at the water." – Rabindranath Tagore
"The woman who does not require validation from anyone is the most feared individual on the planet." – Mohadesa Najumi
Women's Quotes on Life and Courage
"I thrive on obstacles. If I'm told that it can't be told, then I push harder." —Issa Rae
"Little girls with dreams become women with a vision." – Unknown
"Whatever women do they must do twice as well as men to be thought half as good. Luckily, this is not difficult."– Charlotte Whitton
"I can hear the roar of women's silence." – Thomas Sankara
"When a man gives his opinion, he's a man. When a woman gives her opinion, she's a bitch." – Bette Davis
"Most people who meet my wife quickly conclude that she is remarkable. They are right about this. She is smart, funny and thoroughly charming. Often, after hearing her speak at some function or working with her on a project, people will approach me and say something to the effect of, you know, I think the world of you, Barack, but your wife, wow!"– Barack Obama, The Audacity of Hope
"Your true success in life begins only when you make the commitment to become excellent at what you do." —Brian Tracy
"Maybe some women aren't meant to be tamed. Maybe they just need to run free until they find someone just as wild to run with them." – Candace Bushnell
"The most beautiful makeup of a woman is passion. But cosmetics are easier to buy." – Yves Saint-Laurent
"Rock bottom became the solid foundation on which I rebuild my life" – J.K Rowling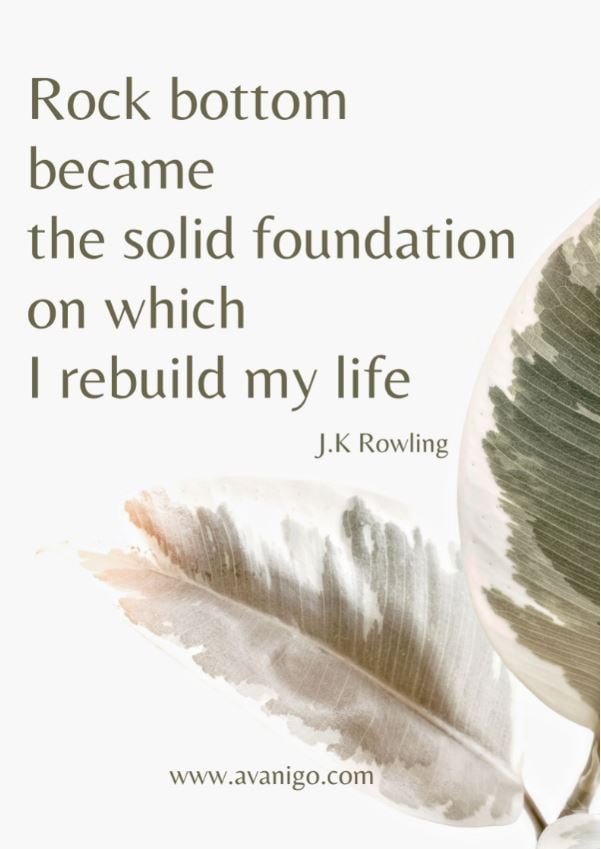 Womens Quotes for Confidence
"Trying to be a man is a waste of a woman." – Coco Chanel
"Feminism isn't about making women stronger. Women are already strong. It's about changing the way the world perceives that strength." – G.D. Anderson
"It takes a great deal of courage to stand up to your enemies, but even more to stand up to your friends."– J. K. Rowling
"If you prioritize yourself, you are going to save yourself." — Gabrielle Union
"Life isn't about finding yourself. Life is about creating yourself." — George Bernard Shaw
"You are never too old to set another goal or to dream a new dream." — C.S. Lewis