There are so many children's parks in India that kids need not look anywhere at all to have fun. With activities like jogging, playing on swings, hide and seek, bungee jumping, etc there is no chance that kids might get bored in these parks.
Take your kids to any of the ones in the list of Children Park here and we are sure these greens will make a good choice to refresh the mind and body of your kids. They also let your kids enjoy themselves away from the hustle-bustle of the city close to nature. They can be the perfect daily or weekend getaway for both kids and parents.
Here is the list of children park in India to visit with your kids and family:
Children's park, India Gate, New Delhi
Situated in the heart of the country's capital and with swings, slides, water fountains, flowers, this place is the perfect spot for a Sunday picnic with your kids. You can also witness the beauty of the historic India Gate during the evening when it is lit up like the stars. Street food, ice creams, cotton candy, and everything sweet for you and your little ones are available here to make your outing more delicious.
Nehru Park, New Delhi
This park is located in Chanakyapuri and is one of the few green zones in Delhi. This children park is huge and airy for morning walks, jogs, and gyming. Visit this park with your little ones and your four-legged friend for a cool, morning, or evening retreat. Kids can play games or even frisbee with their friends and family. This park does not have swings but there are lots of games children can play in open areas.
Sanjeevaiah Park, Hyderabad
This children's park in Necklace road is apt for people of all ages from children to adults and senior citizens. Adults can go for morning or evening walks and kids get this huge green space to play hide and seek with their friends.
Full of lush trees, swings, and slides, this park is very famous in Hyderabad and is located in the city center. The uneven terrain of this children park is strategically made to encourage our young ones to play around. This park is not only for fun but also a treat for sore eyes. It is beautiful and brings us closer to nature. The sights of Hussain Sagar lake from here enhances the beauty of the park.
Also Read: How to spend summer vacation in India with kids?
Chacha Nehru Park, Hyderabad
The perfect children's park with a huge green stretch for kids to play football, cricket, throw ball, frisbee, and badminton. This park is friendly to people of all age groups and the elderly can go for morning and evening walks. This provides relief from the horns and daily traffic we face in our day to day lives. Kids can roll and slide on different swings in this park. This park is near Masab Tank, Hyderabad.
Lumbini Park, Hyderabad
Known for its light show and drawing huge crowds that comprise families and youth alike, Lumbini park is a famous children park in Hyderabad. There are many attractions in this Children park including fun activities and adventure zones for kids. Light show that depicts the history of Hyderabad is a famous attraction here. This park is located on Necklace Road, Hyderabad.
NTR Gardens, Hyderabad
Another popular family hang out place and children park in Hyderabad, NTR gardens is a good choice to spend time with your kids in the city of pearls. Located beside Prasads Imax theatre, this park contains many activities including Scary House, 3D room, swings, shopping and toy train, and many more fun activities for your kids. Make a perfect pick for a full day of entertainment for your children in budget.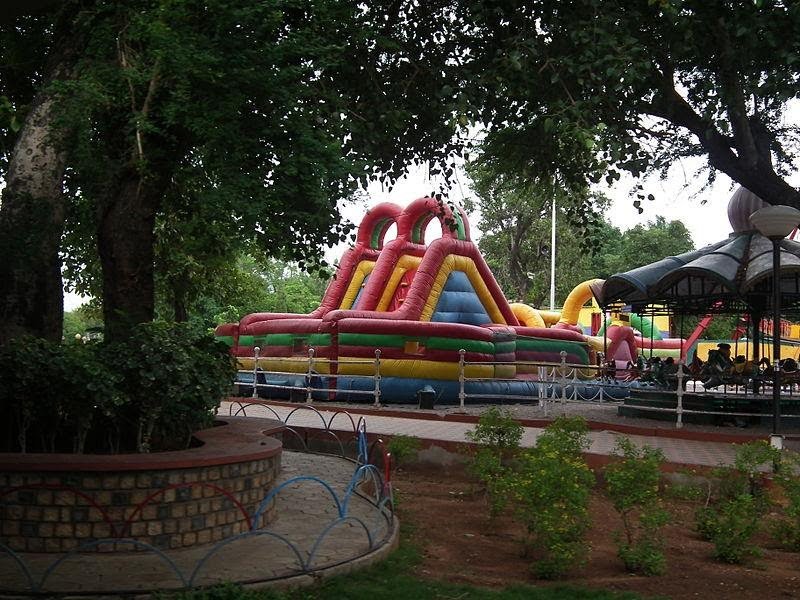 Shivaji Park, Mumbai
Mai Mangeshkar children's park in Mumbai is the most amazing place to take your kids. It is a very spacious park in Dadar, the atmosphere is warm and welcoming to everyone. Children can play all kinds of sports and games like football, badminton, cricket, etc. The age-wise play area is marked and the flooring is safe for kids. The view from this park is breathtaking and there are swings of all types for toddlers. Kids can enjoy street food and other delicacies just outside the parks.
Lion's Juhu Children's Municipality Park, Mumbai
This children's park is located in Santacruz west and is one of the most amazing places to take your kids for enjoyment. There is an appealing airplane demo displayed in the park that is the perfect spot to click pictures or play hide and seek. There is a jogging track for joggers and an exercise platform. Various slides and swing rides are present for children of all ages. The park is colorful and well maintained.
Children Park, The Kolkata Municipal Corporation, Durga Puja Samiti
This children's park in Kolkata is located in the heart of the city. It is children and senior citizen-friendly where kids can play games and seniors can indulge in chit-chatting and gossiping. Children can play all types of sports in this park, like volleyball, football, cricket, etc. Club football matches are organized here and there is a resting area for kids. The environment is kids friendly.
Children Park, Kolkata
This park in Newtown has the most amazing ambiance and swings for children. This place has artificial bridges, canals, grass, animals, etc that make us feel as if we are in a real jungle. The only difference is that the trees are trimmed and there is an ample amount of space for children to play their favorite games. Adults can go for morning walks and perform yoga poses freely. See-saw, Merry go around, jungle gym, sandbox, spring rider, etc all are present here.
Nandanavana Children's Playground, Bengaluru
This children's park in Bengaluru has plenty of rides suited for kids of all ages. Children can play in the sand or on the swings and have the best time of their lives. They can also listen to music and dance in the disco lights. The entry fee is only 5/- per kid and there are horse riding facilities on the weekend. All around the park, there are some lip-smacking snack joints that can make your day even better.
Defense Colony Children Park, Bengaluru
This park in Indiranagar is another green space in the busy city of Bengaluru. This park has a variety of swings and an ample amount of play area for kids. This park welcomes people of all age groups- there is a walking area for elders, an exercise bar for fitness conscious people, a meditation area, and a yoga space. Children can play their games or on swings accordingly. This green spot can be a breather for adults from their busy jobs and for children as they get to play at a place other than their building compartment.
Children Park, Dattawadi, Pune
This park in Pune is full of slides and swings made from fiber. It is extremely well maintained and clean. It is good for morning and evening walks and is best suited for children below the age of 12 years. Older kids can also play on the field or go for jogs. Adults can meditate here and find their peace.
Children Park, Range Hills, Pune
This park in Pune is yet another green spot for kids to be themselves and play as much as they want. It is safe and spacious and offers many activities like swinging, a jungle gym, and lots of open areas. Kids can play all running games and parents can relax on the benches in the parks.
Children Park (BHEL Park), Bhopal
This park in Bhopal is another scenic beauty along with enjoyment for kids. It has a small pond and a bridge to cross it, adults can sit by the pond or on the green grass and enjoy the clear air cleansing their lungs. Kids can play all kinds of sports in this spacious park. There is a toy train that covers the whole park and gives a ride but you have to buy tickets for the train. The park entry is free.
Gulmarg Children Park, Kashmir
This park is situated among the serene and picturesque mountains of Kashmir. It has snowy mountains and pine trees all around. It is a cool picnic spot with amazing rides for kids. One can go skiing at this place and relish the beauty of the mountains with a cup of hot chocolate. People can also go boating, horse riding, swimming, bungee jumping, etc. It is a water park so children can indulge in all types of water sports with their parent's permission.
Guindy Children Park, Tamil Nadu
This park is a combination of a zoo and a play area for kids. There are many animals like monkeys, ducks, swans, peacocks, snakes, crocodiles, etc here that your children will enjoy. There is a huge playground for kids to play all kinds of games and sports. This park is fit for kids and adults alike who want a weekend retreat or just want to go for a walk.
Children Park, Gandhinagar
This park in Gujarat is a fun weekend getaway for children. There are numerous car rides, merry go rounds, swings, etc. There is a mini-train which gives children a ride to the whole park for free and there are boating facilities available too. Parents and children can both spend their Sunday at this place and have lots of fun. The colorful swings, cackling laughter of children, and the lush green grass will make anyone happy and relaxed.
Also Read: Best places in India to travel with children
These are the top children's parks in India for children and adults alike. They are best for a weekend getaway to relax and refresh from their busy schedule. Children can get a break from school and parents from their busy jobs with a chance to forget the deadlines loading up on them upon colorful themes, exhilarating rides, and food will make your heart full and keep you happy.