Summer vacation in India is one aspect that most parents and children await alike. The reason being, summer is the season where educational institutions in India offer holidays for students. It is a time where children get a break from their hectic schedules of schools, exams, and tuitions. So, no wonder that parents plan a memorable summer vacation very well in advance to give a fresh breath of air to their children.
Summer vacation in India
India is a great choice as a summer vacation destination. The country offers one a perfect blend of chilling hill stations, lively beaches, bustling cities, peaceful villages along with many heritage and historical places to explore with your children. By planning a summer vacation to India, you can get a combo of adventure, fun, and relaxation at a go, along with carrying memories that your children will cherish forever.
When is the summer season in India?
India enjoys a tropical climate. One can find sunshine here almost for more than 300 days in a year. Geographically, the summer season in India ranges between March, April, and May. With the onset of June, rains start in India and last till September.
However, with the effect of global warming, summers are starting early in India, right from the first week of February or at the end of January. This provides a wider interval for foreign travelers who want to plan their summer vacation in India.
Summer temperatures in India range from 40 °C to as much as 50 °C in some places of South India. South India is hotter compared to North India owing to its geographical features. Temperatures in North India never fall below 10 °C in summer.
List of places to visit in summer in India
India, in general, has countless destinations that suit everyone's travel needs. Here we have listed some summer vacation destinations in India that help everyone who is planning to visit India on a summer vacation with kids.
Kohima
The capital city of Nagaland, the land of Nagas, Kohima is a summer destination in India that offers a relaxing trip for your whole family. During the onset of summer and in the winter, you can explore this city better.
Locals celebrate their festival Moatsu, which marks the celebration of sowing, in May. One can witness their culture and lifestyle from up close if they visit during this time. Filled with cathedrals, scenic villages, wildlife sanctuaries, Kohima offers a pleasant summer vacation experience for anyone who wishes to spend time away from cities.
Horsley Hills
A less explored hill station in South India, Horsley hills is an affordable option to enjoy a week-long summer vacation. You can find many family activities, waterfalls, lush forests, and environmental parks in and around Horsley hills.
Alappuzha
The very mention of Alappuzha reminds of backwaters and boat races. Also called Alleppey, it is one of the most beautiful places in Kerala one should visit with family. Rains can be extreme in this area, and so is the winter. So early summer makes it a perfect time to enjoy the scenic views of this place blessed with the beauty of nature.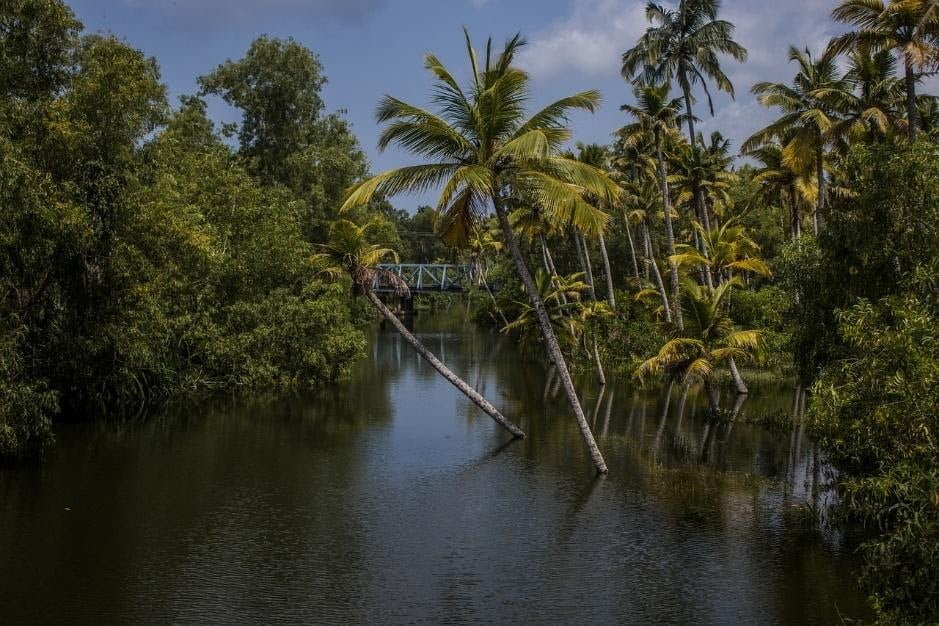 Bangalore
The Silicon Valley of India, Bangalore is famous for its pleasant climate throughout the year. While most south Indian cities are sweaty and hot in the summer, Bangalore can provide little respite in this sense. Its summer drizzles and not-so-high summer temperatures make it a favorite summer vacation spot to visit with children.
Hyderabad
Situated in the Deccan region of South India, Hyderabad enjoys lesser temperatures than the rest of the Telugu states. However, temperatures are increasing every year, and like any other city of India, you have to plan during the early summer to explore the heritage of this Nizam city. Hyderabad is another place that is packed with fun, adventure, sight-seeing, and relaxation and makes a safe choice to travel with kids in summer.
Suggested Reading: Camping Tips for Beginners
Trivandrum
The capital of Kerala, Trivandrum is more like a silent city compared to hustling Cochin. It is full of beaches, temples, heritage places, monuments, and shopping spots. Trivandrum offers a pleasant experience in summer with not much sweat and humidity, compared to Chennai or Vizag, though being a coastal town.
Shimla
Yet another famous hill station of India, Shimla offers a complete package of fun activities for your family and children. Right from trekking to eating, shopping, and having fun, Shimla makes a fabulous spot for a summer vacation in India with children.
Rann of Kutch
This world-famous tourist destination located in Gujarat is best visited from December to early February. Sight-seeing, family fun activities, enjoying the desert views in the moonlight, and exploration of heritage and culture are what you should not miss here.
Tirumala
A popular tourist destination in Andhra Pradesh, Tirumala is one of the sought-after tourist spots for a summer vacation in India. If you are lucky enough to get accommodation on the hill, you can beat the heat totally and enjoy the sightseeing on the hill. The place offers pleasant vibes and relaxes your family members from deep within. You can also plan accommodation down the hill in Tirupati.
Bharatpur Bird Sanctuary in Rajasthan
Another summer spot in the hot state of Rajasthan, this bird sanctuary is world-renowned. You can also visit nearby forts, lakes and relax well with your children in the scorching Indian summers.
Pune
This city of Maharashtra is better known for its pleasant climate compared to its other counterparts like Mumbai. Many sight-seeing places in Pune will make this city a perfect destination for traveling with children during the summer in India.
Related: Places to visit in Pune
Srinagar
This Himalayan town is rich in scenic beauty at every step. Summer makes it the perfect time to explore in and around Srinagar. Either you let your children play with snow, or you want to cherish memorable boat rides on the Dal lake, a summer vacation to Srinagar will make a great idea.
Nainital
This is an oft-visited hill station for Delhites and also for tourists from across all over India during summer. Popular for its natural beauty and shopping spots, Nainital makes another fantastic choice for summer vacation with children in India.
Jaisalmer
Rajasthan is a hot state in India; the reason being it homes the biggest desert in sub-continent. But, the city makes a beautiful destination to travel with kids. By planning your trip between January ending to the first week of March, you can promise beautiful summer vacation memories to your kids.
Related: Jaisalmer tourism guide
Delhi
Summer in Delhi can be fiery. But if you are keen to explore this capital city in summer vacation with your kids, better plan during the early weeks of February. Right from shopping to adventure sports, heritage monuments, and amusement parks, Delhi has a lot to offer to your children. It is one of the best choices to teach about Indian heritage and history to your kids. Make sure that your plan helps beat the summer heat waves here.
Related: Delhi tourism guide
Munnar
A famous summer destination in Kerala and India, Munnar is another amazing place to relax with kids. The tea estates, the tea museum, the viewpoint, waterfalls, and the dam all make this place the best summer retreat for your whole family.
Chikmagalur
Lush green coffee plantations are what Chikmagalur is famous for. This hill station located in Karnataka attracts thousands of tourists all over the year. Wildlife sanctuaries, famous temples, and waterfalls – all together make Chikmagalur one of the beautiful summer destinations in India to travel with your kids.
Kodagu
Also known as Coorg, Kodagu is another hill station famous for its scenic beauty. It is gifted with many aspects of natural beauty. Dense forests, places that are the origin of famous rivers, and its heritage spots make Kodagu a wonderful choice for traveling with kids in summer in India.
Araku
Lying near the beach city Visakhapatnam, Araku is another popular destination for a summer vacation in India.
Though Vizag is unbearable during summers, Araku is the place for you to escape the summer heat. With lush green fields everywhere and local tribal people all over, Araku is a place that your children should be if you want to enjoy in the lap of nature during summer.
Botanical gardens, waterfalls, and river views are what Araku is famous for. There are also plenty of family destination spots including coffee museums, temples, and shopping too.
Dispur
Located silently in the lap of nature in North Eastern India, Dispur is the capital city of Assam. This is best visited during the summer. Right from enjoying the ferry ride on the Brahmaputra river to visiting the famous Kamakhya temple, an Assam trip will make a perfect summer vacation idea for your family.
Related: Places to visit in Assam
Things not to miss during summer vacation in India
Summer in India comes with its signature moments. If you are traveling on vacation in summer with children, you should not miss:
Shopping cotton sarees and trying jasmine flowers, if you are on a trip to South India
Relishing the juicy mangoes, good quality ice creams, and local kulfis made of purest malai and cream
Tasting the ambali (a delicacy made with ragi flour, rice, and buttermilk in South India to beat the heat easily) and local beverages made of buttermilk and spices that will help you beat the heat
Sip on coconut water to stay energized and hydrated
Purchasing the local handmade wooden toys for your children
Spending night in the fresh breeze of the sea or river playing with kids and family
Enjoying the moonlight dinner at the beaches and riversides
Exploring the local markets that stay open for long during summers for tourists' convenience
Show the greatest monuments of India to your kids that will depict its heritage and history
Enjoy the ambari or elephant/camel rides if you are on a trip to royal places like Rajasthan
Watch the heritage monuments like Charminar under full moonlight
Mingle with locals and explain their lifestyle to your children
Go on early morning treks to enjoy bird watching
Related: Choosing backpack for your children for vacation
Planning summer vacation with kids in India
There are many hill stations and summer destination places in India to visit along with your children. Depending on the age of the children and their interests, it is good to choose a summer vacation spot. Budget and travel time also do come into the picture when planning to travel with kids.
Train travel might suit well if you are on a budget and traveling long distances. Children up to a certain age enjoy ticket fare relaxation in Indian trains, which will make your trip affordable. Besides, you can choose AC compartments which make your long journeys comfy with kids.
If your kids are little grown-up, you might consider adventure destinations that include trekking, hiking, and walking more. Else, preferably opt for locations where you can sit and enjoy without much need of moving around.
If you have infants, it helps to rent a car in the local destination instead of opting for travel agency buses or private rides in local transport. Having a rental car at a sightseeing place helps you escape the hot air, gives you time to relax when you are tired or put your baby to rest, or feed them when required.
Related: How a rent car helps when travelling with kids
Despite the place chosen, summers in India are hot. To escape the heat, you should plan to start your day early. Try to cover some places before noon and get back to your room after lunch. Take a nap and give enough rest to the children. As the evening comes, you and the children are all ready for the sight-seeing for the second half of the day.
How to Spend Summer Vacation in India
Summer vacation is a great time to spend time with family. Children in India get winter vacation too, but not as long as summer. Thus, summer vacations assume more importance in India.
Additionally, summer mornings and evenings give you ample time to travel around the place. You can enjoy the breeze at the beaches or rivers in evenings and nights, which might otherwise not be possible during the rainy or winter seasons.
Curd rice, buttermilk, and coconut water help you to stay hydrated and also escape the effects of summer heatwaves in India. They protect from sun strokes and are very good for children as well as adults. You can take them thrice a day instead of oily and spicy foods that will aggravate digestive problems in summer in India.
Summer nights are great for enjoying a family dinner in the moonlight in a nature resort without any concerns, which is no way realizable in other seasons.
If you are new to travel or have any language concerns, you can easily find many summer vacation packages in India that will be helpful to avoid the hassles of accommodation and travel bookings. However, making a little research and bookings in person can help save a lot of money for your summer vacation.
Make sure to carry emergency medicines and doctor prescriptions for staying on the safer side. Avoiding roadside beverages and ice drinks can help to stay away from diseases.
Cap and umbrella are a must if you are planning for a trip during Summer in India. Goggles help to avoid sun rays, but it may not gel well with the locals especially if you are travelling to villages or remote places.
Related: Train travel tips and tricks
People in India also wear wet or white cotton cloth as protection around their heads to escape the heat. You can try this technique too.
Summer also makes a great time to go on long journeys in your car. You need not face the tensions of rains or fog. If you plan a drive early in the summer mornings, the trip will become memorable for a lifetime.
Conclusion
Different places in India have different temperatures during summer. This is because of the unique geographical location of the country. So, make sure to do enough research about the place you wish to travel to and plan all arrangements to make your summer vacation comfortable with children. Happy summer vacation!!