Vellore is one of the biggest and famous cities in Tamilnadu, India. Famous for its religious and cultural prominence, Vellore is also a reputed educational hub in the state. Places to visit in Vellore include its majestic forts, wide green parks, ancient temples, and colorful churches.
Popularly termed as The Fort City, the name of the place Vellore originates from the Tamil word Velan, which comes from the babul trees that surround this city all over. Velan also means Lord Muruga, the Son of Lord Shiva in Hinduism.
If you are planning to visit Vellore and looking for places to visit in Vellore, things to do in Vellore, and Vellore sightseeing places, we are sure this post will help you.
How to reach Vellore?
Vellore is excellently connected by all means of transportation. You can reach Vellore via two railway stations – Katpadi and Vellore Cantonment. While the earlier is the busiest railway station and located near to the Fort, Cantonment is on the Tirupati- Villupuram line and has minimal amenities.
You can also reach Vellore by road. This fort city has state-run buses from Chennai, Madurai, Pondicherry, Kanchipuram, Trivandrum, and Coimbatore. Chennai is the nearest city to Vellore. You can also travel to Vellore from Andhra Pradesh. Tirupati, Kanipakam, and Sri Kalahasti are well connected with Vellore via the bus route.
Travelling in Vellore
There are many state-run city buses in Vellore. They make the cheapest means of commute in the city. However, most bus names are in Tamil, so you will need some guidance to identify which bus helps you reach your preferred places to visit in Vellore.
Autos and private rickshaws are also available in Vellore. But most drivers do communicate only in Tamil. They are also reasonably priced and make an affordable alternative to costly cabs. During summer, you can prefer local cabs or rent cars to escape the heat that is common here.
Related: Tamil New Year Puthandu Wishes for Your Friends
Places to visit in Vellore
Vellore has many historic and sightseeing places that one can visit. Here are the top 5 places to visit in Vellore you should not miss when you are traveling to this place.
Vellore Fort
The city of Vellore assumes historic significance due to this fort. This is one of the top places to visit in Vellore.
This fort was built in the 16th century by Bommi and Thimma Reddy. The era is also famous for being the reign of Vijayanagara King Sri Krishnadevaraya.
After their rule, the effort went into the hands of the Muslim kings of Bijapur. In British times, it was under British rule. The fort is a famous architectural study piece as it has withstood the attacks during several hundreds of years under many rulers.
The fort is open to all visitors from 9 AM to 5 PM with a lunch break from 12.30 to 2 PM. Tourists can enjoy boating in the moat that surrounds the fort.
Jalakandeswarar Temple
Known for its ancient history and significance related to Lord Shiva, this is one of the majestic constructions in Vellore. This temple is also under the premises of the Fort and makes one of the important places to visit in Vellore.
You can reach this temple very easily. It is located near to the bus stand, and also well connected by local autos and road transport. The temple stands as a living proof of the Vijayanagara style of architecture.
Currently, under the care of the Archeological Survey of India, this Jalakandeswara temple is known for its legends. The place where the current sanctum sanctorum resides was once the location of an anthill surrounded by rainwater.
It is said that Lord Shiva appeared in the dream of the ruler Chinna Bommi Nayaka and ordered him to construct a temple in that location dedicated to him. Thus, this temple is known by its name Jalakandeswara, which means Lord Shiva residing in the water.
The temple's gopuram, mandapam, and temple tank are the main attractions. The premises are huge and serene with tall trees all over. The carvings captivate the visitors and are the finest examples of the sculpting skills of Vijayanagar times.
Sri Puram
Popularly called The Golden Temple, this is famous among places to visit in Vellore. This temple is a recent construction in the city.
Built in 2007, spanning across 100 acres, this is a dazzling place of Sri Maha Lakshmi. The idol inside this temple shines with its fullest luster and the power in the eyes of the idol should be experienced in person.
The temple premises are wide, and you need to follow the queues. No bags, luggage, or photography are allowed.
As you keep moving towards the sanctum sanctorum, the beauty of the premises and the adornments catch your eye. The whole path in which you have to walk is in the form of a star symbolizing the Sri Chakra of the Goddess Narayani.
Ratnagiri Temple
As we have discussed a little while ago, the name Vellore comes from Velan, which means Murugan, the son of Lord Shiva. Ratnagiri temple is dedicated to Lord Murugan. It is located a little away from the city at a distance of 14kilometers. It is also well connected by autos and buses. Thus, you can easily reach this another important one among popular places to visit in Vellore.
Related: Valparai Tourist Places You should not miss
Waterfalls
Waterfalls fall among the important places to visit in Vellore. There are two popular waterfalls in and around Vellore.
Cup and Saucer Waterfalls: They are known for their shape and hence so names. Located at a distance of around 32 kilometers from the heart of the city, these waterfalls attract many visitors. This is one of the famous tourist places to visit in Vellore along with family.
Kaigal Waterfalls: This is another famous waterfall in Vellore. Locals frequently visit this place as a picnic spot. The waterfalls from a height of 40 meters and the streams pass through the wildlife sanctuary nearby. Makes a great place to spend an evening along with the family on your Vellore trip.
Along with these, the city of Vellore is also famous for Sri Margabandeeswarar temple, Periyar Park, St.John's church, Vellore Institute of Technology, Christian Medical Church, Tipu and Hyder Mahal, Amirthi Zoological park, Vainu Bappa Observatory, District Science Center, State Government Museum, Archeological Survey Of Indian Museum, and more.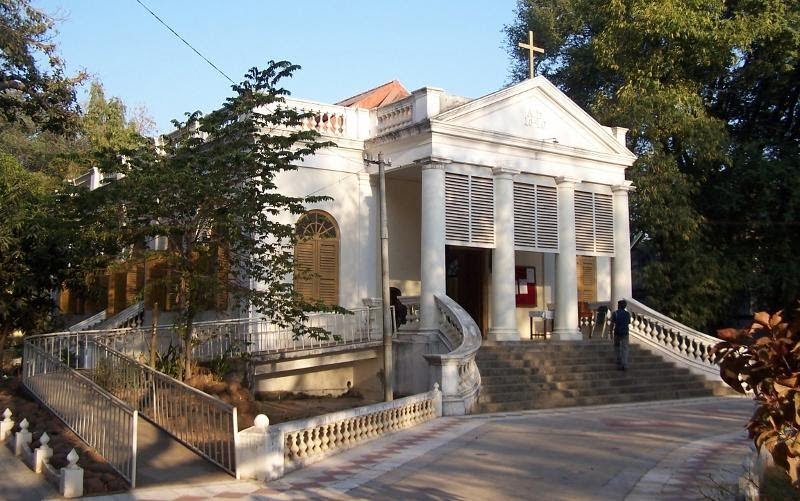 Things to do in Vellore
Apart from enjoying these famous places to visit in Vellore, you should not miss visiting the following when you are on a trip to Vellore:
Enjoy the delicacies of Mughlai and Tamilian as well as Andhra style. Popular foods in Vellore include Meen Kuzhambu (fish curry), Chicken Varuval (chicken fry), Pazham Dosa (instant banana dosa), Biryani (both Andhra and Mughlai style), as well as Barotta (parotta).
You can also enjoy affordable shopping for apparel, fashion items, and kitchen items in the local shops and bazaars.
Related: Most famous shopping places in Chennai
Best time to visit Vellore
Vellore is a hot tropical city. Like most places in Tamilnadu, Vellore is best visited in winter. During rainy seasons, Tamilnadu is prone to severe rains and floods. While in summer, the temperatures are too hot and extreme. The sultriness can irk outsiders and tourists.
Wearing cotton and light-coloured clothes as well as carrying an umbrella and water bottles helps immensely when moving in and around Vellore. Locals give importance to culture and it is better to wear Indian attire when traveling in Vellore.
Places to visit around Vellore
Vellore trip may take 2-3 days at a maximum. If you have more time during your Vellore trip, you can also plan to visit many other tourist places around Vellore as given below.
Kanchipuram: A abode of Kamakshi Amman and one of the Panchabhuta Lingas of Lord Shiva, Kanchi is just 1.20 hours from Vellore.
Tirupati: One of the most famous temples of India dedicated to Lord Balaji, you can reach Tirupati from Vellore in around 3 hours.
Arunachalam: One of the most sacred spiritual destinations for Shiva devotees, Tiruvannamalai is at a distance of 2-3 hours from Vellore.
Mahabalipuram: A famous beach city of Tamilnadu, Mahabalipuram is known for its rock constructions and heritage. The time taken to reach Mahabalipuram from Vellore is around 3 hours.
Kanipakam: A famous temple town known for the self-incarnation of Lord Ganesha, Kanipakam is just two hours from Vellore.
Tiruchirappalli: Famous as Trichy, this temple town is another religious destination in the state of Tamilnadu. This is at a distance of 5 hours from Vellore.
Kumbakonam: Famous for its coffee and a countless number of temples, Kumbakonam is easily reachable from Vellore. It takes around 6 hours on the bus to reach Kumbakonam.
Thanjavur: Another living proof of the famous architecture of the Tanjore times, this town is reachable in 6 hours from Vellore.
Sri Kalahasti: Known for its prominence and staying open during eclipses too, Sri Kalahasti temple is at a distance of 4 hours from Vellore city.
Madurai: Madurai takes 7 hours to reach Vellore. It makes the best night journey destination from Vellore.
Ooty: A popular hill station and an international tourist destination is located 9 hours from Vellore.
Kodaikanal: This hill station is another honeymoon destination in Tamilnadu located at a distance of 9 hours from Vellore.
Planning to visit these nearby places helps make the best of your travel itinerary during Vellore trip. Happy travelling!