Puthandu 2022 is the Tamil New Year Celebration. It is considered a holiday in Tamil Nadu and Sri Lanka. To greet your Tamil friends with Tamil Happy New Year wishes, here is a collection of some wishes in Tamil which you can share readily with your friends and loved ones.
What is the name of Tamil New Year?
Tamil New year is also called the starting day of Punthandu. The Tamil new year 2022-23 is called Subakiruthu சுபகிருது. The traditional Happy New Year in Tamil begins in April either on the 13th or 14th of April. It is the first day of the month of the Chithirai. During this time, people exchange Tamil New Year Wishes with each other.
Puthandu festival is also called Puthuvarysham. This festival is one of the famous and biggest festivals of Tamil Nadu. Tamil people prefer to wear new clothes and start streamers at midnight as it is a ritual of Happy New Year in Tamil for Tamilians. People use Tamil New Year wishes to wish their Tamil friends.
Tamil New Year Practices
People share Tamil New Year wishes by saying "புத்தாண்டு வாழ்த்துக்கள்" (Puthāaṇdu vāazhthugal!) or "இனிய புத்தாண்டு நல்வாழ்த்துக்கள்" (Iṉiya puthaandu nalvāazhthugal!) which means Happy New Year in Tamil language.
The preparations for this festival start many days before. People celebrate this festival by cleaning their homes and offices.
Tamil people prepare a tray with flowers, fruits, diyas, incense sticks, and many auspicious items.
After the preparation of Thali, they light up the family Pooja altar and then go to the temple.
Wearing new clothes and visiting elders to seek their blessings is one of the important rituals.
Tamil New Year wishes will be incomplete without a family vegetarian feast.
People come together to celebrate this auspicious day with their family and friends.
Significance of Puthandu 2022
Puthandu marks the day of new beginnings, just like Ugadi marks new beginning for Telugu and Kannada people. People celebrated this celebration with enthusiasm and joy. This day is celebrated across Tamil Nadu with Neem leaves, mangoes, flowers that symbolize prosperity and growth. Tamil communities believed that this day is the first day of the Universe when Brahma created it.
Some people also believed that on this day, Lord Indra (Prince of Harmony) visited the earth to restore peace and amity. In Tamil Nadu, people invite friends and relatives to their houses at this festival. Tamilians celebrate Puthandu with hope to ensure that the New Year will bring happiness, growth, opportunities, and joy to them. This festival marks the beginning of new aspirations and goodwill among people.
In the evening, Tamilians decorate a platter with a variety of flowers, fruits, and vegetables along with clothes, jewelry, and cash. Then this platter is kept in the temple in front of a mirror. The Next morning as the sun shines, people see the reflection of the things in a platter which symbolize opportunity and prosperity. Then they take bath, wear new clothes, sung prayer together followed by a massive feast which includes raita, jaggery, raw salt, mangoes, neem leaves, chili, turmeric, and(or) oil/ghee.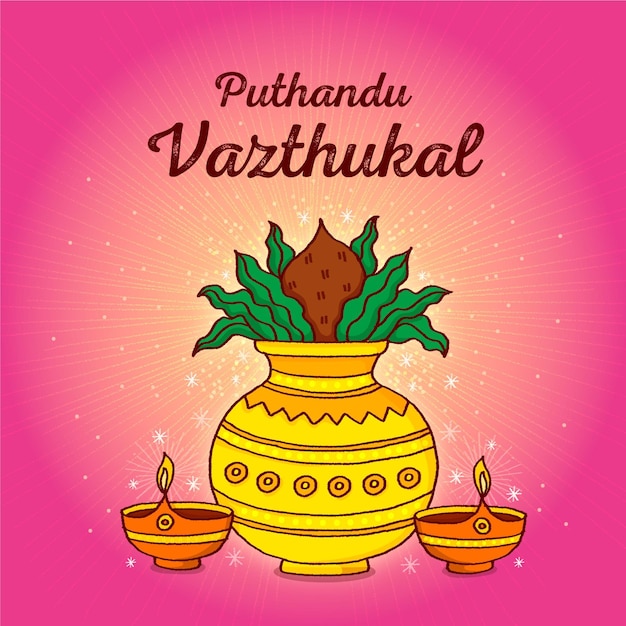 Legend Behind Tamil Happy New Year
According to folk tales, it is believed that Lord Brahma created the universe on this auspicious day. It is one of the twenty-three public holidays of Tamil Nadu state. Apart from Tamil Nadu, the festival is also celebrated in Sri Lanka, Mauritius, Singapore, and Malaysia. The history of this day can be traced from the 3rd century. This was the time when authors of Nedunalvaadai and Nakkirar described the sun through zodiac signs on that specific day.
According to some legends, this day is believed to be the first day when Earth was visited by Lord Indra for the maintenance of peace and harmony among people.
Sri Lankans celebrate this day in April with their first financial Transaction called Kai-Visheshan. In this ritual, younger members pay their respect to the older members and in return, the elders gave them a gift and pocket money. Not only in India, but Puthandu influences other parts of the world also.
Tamil New Year Names
The Tamil calendar follows a 60-year cycle. The cycle began in 1987 and it will end in the year 2047. The first month of Tamil year is called Chittirai. Accordingly, each Tamil New year will have its own name in Tamil. Here is the list of Tamil New Year Names:
The year 2016-17 is called Dhunmuki.
The year 2017-18 is called Hevilambi.
The year 2020-21 is called Shaarvari.
The year 2021-22 is called Plava.
The year 2022-23 is called Subakrithu.
The year 2023-24 is called Sobakrithu.
Tamil New Year Customs
The young members of the family receive gifts or money from the elders. People dressed in their best traditional dresses on this day. Each member of the family come together to celebrate this festival. This day is regarded as one of the best days to perform Brahman Bhoj. The entrance of the houses is decorated with rangoli and lamps. Rangoli designs are transferred from one generation to another as it conserves the art form and culture as well. The motive of rangoli is to bring good luck, prosperity, strength, and generosity into the family. This day is celebrated with an abundance of joy and laughter among family members.
Rangoli form an important custom to welcome tamil new year Rangoli is called kolam in Tamil Nadu. They are drawn using rice powder as beautiful patterns and designs. The idea to use rice powder is to have ants get drawn to it. So that insects and ants can have something to eat.
Only vegetarian food is cooked in most houses. People either pray at home or visit temples. Family astrologers open the Panchangam or calendar as on this day horoscope for the entire year is been predicted.
Madurai witnesses the holy bond of marriage between Lord Sundareswarar and Goddess Meenakshi with great enthusiasm and grandeur. The event is celebrated on a grand level. Many tourists across India and foreign countries came, to witness this beautiful ceremony.
A traditional game of por thenkai or coconut war between young people in the village throughout the North and east part of Tamil. Along with this, cart races are also organized.
New Year wishes in Tamil
New Year is the time to exchange wishes for prosperity and a successful year. But it becomes quite difficult when there is a lingual problem. For example, if you are a Bengali and you want to wish Happy New Year in Tamil to your Tamil friend, then you may face some problems.
Thank God, we are living in such an era, where any kind of idea and any sort of knowledge can be accumulated with the help of the Internet. Happy New Year In Tamil can be wished to Tamil friends with the help of a little bit of knowledge of Tamil. Tamil New Year wishes can be shared with your Tamil friends on January 1st for English New Year or on 14th April in India as it is celebrated as New Year for Tamil people.
Different kinds of Tamil New Year wishes from funny to heart-touching wishes are listed in this post. These wishes can easily be used if you have Tamil friends from Tamil Nadu or any other part of India or across the world. You may not be aware of the Tamil language but still, you can share your feelings and warm wishes to your buddies or family members who are Tamil or knows the Tamil language using these wishes.
புத்தாண்டு நல்வாழ்த்துக்கள்
உறவுகள் அனைவருக்கும் தமிழ் புத்தாண்டு நல்வாழ்த்துக்கள்!!
நிறைந்த வளம்,
நிறைந்த ஆரோக்கியம்,
மிகுந்த சந்தோசம்,
வெற்றி,
இவற்றை எல்லாம் இந்த இனிய புத்தாண்டு உங்களுக்கு கொண்டுவரட்டும்,
இனிய புத்தாண்டு வாழ்த்துக்கள்!
வாழ்கையை கொண்டாடுங்கள்…
புதிய துவக்கத்தை கொண்டாடுங்கள்…
உங்களுக்கு என்னுடைய இனிய தமிழ் புத்தாண்டு வாழ்த்துக்கள்
இந்த இனிய புத்தாண்டு உங்களுக்கு
ஒரு இனிய சிறந்த துவக்கமாக இருக்கட்டும்,
ஆசிர்வதிக்கபட்ட இனிய தமிழ் புத்தாண்டு வாழ்த்துக்கள்!
வாழ்கையை கொண்டாடுங்கள்…
புதிய துவக்கத்தை கொண்டாடுங்கள்…
உங்களுக்கு என்னுடைய இனிய புத்தாண்டு வாழ்த்துக்கள்!!
இந்த வருட புத்தாண்டு உங்களுக்கு உங்களது வாழ்வில் மிகுந்த
சந்தோசங்களையும், வளங்களையும் கொண்டுவர வாழ்த்துகிறேன்,
ஆசிர்வதிக்கபட்ட இனிய தமிழ் புத்தாண்டு வாழ்த்துக்கள்!
நிறைந்த வளம்,மிகுந்த
சந்தோசம்,வெற்றி,இவற்றை எல்லாம் இந்த இனிய
புத்தாண்டு உங்களுக்கு கொண்டுவரட்டும், இனிய
புத்தாண்டு வாழ்த்துக்கள்!
நான் உயிருடன் வாழ உணவு, தண்ணீர், காற்று மட்டும் முக்கியமில்லை. நீயும் தான். இந்த கடினமான உலகை கடந்து செல்ல உனது அன்பும் எனக்கு தேவைப்படுகிறது
இனிய புத்தாண்டு வாழ்த்துக்கள்!
· இந்த இனிய புத்தாண்டு உங்களுக்கு ஒரு இனிய சிறந்த துவக்கமாக இருக்கட்டும்,
ஆசிர்வதிக்கபட்ட இனிய தமிழ் புத்தாண்டு வாழ்த்துக்கள்!
· Vettri'yai Virumbum Namakku Tholvi'yai Thaangum Manam Illai…!
Tholvi'yai thaangum Manam irundhaal adhuvum Oru Vettri' dhaan.!
Intha Putthaandil Anaivarukkum Vetri Kidaikattum.
Wish You a Very Happy & Prosperous New Year…
Chittirai thirunaalai vimarsaiyaga kondadum tamil makkal
annaivarukkum enn idhyam kanida tamil pudthandu
nalvazhthukkalai makirshiyodu therivithu kolkiren
Happy Tamil New Year 2022
· புத்தாண்டு உங்களுக்கு மகிழ்ச்சியின் அனைத்து வளங்களையும் கொண்டு வரட்டும் … வாழ்த்துக்கள் !!
Puthandu Vazhtukal! Let the year be a delightful one overflowing with pleasant things in each
of its days.
நிறைந்த வளம்,
மிகுந்த சந்தோசம்,
வெற்றி,
இவற்றை எல்லாம் இந்த இனிய புத்தாண்டு உங்களுக்கு கொண்டுவரட்டும்,
இனிய புத்தாண்டு வாழ்த்துக்கள்!
இது தமிழ் புத்தாண்டு!
சந்தோசத்திற்கும் கொண்டாடதிற்குமான தருணம் இது!
குடும்பத்துடன் இந்த நாளை கொண்டாடுங்கள்.
இந்த புனிதமான விடுமுறை நாள் உங்களுக்கு மிகுந்த சந்தோசங்களையும், வளங்களையும் கொண்டுவர வாழ்த்துகிறேன்!
· Eyarkaithanile Boomi Suzhala Kaalam Arinthu Kadikaaram Suzhalum Athu Seyarkai Kaalaiyil Sooriyan Ezhunthu Maalaiyil Maraiyum Ethu Eyarkai Ovvoru Naalum Perumai Mikkathu Athilum Innaal Arumai Mikkathu
· இந்த புத்தாண்டில் உங்கள் குடும்பத்தினருக்கும் உங்களுக்கும் அனைத்து வளங்களும் நல்வாழ்வும் இருக்கட்டும்
புத்தாண்டு வாழ்த்துக்கள்!
· நீ எப்போது சிரித்துக் கொண்டே இருக்க வேண்டும். அந்த சிரிப்பில் நான் வாழ்ந்து கொண்டே இருக்க வேண்டும். இந்த் புத்தாண்டிலும் உனது சிரிப்பு எனக்கு மகிழ்ச்சியை கொடுக்க வேண்டும்'' போன்ற உங்களது கற்பனைக்கு எட்டிய வார்த்தைகளை கவிதையாக்கி அனுப்புங்கள்.
இந்த இனிய புத்தாண்டில்
உங்கள் குடும்பமும்
நீங்களும் எல்லா வளமும்
நலமும் பெற வேண்டும்
இனிய தமிழ் புத்தாண்டு வாழ்த்துக்கள்
நிறைந்த வளம்
மிகுந்த சந்தோசம்
வெற்றி இவற்றை
எல்லாம் இந்த
இனிய புத்தாண்டு
உங்களுக்கு கொண்டுவரட்டும்
இனிய புத்தாண்டு வாழ்த்துக்கள்
வாழ்கையை கொண்டாடுங்கள்
புதிய துவக்கத்தை கொண்டாடுங்கள்
உங்களுக்கு என்னுடைய
இனிய தமிழ் புத்தாண்டு வாழ்த்துக்கள்
இந்த வருட புத்தாண்டு
உங்களுக்கு உங்களது வாழ்வில்
மிகுந்த சந்தோசங்களையும்
வளங்களையும் கொண்டுவர
வாழ்த்துகிறேன்
இனிய தமிழ் புத்தாண்டு வாழ்த்துக்கள்
இந்த இனிய புத்தாண்டு
உங்களுக்கு ஒரு இனிய
சிறந்த துவக்கமாக இருக்கட்டும்
இனிய தமிழ் புத்தாண்டு வாழ்த்துக்கள்
இது தமிழ் புத்தாண்டு
சந்தோசத்திற்கும்
கொண்டாடதிற்குமான
தருணம் இது
குடும்பத்துடன்
இந்த நாளை
கொண்டாடுங்கள்
இந்த புனிதமான விடுமுறை
நாள் உங்களுக்கு
மிகுந்த சந்தோசங்களையும்
வளங்களையும்
மீண்டும் வசந்தம் எழுந்துவிட்டது
மீண்டும் சோலை கொழுந்து விட்டது
இதயம் இதயம் மலர்ந்து விட்டது
இசையின் கதவு திறந்து விட்டது
இனிய புத்தாண்டு வாழ்த்துகள்
· சுற்றும் உலகின் விட்டம் தெரியும்
சூரியன் பூமி தூரமும் தெரியும்
கங்கை நதியின் நீளமும் தெரியும்
வங்க கடலின் ஆழமும் தெரியும்
வருக புத்தாண்டே
விரும்பிய யாவும் கிடைக்கபெற்று
மன நிம்மதியும் சந்தோசமும்
உங்கள் வாழ்வில் நிரம்பி வழிய
தமிழ் புத்தாண்டு நல் வாழ்த்துக்கள்
என் அன்பு உள்ளங்களே
தேவைகள் தீர்வதில்லை
எதுவும் முடிவு அல்ல
எல்லாமே அடுத்த
நல்லதுக்கான தொடக்கமே
மகிழ்ச்சியுடன் புத்தாண்டை வரவேற்று
நலமுடனும் வளமுடனும்
வாழ்ந்திட நல் வாழ்த்துக்கள்
புத்தாண்டில்
புதிய சிந்தனை
புதிய முயற்சி
புதிய எண்ணங்கள் பூக்கட்டும்
நட்புகளுக்கும்
சொந்தங்களுக்கும்
தமிழ் இனத்துக்கும்
உயிரோடு இணைந்த
அனைத்து தமிழ் உறவுகளுக்கும்
இனிய புத்தாண்டு நல்வாழ்த்துக்கள்
· இனிமையான நினைவுகளோடு
இந்த ஆண்டை கடப்போம்
இனி வரும் காலம் இனிதே
உதயமாகட்டும்
புத்தாண்டு நல்வாழ்த்துக்கள்
இந்த கஷ்டமான நேரத்திலும்
இந்த இனிமையான நன்னாளை
உங்கள் குடும்பத்தினருடன் சேர்ந்து
மகிழ்ச்சி
ஒற்றுமை
அன்பு
இவை அனைத்தையும்
ஒன்றாக இணைத்து
இந்த தமிழ் புத்தாண்டை
உணர்ச்சியுடன் வரவேற்போம்
தமிழ் புத்தாண்டு நல்வாழ்த்துக்கள் 😊
Read: 23 Ideas to Celebrate New Year at Home
Tamil New Year Food
These ingredients play a key role in the festival. Each ingredient represents an emotion people experience in their day to day life.
The raw mango represents sourness.
Neem represents bitterness.
Jaggery represents sweetness.
Chilies represent pungency.
These ingredients teach us to appreciate every flavor given by life to us. All together giving a message, that we should enjoy and accept every flavor of life. Several cultural fest and fairs are organized in different parts of the states. People participate in these fests and fair and greet Tamil New Year Wishes to each other, making it one of the most loved festivals among Tamilians.
The feast made on this day includes vada, sambhar, payasam, Sadam, vegetable curry, mango pickle, curd, and appalam, etc. Several families also perform "tharpanam" to pay tribute to their ancestors. A car festival is also celebrated at Tiruvidaimarudur, near Kumbakonam. In Madurai, an exhibition is organized named "Chitterai Porutkaatchi", which is held at the Meenakshi Amman Temple.