Karnataka is one of the South Indian states and a powerhouse of Indian culture. Be it in the field of Information Technology or the cultural landscape, the state scores high. Bengaluru, the capital city of Karnataka, is noted for housing software giants. The city also showcases the effervescent art and culture of the state in its picturesque representation.
Karnataka is home to more than 50 Indian tribes such as Kannadigas, Tuluvas, Kodavas, Konkanis, Tibetans, and Buddhists. Each of these tribes has its art and cultural forms. The cross-cultural tradition of all the tribes enhances the beauty of Karnataka culture.
Let us go on a spree to explore and enjoy the various vibrant aspects of Karnataka culture, tradition, festivals, and art forms.
Karnataka Rajyotsava Day
Karnataka Rajyotsava is celebrated all over Karnataka with lots of pomp and show. The main attraction of this Utsav is the Rajyotsava Awards distribution honoring the prominent figures who have contributed to the development of Karnataka State.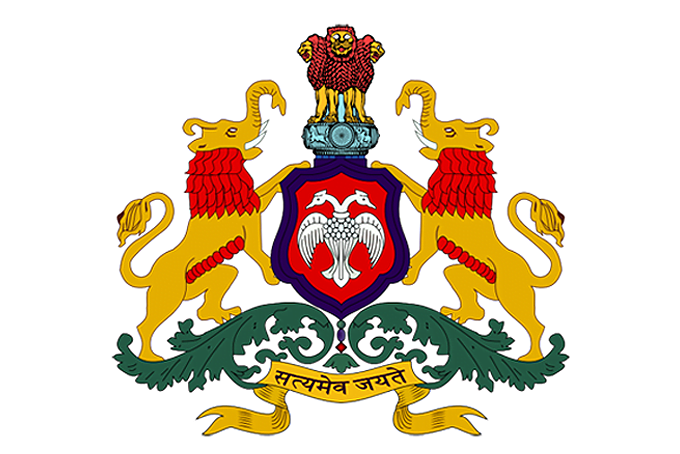 The Karnataka Rajya Utsav Day is celebrated on November 1 every year. This day marks the Karnataka state formation day when various Kannada-speaking regions merged to form the state. It was the day in 1956 when the state Karnataka came into existence. This day is observed as a state govt. holiday by hoisting the Kannada flag in many places across Karnataka and singing the Kannada Anthem.
Tourists can witness Karnataka culture at its best on this day. The celebrations begin with a prayer to Goddess Bhubaneswari, followed by cultural art, drama, dance, drama, and Carnatic Music. It becomes a memory for all whether Kannads or non-Kannada. The specially organized colorful dance forms, drama, theatre groups, music, traditional festivals typical to Karnataka state, wood and ivory carvings, and the sumptuous cuisines of Karnataka offer a vivid view of Karnata culture.
Suggested Reading: List of Indian Handicrafts
Carnatic Music
Carnatic Music is a distinct aspect that imparts richness to Karnataka culture. It has its roots in ancient Vedic times. Over time, it has improved and mostly is in the form of song composition. It reflects the cross-tradition and 108 complex taals (system of rhythm) of the world.
Carnatic classical music is unique on its own and has its origins in gamakas. At present, there are 15 different types of gamakas. The lyrics of the songs are based on devotion which carries a deep sense of spirituality.
Carnatic Music is performed by a band of Musicians consisting of one principal performer(vocalist), a melodic accompaniment (Violin), and a rhythmic partner (Mridangam). Carnatic Music uses few instruments for music and it is noted for the unique hand gestures, footwork, and facial expressions.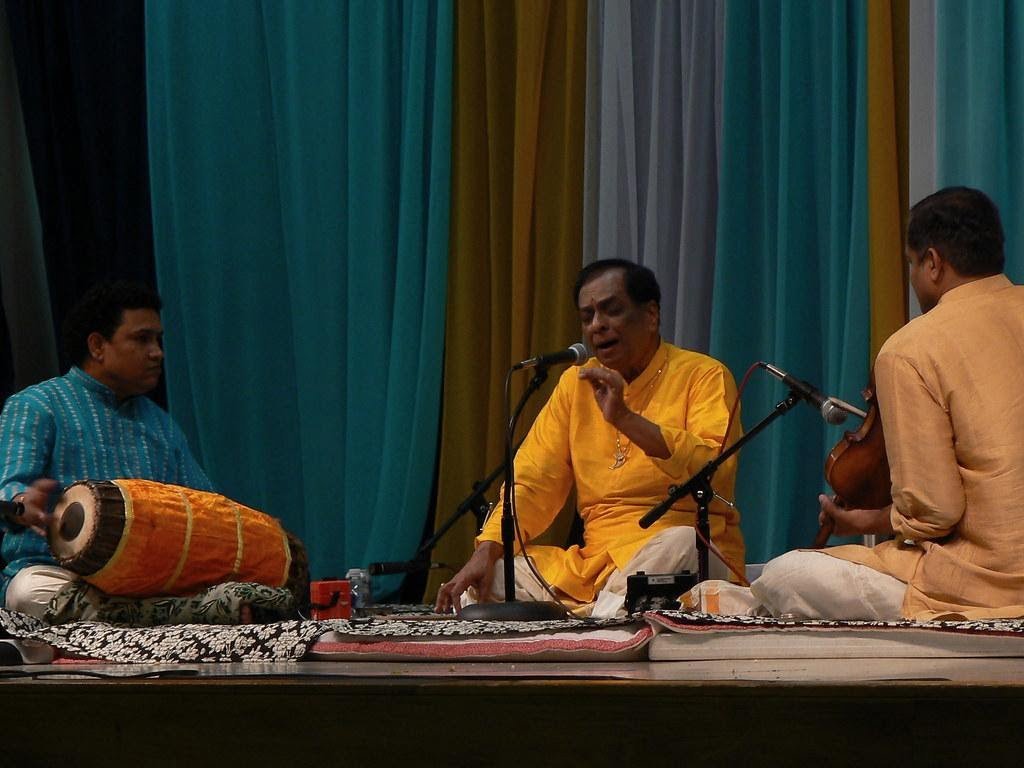 Hindustani Music
Both Carnatic Music and Hindustani Music are different from each other. But in Karnataka, both forms of music have made a place and are highly appreciated. Karnataka has respected Hindustani Music along with Carnatic Music. Hindustani Music in Karnataka has earned many awards for Karnataka musicians. Kalidas Sanman, Padma Bhushan, and Padma Vibhushan Awards are a few of those. It is primarily vocal-centric.
Don't Miss: Vasudhaiva Kutumbakam: The Timeless Philosophy of India's Global Harmony
Karnataka Dance forms
India is home to many classical dances. The share of Karnataka culture in this is prominent.
Yakshagana dance form
Kuchipudi is one of the classical dance forms of India. It had its origin in the state of Andhra Pradesh and is widely appreciated in Karnataka. Besides, Kuchipudi people here also prefer the other popular dance forms of southern India like Bharatnatyam. Folk Dances are the favorite among the natives. They are a beautiful depiction of music, dance, and drama and can captivate the audience. One such famous folk dance form of Karnataka is Yakshagana. It is a lovely narration of holy mythological text forms in the form of dance drama. 
Dollu Kunitha Dance form in Progression
Dollu Kunitha – is a traditional dance form with music and the charm of this dance form is the coordination and sequence of dancers matching their dance with the drumbeat Kamsale is one vibrant dance form of Karnataka. This dance form is based on the rituals of praying to lord Shiva. They have a unique way of portrayal that relies on the skillful use of hands.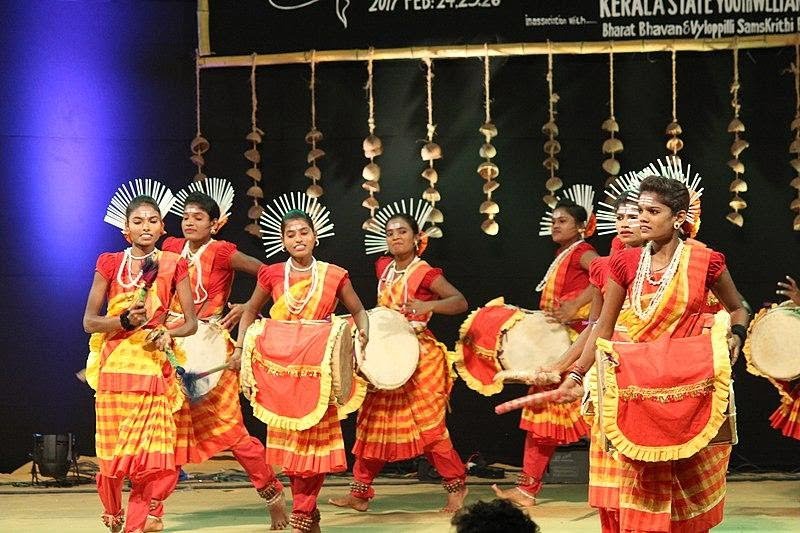 There are other popular folk dances of Karnataka like Gaarudi Gambe, Nagamandala, and Togalu Bombaata. 
In Gaarudi Gombe, the attraction lies in the fact the dancers wear a dress made out of bamboo sticks. Nagamandala dance form is a religious dance form to control the serpent in an individual and is a night-long affair.
Togalu Bombaata is a puppetry dance form using shadows. Besides these, there are other folk dance forms in Karnataka like Goravara Kunita, Joodu Haligi, Krishna Parijatha, veeragase, Veerabhadra Khunita, Komb-aat, Pata Kunitha, Bolak-aat Dance Unmat-aat, Somana Kunitha, Puja Kunitha, Kangadilo Kunitha, Bhuta Kola, Aati Kalanja, Bhootha Aradhana.
These folk dances have their origin in religious beliefs and are performed with great fervor during fairs and festivals across various places in Karnataka.
Wood carvings
Mallikarjuna Group of Temples in Badami, Karnataka with its exquisite wooden carving
Wood carving is a traditional art form of Karnataka culture. The most famous among all is the sandalwood carving of Mysore. This art form shows the exquisite skills of the craftsmen in bringing out the best of a masterpiece carved out of a single log of wood. The wood carving art form of Karnataka had its beginning in the temple areas for making chariots, pillar works, and other requisites.
At present, this wood carving industry is a full-fledged one, catering to interior décor, temples, and many others. Nowadays, metal images are used in wood carving to depict the main deity. Udupi – a place in Karnataka, is the main center of origin of wood carving and engraving.
Suggested Reading: Significance of Elephants in Indian Culture
Wooden Toys
Wood carving in the form of wooden toys is the most famous wooden artifact of Karnataka culture. Channapatna Toys are an exclusive kind of wooden toys or dolls unique to the state of Karnataka. These wooden toys making craftwork are safeguarded as GI (Geographical Indications) under World Trade Organizations by the Karnataka state government.
Channapatna town in Ramanagara district is famously known as the Land of Toys. Wooden toys of Kinhal, a small town in the Raichur district of Karnataka, and wooden toys of Gokak – a small town in Belgaum district are also famous destinations for purchasing wooden toys. 
Wooden toys of Kinhal are unique due to the exquisite carvings on the wood and toys of birds, animals, and figures whereas Gokak wooden toys are famous for the representation of fruits and vegetables on wood. With their various unique combinations of colors, the toys appear lively and appealing and hence are world-famous.
Ivory Carving
Karnataka is one of the states of South India where elephants thrive in large numbers. The state is also known as the "Land of Elephants". Thus, ivory carvings are one of the distinct features of Karnataka culture. So, with the availability of tuskers, ivory as a raw material is easily accessible.
Ivory Carving is the traditional art form of Karnataka practiced since time immemorial. This art form is one of its kind and unique to the state and scores over all other art forms of India. The craftspersons are so proficient in their craft that they always can be seen prepared with their chisel, knives, and files to shape out such lively pieces of ivory craft. Its artistic beauty brings the world to witness the rich art form of India and Karnataka in specific.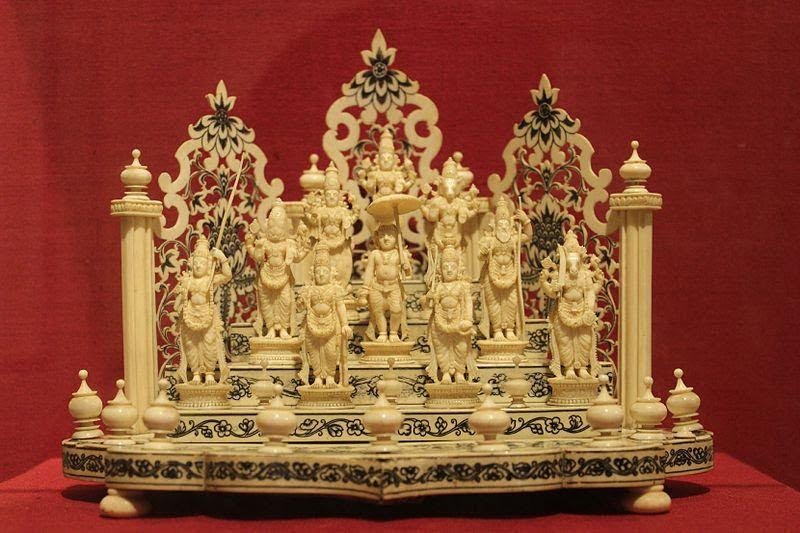 Karnataka Theatre culture
The theatre is a traditional aspect of Karnataka culture and is practiced mostly by Kannadigas – the natives of Karnataka speaking the Kannada language. Rangabhoomi is a name attributed to the Carnatic Theatre. Natakas are performed depicting verses from mythology, Puranas, and Holy Literatures. During festive occasions of Dussehra, Maha Shivratri, experts narrate mythic incidents as a song for the devotees and the public.
Puppet-Theatre Tradition
The puppet show was once a great entertainer for Indians. In Karnataka culture, Puppet -Theatre can be traced back from 12-16 Century A.D.
In earlier days, there were 4 kinds of Puppets: String, Rod, Glove, and Leather Puppet. Karnataka has all four kinds. The string puppet show with its unique costumes, dancing style, and background music has a clear resemblance with the Yakshagana dance form.
The word Yugadi is derived from Sanskrit words "Yug" & "Adi". Yug refers to the era and Adi means the beginning. Yugadi is celebrated in high spirit in the southern states of India that comprise Tamil Nadu, Kerala, Karnataka, Andhra Pradesh, Telangana, and Puducherry.
Ugadi festival is celebrated to mark the beginning of the new year. And Karnataka new year falls on the first day of Hindu Chaitra Month. Ugadi Pachadi is the main dish prepared and served on Ugadi. Yugadi Krit or creator of Yugadi has been conferred on Lord Vishnu as mentioned in the Sahasranama Stotram and is believed to be the reason behind the Yugadi celebration.
Kannada people decorate their house with Mango leaves known as Torana or Toranalu and draw colorful designs known as rangoli or muggulu in front of their entrance. "Panchangam" is read out by the eldest member of the family or the village priest on this day.
Coorg Festival
Coorg is one of the prominent districts of the state of Karnataka. In recent days, it has gained popularity as a hill station and is one of the hot tourist attractions.
Before the Indian Independence, the Britishers found the culture of Coorg very enticing. After Coorg was a separate Dominion of India, it came to be known as Kodagu. People of Coorg mostly live in villages. Families are an important and integral part of their existence. Their cultural life is a bit different from other Kannadas and is very unique. Their style of wearing saree – Kodagu saree style is also one of the famous saree styles of India.
Because of its uniqueness, Britishers fondly nicknamed Kodagu as "Scotland of India". Later it was merged with Mysore Province and eventually became a part of Karnataka state. People of Coorg celebrate various Hindu festivals. But some are the specialty of Coorg that show the rich culture of one of the tribes of Kannad people.The main festivals of Coorg are Kaveri Sankaramana, Kailpodh and Puttari.
Kaveri Sankramana
Kaveri Sankramana is a festival celebrated with a feast. People believe that every year Kaveri water rises during this time of year. People celebrate Kaveri Sankramana with great fervor to rejoice at the renewal of the river water of Kaveri. Interestingly, it is the only festival where only veg cuisines are prepared and served.
Kailpodh
Kailpodh is a festival celebrated to mark the closing of agricultural work for the year. People eat, sing and dance together at this celebration. They even play games and indulge in various kinds of sports especially and enjoy the festival.
Pudhari
The harvesting festival of Coorg is celebrated as Pudhari. This is a way to appease the deity and show their gratitude. People thank God for the plentiful harvest for the year and seek blessings for the coming year.
Kambala or Buffalo race
Kambala or Buffalo race is an age-old tradition of Karnataka culture followed for the last 400 years in various parts of coastal Karnataka. In this race, decorated buffaloes are made to race on the wet paddy field guided by a competitive farmer who keeps balancing on the top of a wooden plank. This race sets a spectacular countryside atmosphere which astounds the onlookers and is quite a tourist attraction. The farmers of Kambala feed their buffaloes well, train, and prepare them for the race. This race is held to mark the beginning of harvest season and is a way to thank GOD for protecting their crops throughout the season from the animals.
Hoysala Mahotsava
Another major attraction of Karnataka culture is Hoysala Maha Utsav organized in Halebidu and Belur of Karnataka. People from all over the world come to see this Maha Utsav. It is celebrated in a royal manner reflecting the rich Indian culture and tradition. Hoysala Mahotsav is held every year in March/April with grandeur combinations of Dance, Music, and Art.
Hoysala Mahotsava marks the beginning of the new season. This festival is held to celebrate the military achievement of the Hoysala King.
Hampi Festival
Hampi is a historic place in east Karnataka. It holds special significance in Karnataka culture. It has earned a place among the world heritage sites and is one of the greatest international tourist attractions of Karnataka.
Hampi Festival is a 3-day grandeur celebrated with high festive fervor at Virupaksha Temple. Music, Dance, Puppet, firework are some of the elements of the exquisite festivities.
Hampi Utsav is also known as Vijaya Utsav and is celebrated from the time when Hampi used to be Vijayanagar. The Karnataka government has reclaimed it as "Nada Utsava". It showcases the rich and cultural heritage of the state.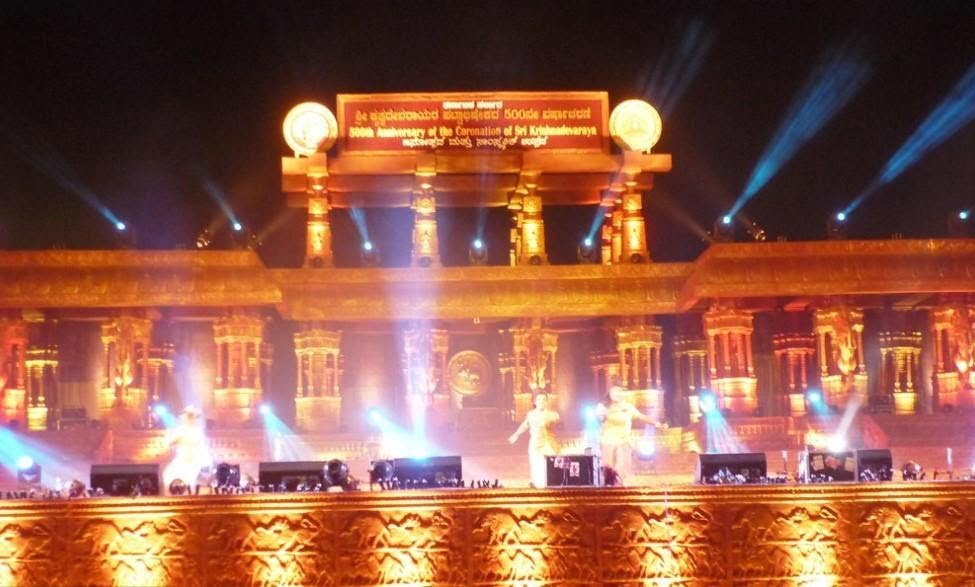 Vairamudi Festival
Vairamudi implies the diamond-studded crown is the main attraction during the Vairamudi Festival. It is celebrated on the fourth day of Brahmotsav in the temple of Cheluvanarayana of Melkote. Melkote is a holy town some 4000 years old and has many ancient temples especially that of the Vaishnava sect. The procession of Lord Cheluvanarayana through the lanes of Melkote is the main ritual followed religiously every year.
Cuisines of Karnataka
Karnataka state has a variety of cuisines and street food. Right from Mysore Masala Dosa which can be a wholesome meal to sweet dish Mysore Park, food is an integral part of Karnataka culture.
The world-famous signature beverage of Karnataka is Filter Coffee. Chow-chow Bath is again a unique combination to satisfy both the spicy and sweet tooth of a person. Bisi-bele-bath is one staple food of Karnataka which is simple yet nutritious. Most of the South Indian dishes are incomplete without serving Rasam. Udupi's Tomato Rasam has quite a tangy taste and serves as a great appetizer. There are even more special dishes of Karnataka which are spicy, tasty, and can satiate your appetite.
Literature & Culture of Karnataka
Dharwad is considered the cultural capital of Karnataka. Temples, Mutts, and Agraharas are the main contributors to the growth of education in Karnataka. They are the birthplaces of Karnataka culture and led to the development of Karnataka literature and folk art.
Dharwad is the place in Karnataka which has grown as the major center of Hindustani Music. Through literature and theatre artwork Kannada people grew stronger as a community. Being influenced by Sanskrit during its origin, the Kannada language is now known as the cultural language of India besides being one of the official languages of India.
Paintings
The paintings of Karnataka have witnessed developments across many years. It is famous for its intricate designs and fine work. They hold special significance in Karnataka culture and have been acclaimed over the decades.
The Mural Art form of Karnataka is world-renowned. We can witness these Karnataka paintings in the Ellora caves and Lepakshi Temple built during Vijayanagara days in Karnataka. Chitrakathi Paintings are another form of Karnataka paintings. They are known for the boldness they depict in the black background. One such famous painting of Karnataka is the Mysore Painting developed by Mysore rulers, depicting Hindu God and Goddess in multicolor and sophisticated imprints.
Karnataka or Mysore Silk Sarees
Mysore is sometimes known as the Land of silk and sandalwood. Karnataka is the largest producer of Mulberry in India and has earned a name in the Handloom Industry. Mysore Silk sarees are so famous the world over. They use pure 100% genuine silk and gold Zari and 65% of Silver and 0.65% of original Gold. The specialty of Mysore silk saree is that they are extremely lightweight. The golden Zari border enhances the look of the saree and adorns the wearer.
Conclusion
Karnataka culture is thus a vibrant one comprising many beautiful aspects. The state contributes in a rich way in enhancing the diversity of the Indian culture.